Sudurpashchim Pradesh Public Service Commission Announces Written Examination Schedule
The Province Public Service Commission (PPSC), Sudurpashchim Pradesh, situated in Dhangadhi, Kailali, has recently announced the written examination schedule for various services, groups, and levels of state civil service and local government service. The news is in line with the earlier notice no. 104/079-80 that was issued on 2080/3/12.
Examination Details
As per the notice issued by PPSC Sudurpashchim Pradesh, the written exams will be conducted for technical and non-technical positions across several services, groups, sub-groups, and levels. These schedules are in line with the advertisements released in 2079-80. Further details are yet to be determined.
The examination schedule is as follows:
Sub-Engineer Position - General/Highway

Advertisement No.: 501-504/079/80
Service, Group, Level: Engineering, Civil, Fifth
Exam Date: 2080/04/27
Exam Time: 8:30 AM

Sub-Engineer Position - Building and Architecture

Advertisement No.: 505-50/079/80
Service, Group, Level: Engineering, Civil, Fifth
Exam Date: 2080/04/27
Exam Time: 8:30 PM

Health Assistant (HA) Position

Advertisement No.: 527-529/079/80
Service, Group, Level: Health, Health Inspection, Fifth
Exam Date: 2080/05/02
Exam Time: 8:30 AM

Assistant/Assistant Accountant Position

Advertisement No.: 104-109/079/80
Service, Group, Level: Administration, General Administration, and Accounting, 4th Level
Exam Date: 2080/05/30 (First Phase Written Exam)
Exam Time: 8:30 AM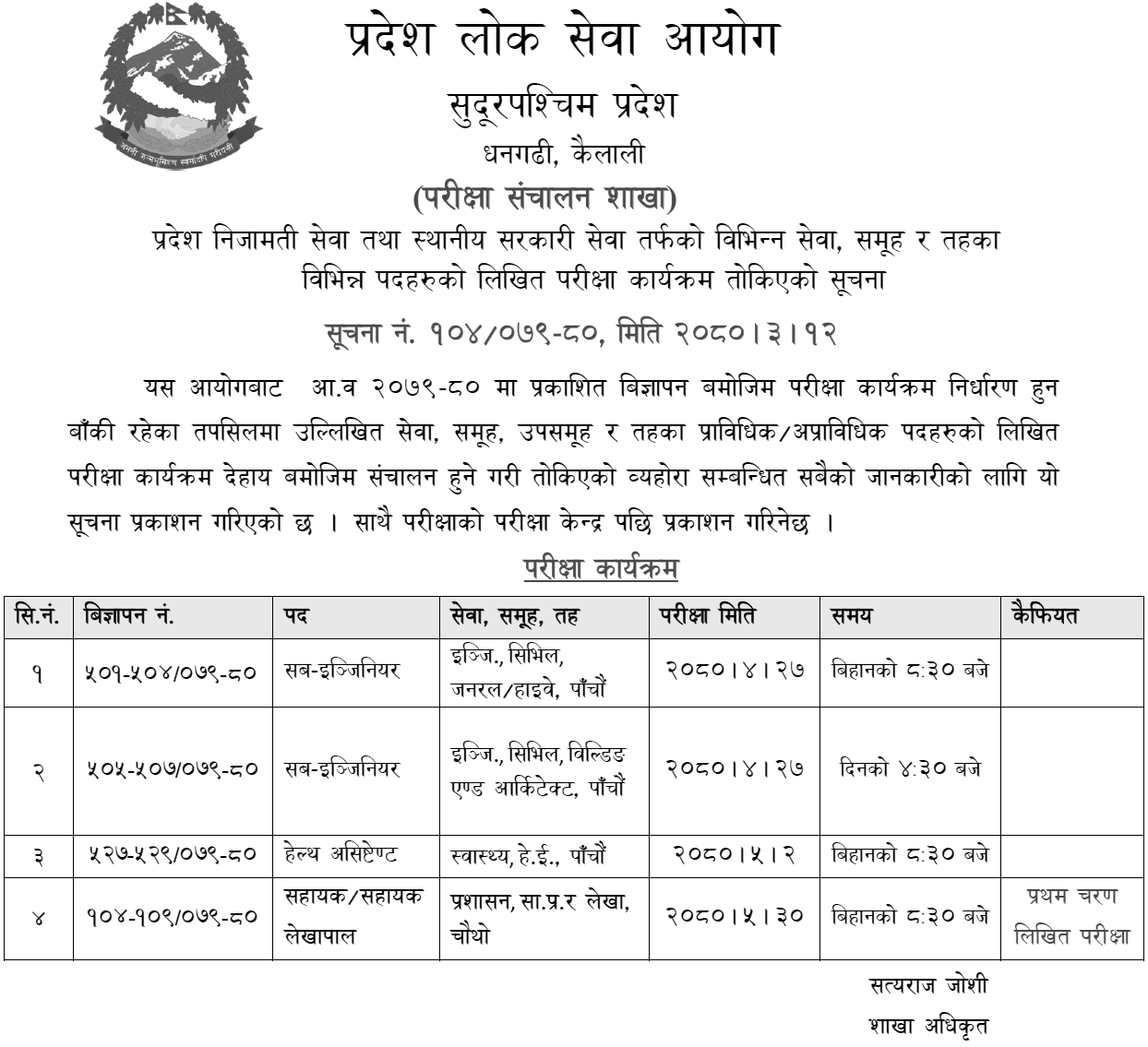 Written Exam Result
PPSC Sudurpashchim
PPSC
Notice
Exam Routine