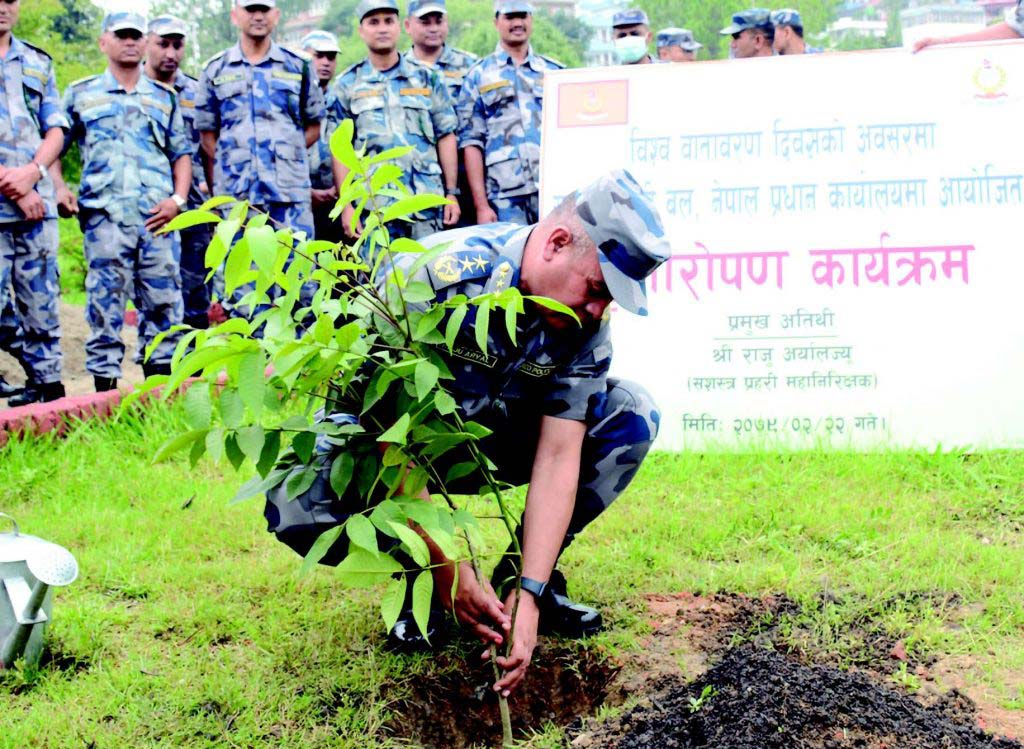 APF Nepal Planted 14,000 Saplings on the Occasion of World Environment Day: On the occasion of World Environment Day, 81 plants of different species have been planted on the premises of Armed Police Force Nepal, Halchowk Swayambhu on Sunday. Various plants including fruits have been planted in the tree planting program with the participation of Inspector General of Armed Police Raju Aryal.
The saplings were planted on the occasion with the participation of the Additional Inspector General of the Armed Police Narayan Dutta Poudel, officers of the Armed Police Force, Nepal, junior officers, and badgers.
Similarly, 13,989 fruits and other saplings have been planted in different units of the Armed Police Force, Nepal on the occasion of World Environment Day.
The units under the Armed Police Force Nepal No. 1 Barah Brigade Headquarters Sunsari have 3,121 units, No. 2 Chhinnamasta Brigade Headquarters Mahottari has 3,679 units, No. 3 Gadhimai Brigade Headquarters Makwanpur has 919 units, and No. 4 Muktinath Brigate Headquarters Kaski. 740 units, No. 5 Vindhyavasini Brigade Headquarters Rupendehi 3634 units, No. 6 Maheshwari Brigate Headquarters Surkhet 436 units, No. 7 Vaidyanath Brigate Headquarters Kailali 557 units, and No. 9 Pashupatinath Brigade Headquarters Kathmandu 150 units. Plants have been planted.
Similarly, the National Armed Police Force Training Academy has planted 150 saplings, Nepal APF Hospital 85 saplings, Armed Police Force Nepal Hull and Riot Management Training Academy Lamapatan Pokhara 50 saplings, and Dantakali Special Task Training Academy Saptari 17 saplings.
APF Nepal (Sashastra Prahari)