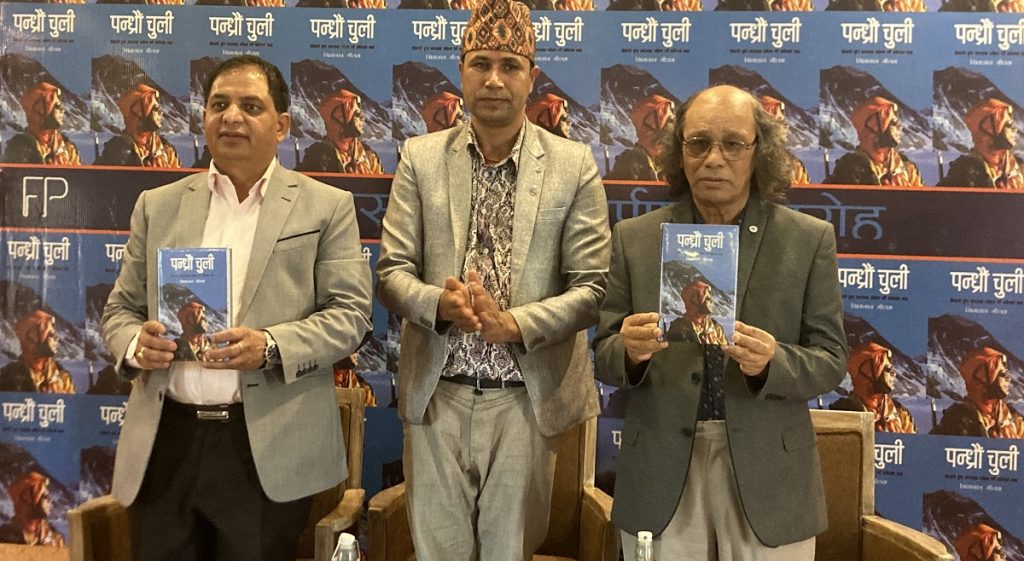 Author and surveyor Khimlal Gautam's book 'Pandhrau Chuli' has been launched in Pokhara. Author Sarubhakta and border expert Madhusudan Adhikar jointly unveiled the book on the occasion of the first Annapurna First ascent in 1950.
At the event, Sarubhakta, Madhusudan Adhikari, and Uttam Babu Bhattarai, Director of Nepal Mountain Academy discussed various aspects of the book.
Uttam Babu Bhattarai said that 'Pandhrau Chuli' was a dose for writers and a reference material for scholars and students. He added, "We have more than 1300 mountains above 6,000 meters, but it has not been studied in depth. It should be studied. This book by Khimlal Gautam may be the starting point for such a study. '
Another speaker, Adhikari, said, "Everest has not only height but also depth. Writer Khimlal Gautam has measured the height of Mount Everest and also its depth.'
Sarubhakta, who wrote the novel 'Chuli', said: I felt like I was climbing Mt. Everest as an imaginary climber. In many places, I was emotional, in many places I was thrilled. ' He added, "Pandhrau Chuli is a high-class literature, but also a high-class history of Mount Everest, its ascent and survey."
At the event, author Gautam said something about why he had to write a book. He also shared some of his personal experiences. 'Pandhrau Chuli' is a combination of emotion and geography. We were only proud of Mount Everest, we found less written about it in Nepali literature, 'he said,' I thought something should be written about it. Since there is not much reference material in Nepali about Mount Everest, now I have started writing something about it. '
He said that he had climbed Mt. Everest twice on the occasion of his national service and started writing the book thinking that his experience would be useful for the readers. "I am not only a nationalist, I am also a private person," he said. I have included the fact of Mount Everest in history. The reader will definitely appreciate it. '
Kissing Mount Everest is a fantasy for many and a reality for a few. Khimlal Gautam has kissed Mt. Everest twice. He visited Shikhar for the first time in 2068 BS to promote tourism in Nepal; For the second time, he went to a survey for height measurement in 2076 BS under the government's program. For the average climber, the goal is achieved after reaching the summit. But the goal for his team was to start. This is the first time in the world that a surveyor has reached the summit and surveyed Everest.
'Pandhrau Chuli' is a journey story of courage, risk, and struggle, where the author sees death up close during the ascent. He is touched by death; Not taken away. This journey is not only a story, but also a history of climbing Mt. Everest, which also reveals new facts about Mt. Everest. The book is published by Fineprint.