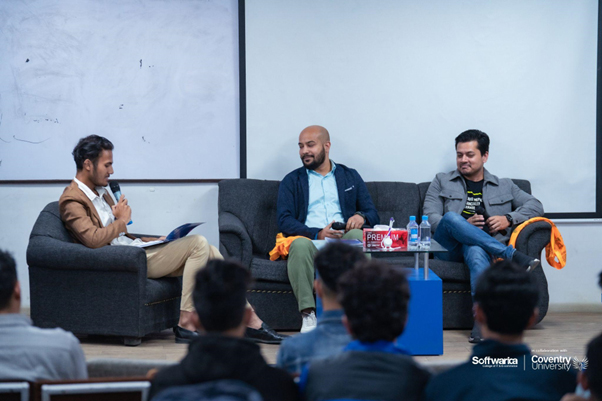 The application form for the Hult Prize at Softwarica College of IT and E-Commerce 2022/23 opens under the theme of Redesigning Fashion. Hult Prize at Softwarica has Officially Started by Kicking Off a 1st Talk Series on the Topic "Youth in Entrepreneurship" Event on 9 November with Sanjog Koirala, Digital Educator/Entrepreneur, and Pavitra Gautam, CEO of Karkhana/Executive Committee of NYEF.
Hult Prize is open to all students from Softwarica College. Students will form a team of 3-5 members and register their team to compete in 'Hult Prize at Softwarica. The teams must develop an enterprise idea tackling the problems relating to the Hult Prize Challenge 2023. All the teams that apply for the competition may compete to secure the first position. The interested participant teams will get a chance to submit forms till the last week of December. The Hult Prize competition will be held at Softwarica in 1st week of February.
The participants are expected to formulate a scalable and sustainable business idea relating fashion to one of the six dimensions: Gender Equality, Clean Water & Sanitation, Decent Work & Economic Growth, Industry Innovation & Infrastructure, Responsible Consumption & Production and Climate Action.
The participating team will be provided mentorship and info-sessions throughout December and January on the pressing problems relating to the challenge and how to solve them. The Global winning team will be awarded USD one million as capital to give shape to their idea and work to solve the problem.
Hult Prize at Softwarica is one of the many on-campus events that will take place in different universities around the world. Hult Prize is an international social entrepreneurship idea competition that invites young students to formulate a business idea that can solve a global pressing problem or challenge announced by President Bill Clinton. Hult Prize is a partnership between Clinton Global Initiative and Hult International Business School.