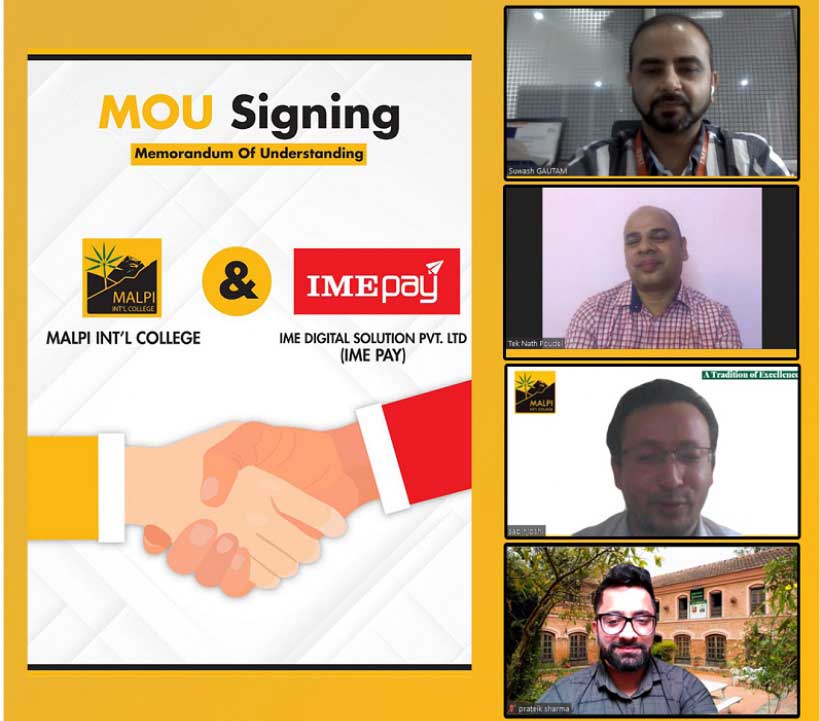 An MOU has been signed between IME Pay and Malpi International College. According to the MoU, IME Pay will be the digital payment partner of Malpi International College, and students of Malpi International College will get the opportunity of an IME Pay Internship.
The MoU, a special initiative of the Center for Career Guidance and Placement, states that technology is becoming an important part of human life. With many tech firms succeeding in creating their own identity in the Nepali market, fintech companies have made human life easier and opened many doors of opportunity for students.
The perfect blend of finance and technology is also creating new employment opportunities to solve obstacles around the world. The MoU was designed with similar themes in mind. IME Pay plans to hold further discussions with other colleges on how to utilize the skills and abilities of the youth in the development and expansion of the digital industry.
Expressing satisfaction over the understanding reached between the two sides, Malpi International College has extended special thanks to Vikas Nahata, Chief Executive Officer of IME Pay, and Subash Gautam, Head of Human Resources Department of IME Group.
Due to the Corona epidemic, the agreement was reached through virtual means.
With a network of about 35,000 agent outlets, IME Pay is a digital financial services provider under the IME Group. IME Digital has obtained permission to provide mobile wallet service through telecommunication networks as per Nepal Rastra Bank's Payment and Sale Regulation-2072 BS. IME Digital is the first payment service provider in the country to receive such permission.
IME Digital will provide mobile wallet services under the 'IME Pay' brand and with the help of this, the service recipients will be able to make various payments through their mobile phones or with the help of agents. It has been providing services through QR payment, mobile recharge, and payment of various household and office bills in various online and on-site stores ranging from the facility of normal money transfer between individuals.
IME Digital aims to contribute to Nepal's financial inclusion by providing access to financial services to all the general public, including Nepalis who are deprived of banking facilities and have low banking facilities. Interest and cash back facility is also available in the mobile wallet. Another important feature of the IME Pay Wallet is that you can pay different types of bills and send money to any bank account.