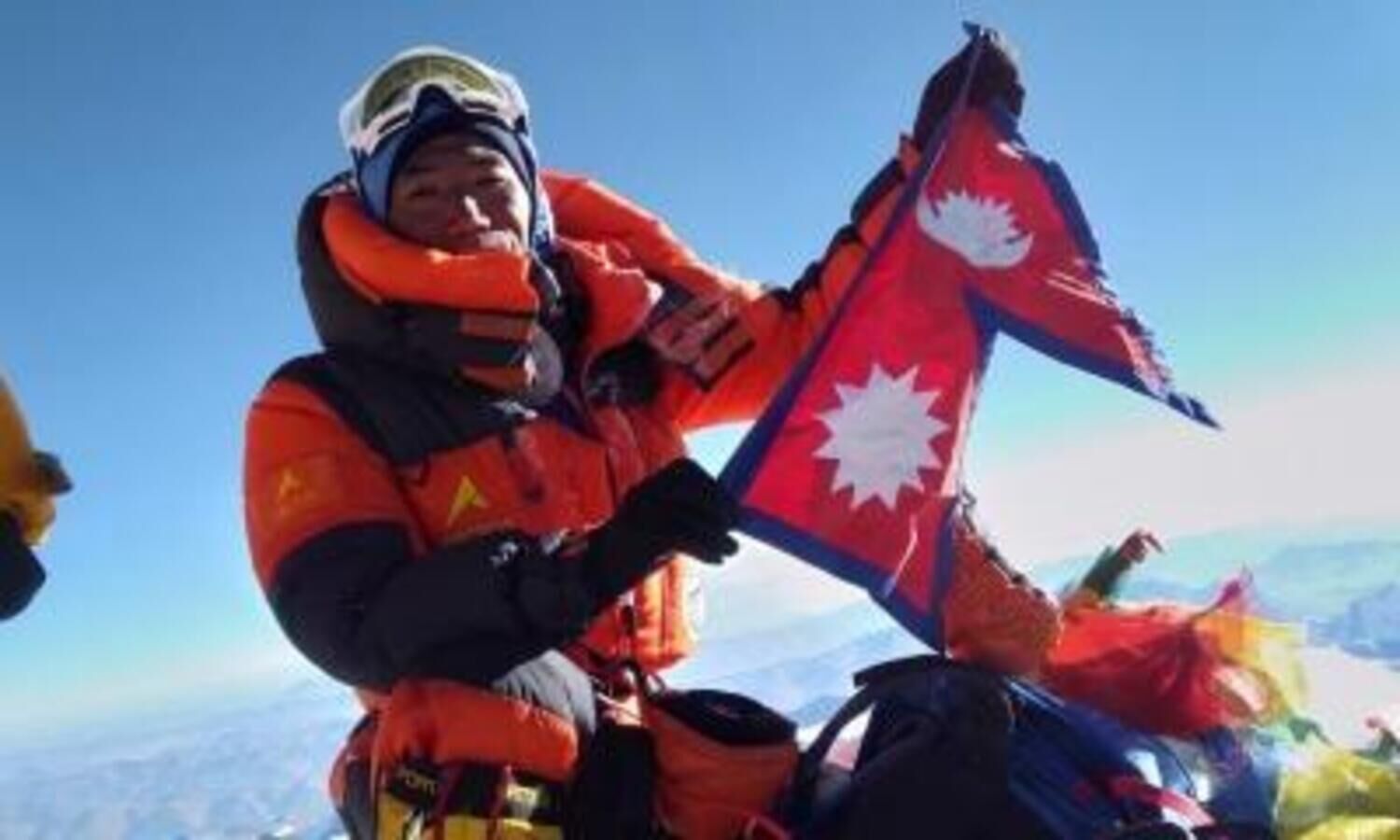 Climber Kami Rita Sherpa Sets New Record with 28th Ascent of Mount Everest
Kami Rita Sherpa, an accomplished climber from Nepal, has achieved a remarkable feat by successfully reaching the summit of Mount Everest for the 28th time. This remarkable accomplishment further solidifies his position as one of the world's most experienced and skilled mountaineers.
Equally impressive is the achievement of Pasang Dawa Sherpa, who matched the record set by Kamirita Sherpa just a week ago by reaching the summit for the 27th time. Pasang Dawa Sherpa's dedication and perseverance have placed him among the elite climbers of our time.
The tourism department has confirmed that Pasang Dawa Sherpa's recent ascent has tied him with Kamirita Sherpa's record of 27 successful climbs. Not content with just equalling the record, Pasang Dawa Sherpa went on to conquer Mount Everest once again on Monday, completing his 28th ascent.
Kami Rita Sherpa, known for his tenacity and passion for mountaineering, achieved a new milestone by reaching the summit of Mount Everest for the 28th time. The feat was accomplished on Tuesday morning at 9:23, as reported by Seven Summit Treks via social media. This incredible achievement adds to Kami Rita Sherpa's already impressive record, surpassing his own 26th climbing record set on the 24th of Baisakh 2079.
Interestingly, Kami Rita Sherpa had previously broken his own world record by climbing Mount Everest for the 27th time. The news of his 26th ascent was announced on the 31st of Vasantayam, a significant day for mountaineering enthusiasts. This relentless pursuit of mountaineering excellence is a testament to Kami Rita Sherpa's unwavering commitment to his craft.
The first successful ascent of Mount Everest for this climbing season was completed by a team of 10 people, including Sherpas, on Saturday, May 13, 2023. Led by Dawa Gyalje Sherpa, a resident of Rolwaling Dolakha, a 9-member Sherpa team was responsible for fixing the ropes and establishing a safe route for other climbers. This crucial task ensures the safety of climbers attempting to conquer the world's highest peak.
Kamirita Sherpa, whose journey in the field of mountaineering began in 1992, has an impressive resume of climbing achievements. Over the years, he has climbed Mount Everest 27 times, along with successful summits of K-2 and Lhotse once each, Manaslu three times, and Cho Oyu eight times. Kamirita's experience and expertise have made him a respected figure in the mountaineering community.
Born on January 2, 1970, in Thame village, Solukhumbu, Kamirita Sherpa has dedicated his life to mountain climbing. Working as a senior guide in the Seven Summit Trek, he has amassed more than two decades of experience in conquering challenging peaks. His journey began as a support staff member on a Mount Everest expedition in 1992, and since then, he has continuously pushed his limits to achieve remarkable feats in the world of mountaineering.
Kami Rita Sherpa's and Pasang Dawa Sherpa's extraordinary achievements on Mount Everest serve as an inspiration to aspiring climbers worldwide. Their dedication, resilience, and unwavering passion for mountaineering exemplify the true spirit of human accomplishment in the face of extreme challenges.
Reaching New Heights: Kami Rita Sherpa's Inspiring Journey
In a heartfelt Instagram post, Kami Rita Sherpa shares his joy and pride in reaching the pinnacle of Mount Everest for an astonishing 28th time. His accomplishments represent not only a personal triumph but also serve as a testament to the indomitable human spirit and a source of inspiration for younger generations.
Climbing has been ingrained in Kami Rita Sherpa's very being since his teenage years. It flows through his veins, fueling his determination to conquer mountains and push his own limits. But before each expedition, he takes a moment to offer prayers to the mountain gods, forging a profound connection with these majestic peaks and the people who hold them in reverence.
While Kami Rita Sherpa's achievements have brought him personal satisfaction, he remains committed to extending a helping hand and making dreams come true for as many people as possible. His selflessness and dedication to supporting others embody the true spirit of a mountaineer.
For Kami Rita Sherpa, the pursuit of records has never been the driving force behind his climbs. Instead, it is his unwavering passion and tireless hard work that have propelled him to this remarkable point in his mountaineering career. He considers it an honor to bring recognition to his fellow Sherpa brothers and to represent his country on the global stage.
In the face of adversity, Kami Rita Sherpa and his Sherpa community never lose hope. They stand as a shining example of resilience, proving that with determination and perseverance, any challenge can be overcome.
Acknowledging the immense support he received throughout his extraordinary journey, Kami Rita Sherpa extends a massive shoutout to his incredible team members and all the individuals who have stood by his side. Their unwavering support has been instrumental in his success.
With his unwavering passion, Kami Rita Sherpa aims to spread love, inspire others, and encourage everyone to embrace the boundless wonders our planet has to offer. His incredible achievements remind us of the limitless possibilities that exist when we push beyond our limits and dare to chase our dreams.
Published on 25th May 2023