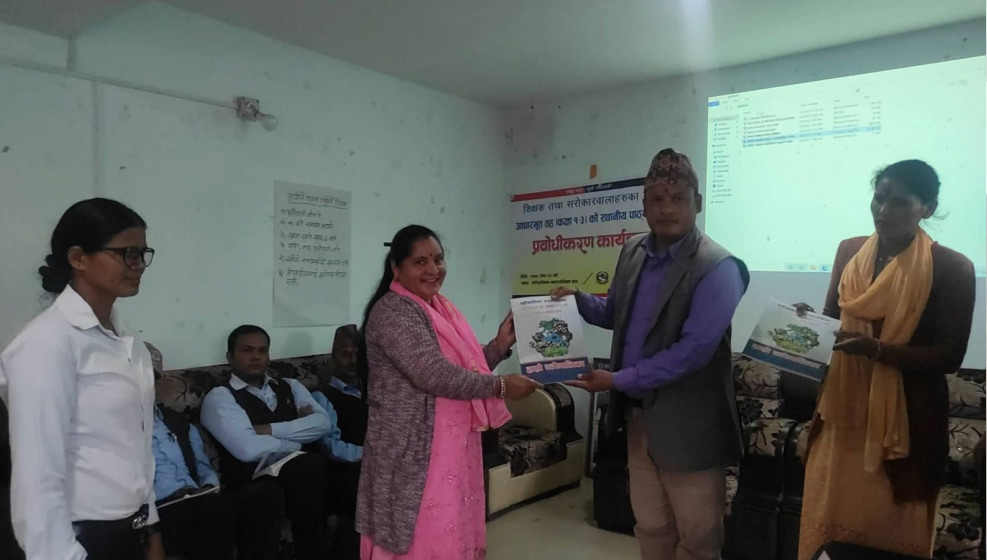 The Badimalika Municipality, Bajura has decided to make the local curriculum compulsory in all schools within the municipality. The book titled "Hamro Badimalika" has been prepared as a local curriculum that reflects the local theme and original environment.
Badimalika has become the first municipality out of nine localities in the district to implement a local curriculum. In the first phase, the basic curriculum will be taught from classes 1 to 3 in the local curriculum.
The book, which will be read as a local curriculum, has been made public by Amar Khadka and Nanda Kumari Thapa. The curriculum has been prepared by Badimalika Municipality Education, Youth and Sports Branch. The curriculum will be implemented from this academic session.
It is said that the concept of a local curriculum has been put forward with the objective of introducing the original identity of the city and keeping the new generation informed about the state of society and socialization. Since the same type of learning facilitation method can always be suitable in the city and everywhere, our large number of books are being read at the basic level based on local themes.
The Education, Youth, and Sports Branch of the municipality has organized a local curriculum promotion program in Badimalika Municipality and informed the teachers and stakeholders.
It is expected that the language and culture spoken at the local level will be used in the community and private schools within the municipality after reading our big textbooks for basic level grades 1 to 3.
Similarly, the geographical location of its toll municipality, religious sites at the local level, natural heritage, historical heritage, identity, description, and glory are included. Religion, culture, and originality are included in the syllabus.
In the public program conducted by teacher Uttam Raj Joshi, the participants were thanked for starting a good practice from the municipality level. The book is divided into 12 topics including 59 pages.
Bajura