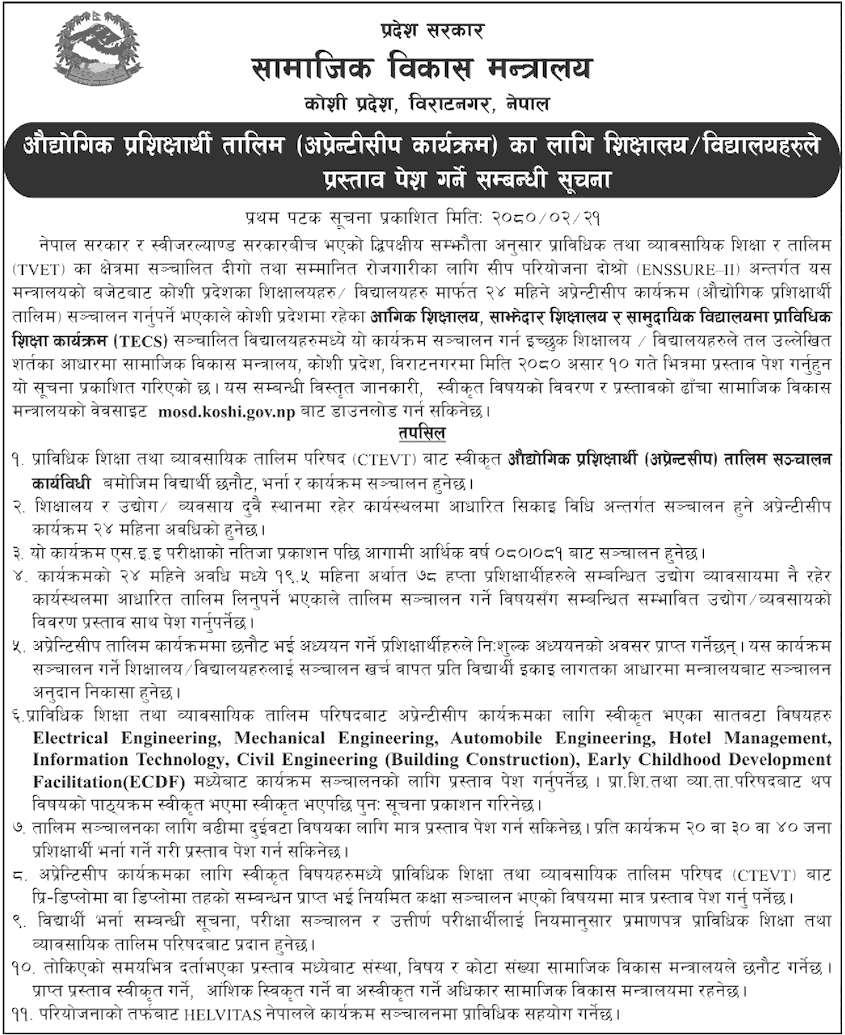 Ministry of Social Development (MoSD) Koshi Pradesh Call Proposal for Apprenticeship Programme
The Ministry of Social Development (MoSD) in Koshi Pradesh, Biratnagar, Nepal, in collaboration with the Government of Switzerland, is pleased to announce the 24-month Apprenticeship Program (Industrial Trainee Training) for Technical Education Program (TECS) schools in Koshi Province. Interested parties are required to submit their proposals by the 10th of Ashad, 2080. Detailed information, subject acceptance criteria, and proposal formats can be obtained from the Ministry's official website: mosd.koshi.gov.np.
Program Details
Selection and admission of students will follow the Industrial Apprentice Training Procedures approved by the Council for Technical Education and Vocational Training (CTEVT).
The apprenticeship program will be conducted through a work-based learning approach, combining academic and industry/business training.
The program duration is 24 months, starting from the next financial year after the publication of SE exam results.
For a duration of 19 months (78 weeks), trainees will be required to stay in the relevant industry for workplace-based training. Proposals should include details of the industry/business related to the chosen training subject.
Selected trainees will have the opportunity to study for free, as educational institutions/schools running the program will receive an operating grant from the Ministry based on the unit cost per student.
Proposals should be submitted for one or two subjects from the seven subjects approved by CTEVT for the apprenticeship program. The approved subjects are: Electrical Engineering, Mechanical Engineering, Automobile Engineering, Hotel Management, Information Technology, Civil Engineering (Building Construction), and Early Childhood Development Facilitation (ECDF). Additional subjects will require approval from CTEVT.
Each proposal can enroll a maximum of 20, 30, or 40 trainees per program.
Proposals are accepted only for pre-diploma or diploma level affiliation and regular classes.
Student admission, examination conduct, and certification will be managed by the Technical Education and Vocational Training Council according to the set rules.
The Ministry of Social Development will review the proposals received within the specified time and select the institution, subject, and quota number. The Ministry reserves the right to approve, partially approve, or reject the proposals.
HELVITAS Nepal will provide technical assistance in the program's operation on behalf of the project.
We encourage all interested parties to visit the Ministry of Social Development's website to access the detailed information, proposal format, and submission guidelines. This apprenticeship program aims to provide valuable industrial training opportunities for students, ensuring their future success in their chosen fields.
Published on 4th June 2023
Notice
Koshi Pradesh