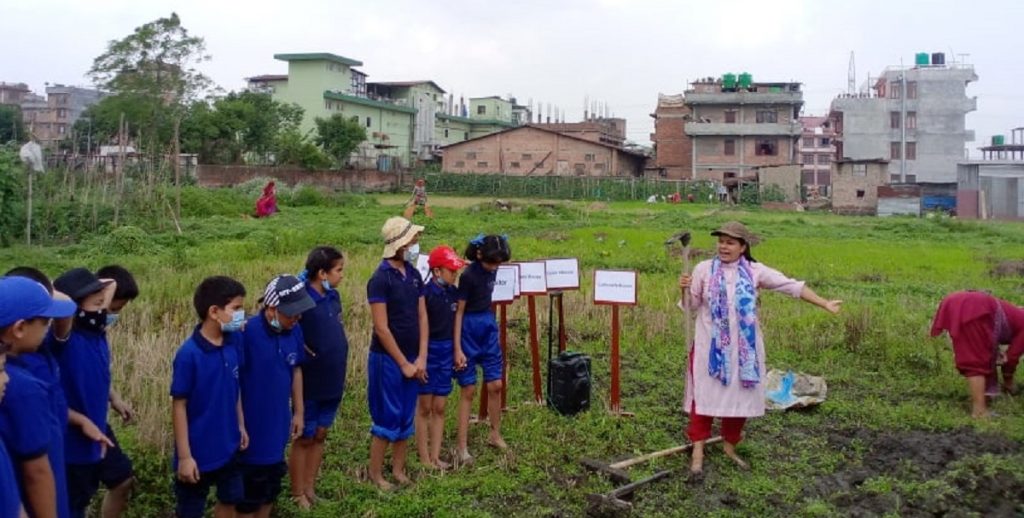 Students of Everest English School Bhaktapur Planted Paddy Seeds: A student of a school in Bhaktapur has planted paddy seeds for planting in Asar. Students of Everest English School, Mibbachhen Vyasi, Bhaktapur Municipality-2 have planted Paddy Seeds. They reached the field near the school and sowed the seeds. They were assisted by teachers.
Bhakta Rajbhandari, the founding principal of the school, said that the school has been conducting such a program every year to impart not only theoretical but also practical knowledge to the students. He says that his aim is to attract them to agriculture in the future as well.
One hundred and forty-seven students studying in class 4 of the school had reached the field every year to sow rice seeds. After reaching the field, teacher Kavita Poudel showed them the equipment needed for storing the seeds and informed them about their use.
Teacher Sunita Subedi informed the students about the method of keeping seeds. According to him, the students will plant paddy in a Ropani area near the school on the 15th of Ashad. They also cut the paddy.