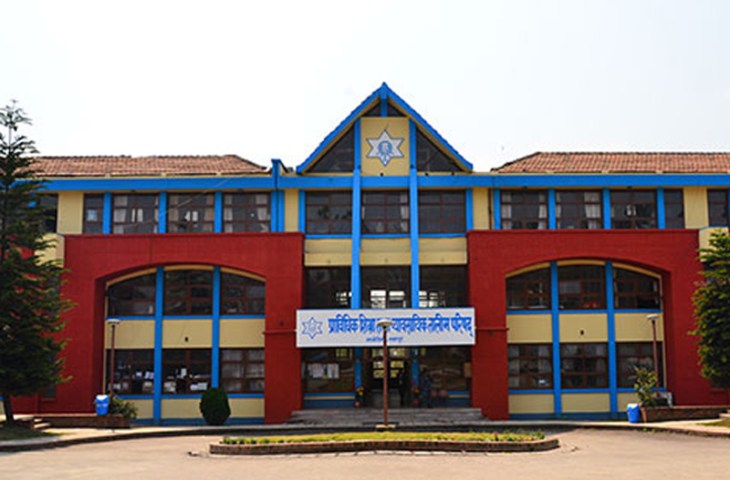 CTEVT Karnali Province Office Announces Diploma PCL Scholarship Entrance Exam Results
The Council for Technical Education and Vocational Training (CTEVT) Karnali Province Office in Birendranagar, Surkhet, has released an urgent notice concerning the publication of entrance examination results. These results are for programs that offer classified (free) scholarships at the diploma level. This announcement is crucial for all aspiring students and educational institutions involved.
Key Dates
Initial Notification: 2080/03/29 and 2080/04/18
Examination Conducted: On various dates at designated centers
Result Publication Date: 2080/05/18
Last Date for Admission: 2080/05/27
Who Should Pay Attention?
Main Candidates
Alternates
Educational Institutions
General Public
Admission Process for Selected Candidates
If you have been selected as a main candidate, you are required to proceed with the following steps:
Admission to Designated School: Go to the designated educational institution for admission.

Required Documents: Carry your admit card, a copy of the result, educational qualification certificates, citizenship or birth registration, and complete certificates of the selected target category.

Deadline: Complete the admission process within office hours by 2080/05/27.
Instructions for Educational Institutions
Educational institutions are requested to:
Document Verification: Strictly adhere to the admission guidelines and only accept the documents as specified in the admission notices.

Failure to Enroll: If a candidate fails to enroll by the specified date, they must inform the institution in writing within 3 days. The communication should be sent to [email protected] and must mention the class quota of the candidates.
Where to Find Detailed Results
Provincial Office Website: www.ctevtkarnali.org.np
Council Examination Control Office Website: www.ctevtexam.org.np
This is a significant announcement for anyone aiming to secure a diploma through a scholarship program under CTEVT. Both candidates and educational institutions should adhere to the guidelines and deadlines to ensure a smooth admission process.
For any further queries, you can reach out to the official email address: [email protected].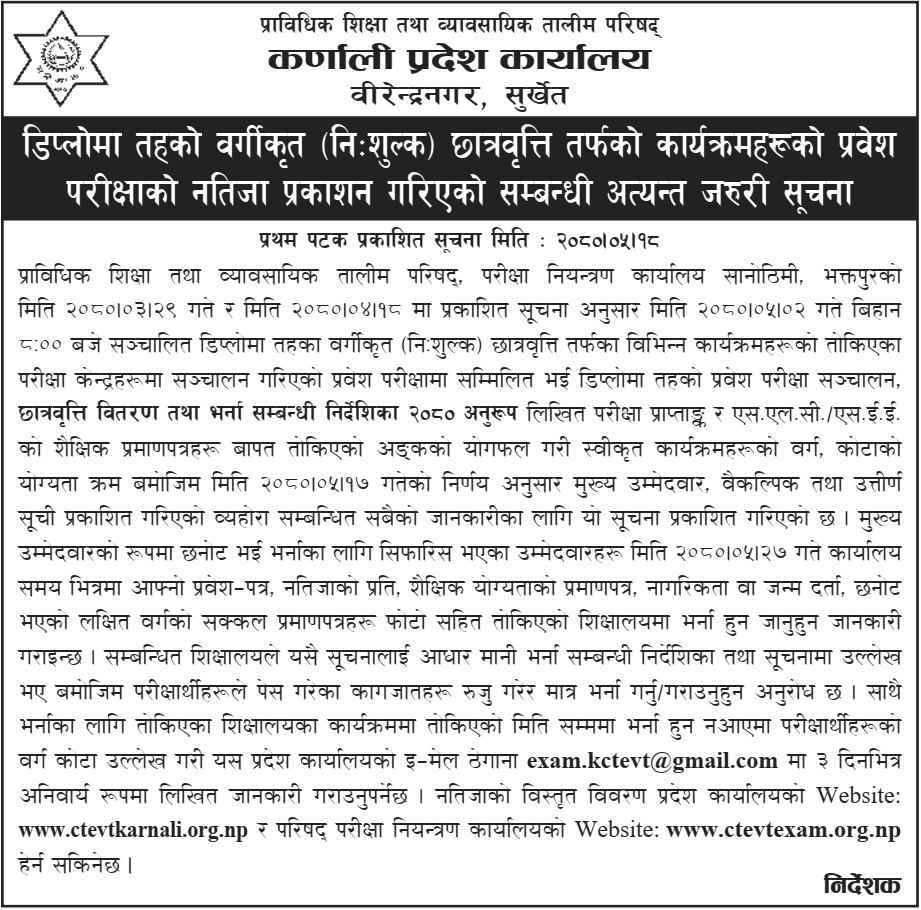 Download / View Result from Here
Diploma classified Scholarship Entrance Notice.pdf

AAYURVEDA .pdf

Civil Engineering .pdf

Computer Engineering.pdf

Forestry.pdf

Geomatics Egineering.pdf

HA .pdf

Information Technology (IT).pdf

Pharmacy .pdf

Plant Science .pdf

Animal Science 2080.pdf

CMLT 2080.pdf

Notice
Entrance Result
Scholarship in Nepal
CTEVT Scholarship