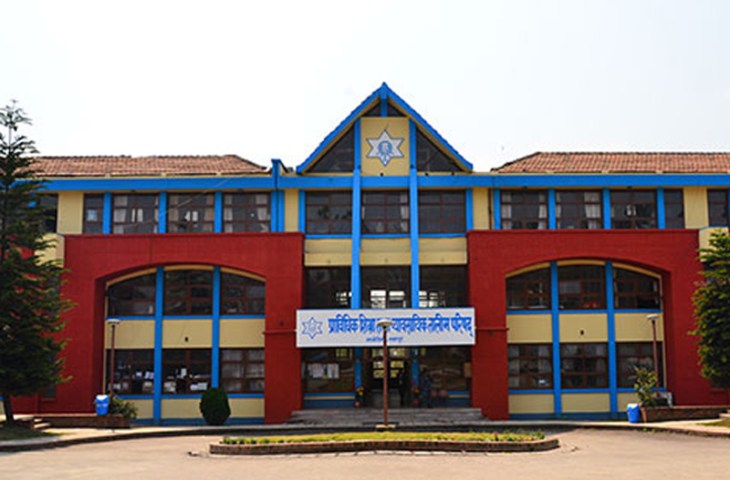 Council for Technical Education and Vocational Training (CTEVT), Sudurpaschim Province Office, Dhangadhi, Kailali Very important information regarding the publication of results of diploma and certificate level classified (free) scholarships
According to the notification published in the Gorkhapatra Rashtriya Daily newspaper dated 2079-04-12 and 2079-05-08 to study in classified (free) scholarships of diploma and certificate level under Sudurpaschim Province, diploma and certificate level classification. Fill out the online application form within the specified date and time for the free scholarship entrance examination Date: 2079-05-18 at 8:00 a.m. in the entrance examination conducted by the examination control office Conducting the diploma and certificate level entrance examination from among the students included in the entrance examination, Scholarship distribution and admission guidelines, 2079 According to the order of merit, the results are published and the recommended procedure for admission to the relevant educational institutions is notified. In addition, it is also informed about the cancellation of the applications that have not been received properly and the documents are insufficient.
Based on this notice, the selected main candidates should submit their educational qualification documents, citizenship: birth registration documents, if they have been selected in the target group, within 10 days from the date of publication of the results (up to 2079-06-05) in the recommended educational institutions and You must be admitted to the recommended educational institution along with the admit card received while filling the online scholarship entrance exam application form.
Based on this information, the concerned educational institutions will compare the GPA percentage of the published result with the GPA percentage of the candidates mentioned in the results of the class 10th GPA percentage mentioned in the results, the certificate of studies from Agink, TECS and Tribhuvan University if they are selected from the government community school and if they are selected from TSLC. Also, the percentage of the total amount must be determined and the quota will be vacant if the quota is not filled within the specified date and time, the name, permit number, and target group of the candidate who did not come to be admitted must be mentioned within 3 (three) days after the deadline for admission. (up to date 2079-03-08) It is requested to send the email of this office to [email protected] and its CTEVT Examination Control Office ([email protected]) as soon as possible.
Also, if it is mentioned in the notice that there is a change in the admission process of Bramojim, the principal of the concerned educational institution will be responsible for the same and it is also requested that the examinee will not be registered.
Organizations that fail to cooperate in management work by not informing on time are also informed that the conduct of diploma and certificate level entrance examination, scholarship distribution, and admission will be done according to the guidelines.
Published Date: 2079-05-27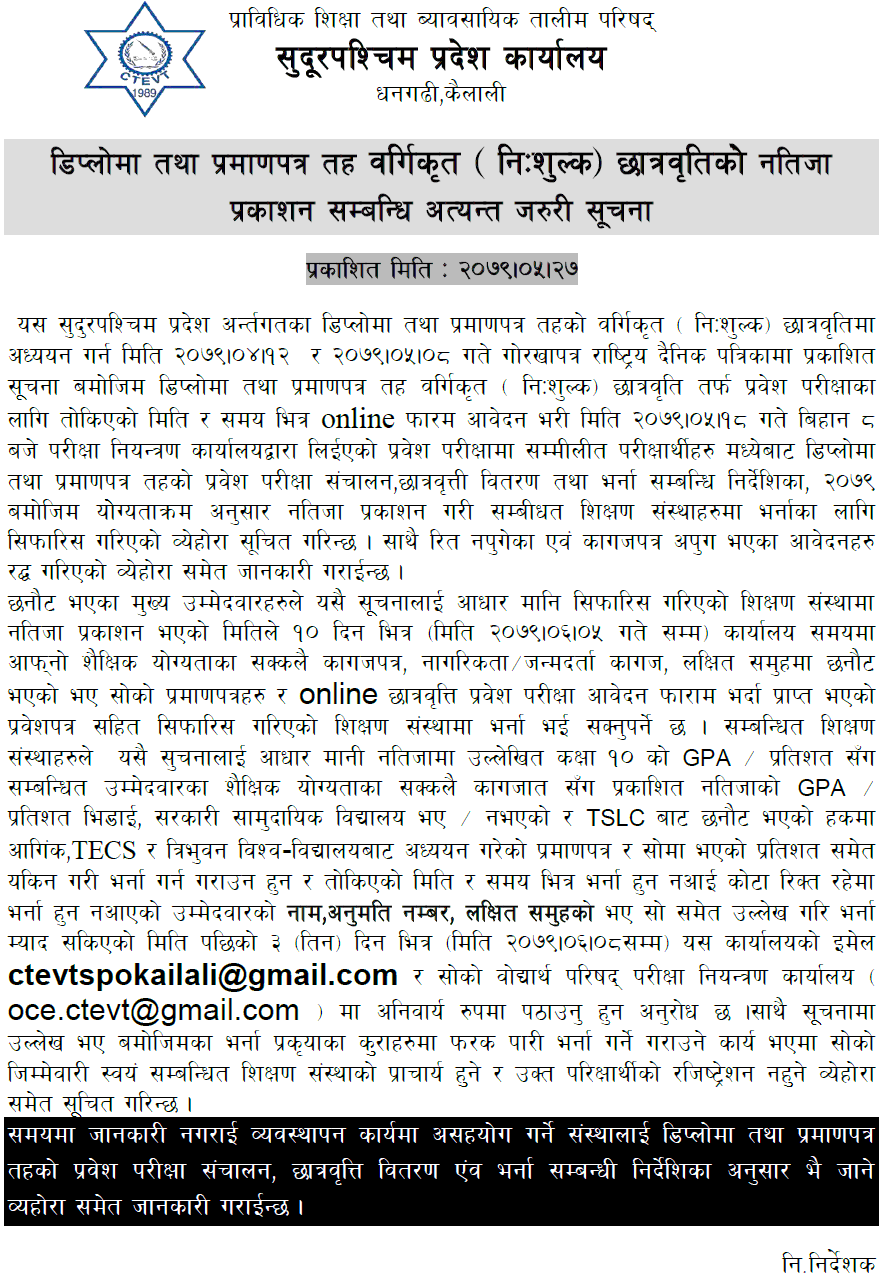 Download / View Scholarship Result:
Sudurpashchim Pradesh
Entrance Result
CTEVT Result
CTEVT Scholarship
CTEVT