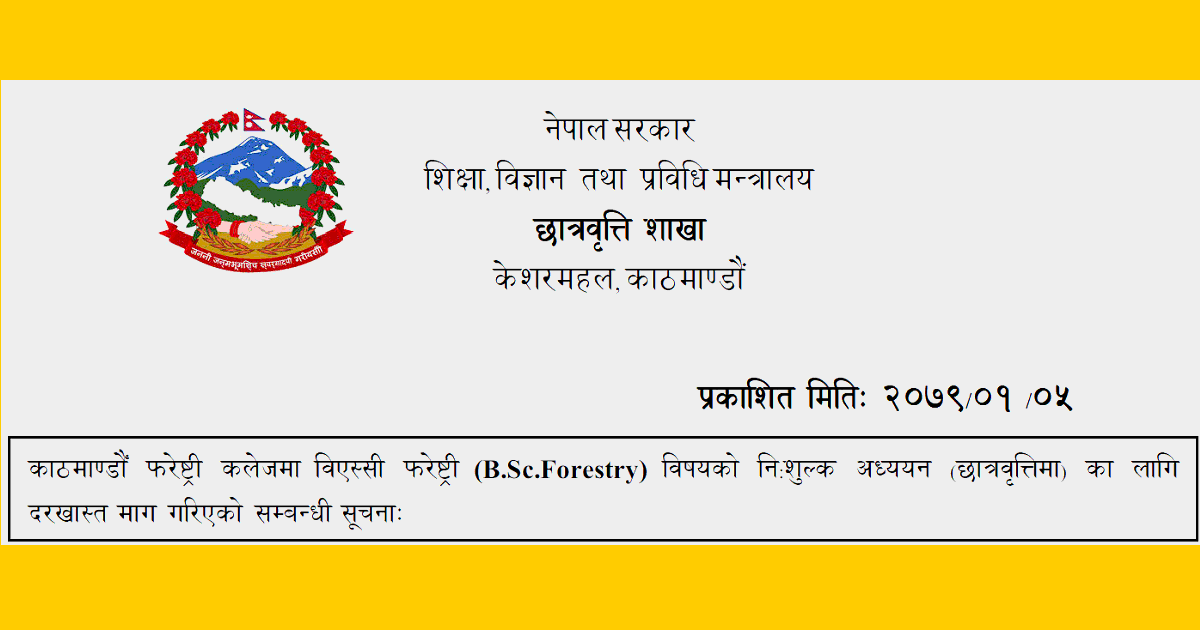 Government of Nepal, Ministry of Education, Science and Technology, Scholarship Branch, Keshar Mahal, Kathmandu Application Request for Application for Free Study (Scholarship) in B.Sc Forestry at Kathmandu Forestry College
According to the letter received from the Technical Education Branch of the Ministry of Education, Science and Technology dated 2078-12-22, the Government of Nepal has recommended 5 students for the year 2078-082 to study in BSc Forestry at Kathmandu Forest College affiliated with Tribhuvan University. And having to be nominated; Applications are invited from interested Nepali citizens who have completed the following qualifications for the purpose of maintaining and qualifying as per the Scholarship Rules 2060.
1) Minimum qualification required for application
A) Must have passed the bachelor level entrance examination conducted by the Institute of Forest Studies, Pokhara under TU in 2078 BS.
B) Groups and seats designated for application:
3 seats in the general group
Reservation Group: Women-1 and Janajati-1
2) Application Deadline: From 6th Baishakh 2079 to 13th Baishakh 2078, applications can be submitted at the Scholarship Branch, Keshar Mahal, Ministry of Education, Science and Technology. The application form is attached herewith.
3) Provisions related to revenue: The applicants have to pay Rs. 1000 at one thousand Rashtriya Banijya Bank counter office code no. 350003501 and to be filed in Revenue Title No. 14229. and the application should be submitted along with the original voucher of the same. Sample voucher filling is given on the back of this information.
4) Documents to be submitted along with the application
Completed application form
Original voucher submitted of Revenue
Copy of citizenship certificate
Roll Number Rank / Merit Subject of Entrance Examination conducted by Tribhuvan University, Institute of Forestry (IOF), Pokhara.
Copy of transcript of educational qualification passed 10 + 2 or certificate level or equivalent
Copy of Mark Sheet of SLC / SEE Exam
Copy of equivalence certificate issued by the concerned board if the board has acquired educational qualification is outside Nepal
A copy of the letter of recommendation from the concerned district administration office if the name and surname are different in the certificate of citizenship and educational qualification.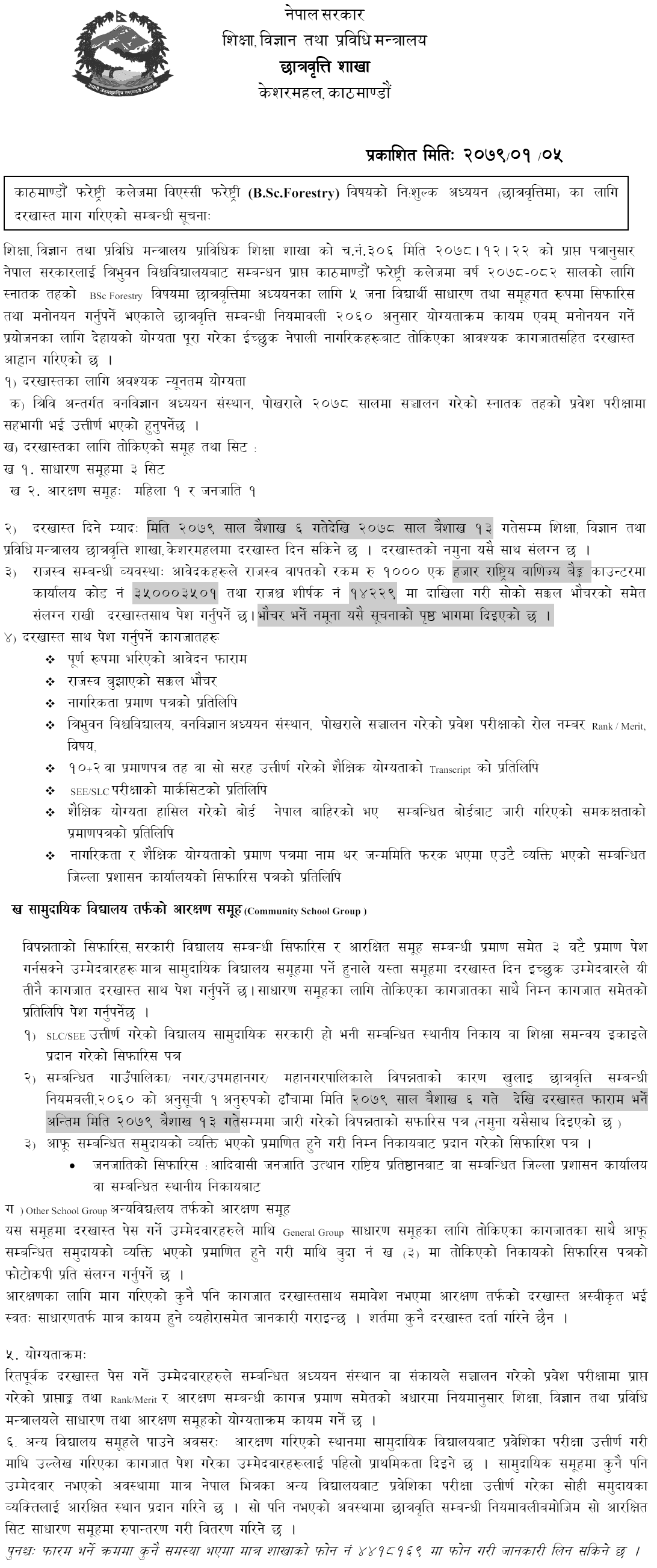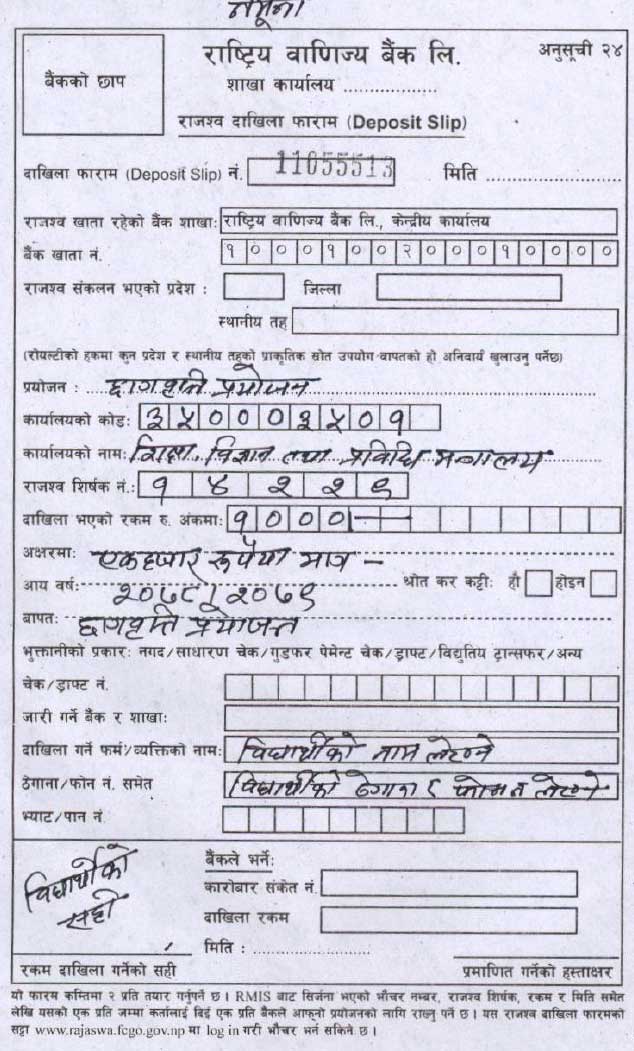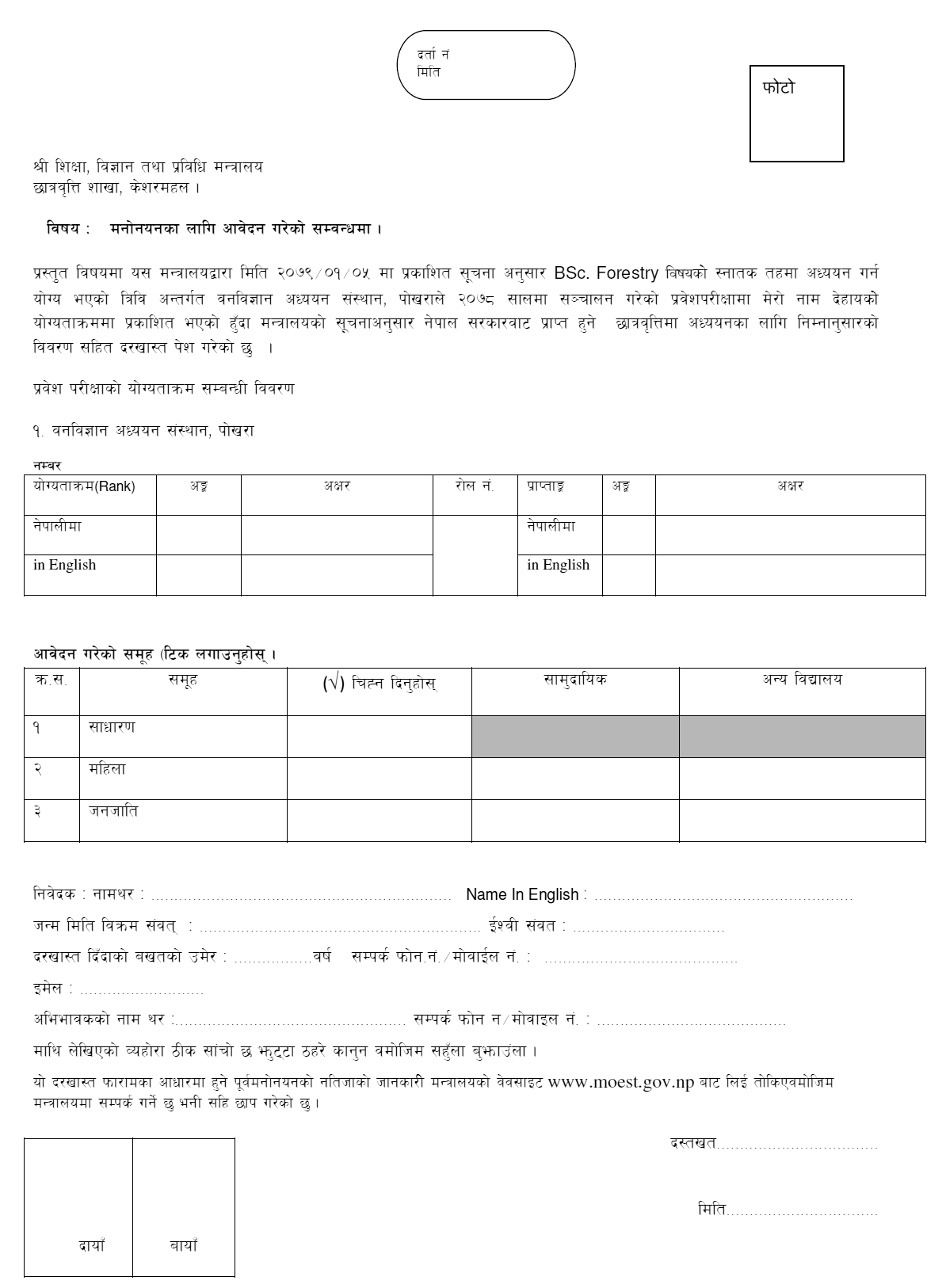 Scholarship in Nepal