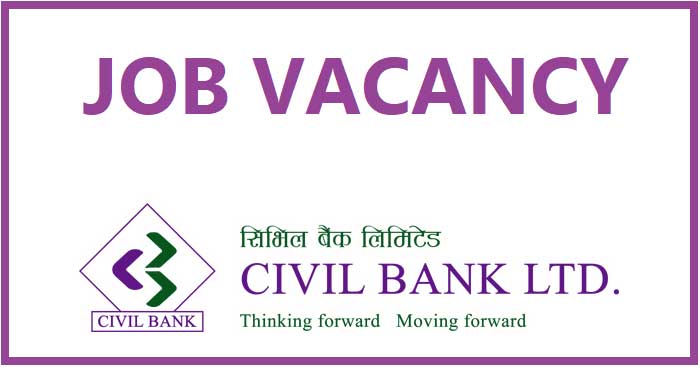 CAREER OPPORTUNITY
Civil Bank Limited, "A" Class Commercial Bank of Nepal requires a pool of competent Human Resources for its sustainable growth objective to be achieved through corroded aggression and seeks applicants for the position of Head - Human Resources from competent Nepalese candidates with excellent interpersonal skills, high professional standards, and integrity
1. Head - Human Resources (Managerial Level)
Posted Date: 2019-11-19
Application Deadline: 2019-12-04
Age: Minimum 28 years and not exceeding 50 years for male candidates and 55 years for female candidates as of the last date of vacancy notice.
Qualification: Master's Degree or equivalent from recognized university/college. Preference shall be given to candidates specializing in Human Resources.
Experience: 10 years of experience in Human Resources Management, preference shall be given to candidates having banking experience. Required Knowledge & Skills: Head - Human Resources shall be responsible for planning, directing and coordinating all HR related activities, should have the ability to drive the team and handle staff issues to conclusive end and should have hands-on experience in formulating human resources strategies aligning with the goals of the bank. He/she shall possess excellent decision-making, strategic thinking, leadership, interpersonal and ethical conduct skills. The candidate should be well versed in all relevant laws & regulations of the country and should possess fair insight into modern relevant HR practices.
Applications without discourse of age and marks/percentage/CGPA for each level of degree from SLC/equivalent onwards shall be automatically disqualified. Only shortlisted candidates shall be called for further process. The bank reserves the right to reject any/all applications without assigning any reason whatsoever. Canvassing at any stage of the process shall lead to automatic disqualification.
To Apply:
Log on to the Career section of www.civilbank.com.np and Click Apply icon. The last date of application is 15:00 hrs. December 4, 2019.
https://www.civilbank.com.np/current-vacancies
Civil Bank Limited
Human Resources Department
Sundhara. Kathmandu, POBox -9799
Phone Number 4251015, 4251087
Fax No. 4251036
Email: [email protected]