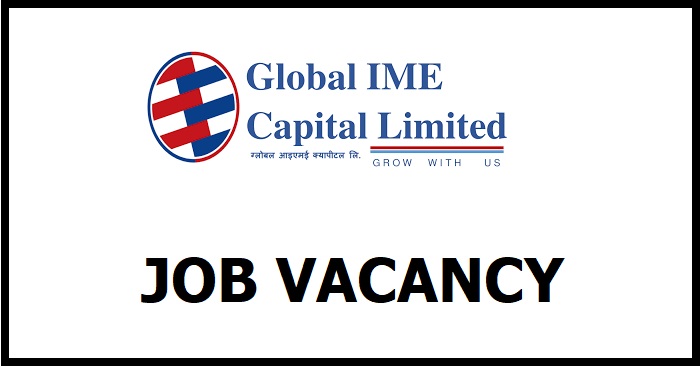 Vacancy Announcement
Global IME Capital Limited, a subsidiary of Global IME Bank Ltd. is actively seeking applications for the role of Chief Executive Officer (CEO) from highly motivated, dynamic, and result-oriented Nepali citizens with a proven track record in capital markets and investment banking. CEO shall be responsible for formulating and executing the organization's annual operating plans guided by long-term strategic plans with an aspiration to catapult the organization into a top-tier investment banking institution.
Qualification and Experience:
Master's Degree in the subject of Economics/Commerce/Finance/Account/ Commercial Law with a minimum of 10 years of experience in the fields of Accountancy/Finance/Commercial Law/Management within the area of Industry/ Commerce/Capital Market/Banking and Financial Institutions.
Preference will be given to candidates with a professional certification such as CA, ACCA, CPA, or CFA.
Profound expertise in Nepalese Capital Markets, Banking Procedures, Financial Analysis, research, Portfolio Management, Mutual Fund Management, Treasury Management Securities Trading Processes, Corporate Advisory and other Investment Banking Procedures.
Preference will be given to the applicants who have expertise and exposure in the relevant domain of Investment Banking and Private Equity/Venture Capital
Strong organizational, analytical, and problem-solving capabilities, coupled with a strategic thinking aptitude.
Proactive leadership skills, strong interpersonal skills, and ability to develop and maintain successful long-term business growth for the company, coupled with the ability to anticipate trends and access new opportunities as they arise.
Candidates must be under 55 years of age as of the application deadline.
Prospective candidates who meet the specified criteria are invited to send their updated resume, along with a cover letter mentioning your expected remuneration and other benefits, either via email to vacancygicl@gmailcom or in a sealed envelope labeled "Application for CEO" addressed to Global IME Capital Ltd., 1st Floor, Laxman Babu Bhawan, Naxal, and Kathmandu, NepaL Please make sure to submit your application within 15 (Fifteen) days from the date of publication, within regular business hours.
Candidates who are shortlisted will be invited to present a comprehensive business plan. Global IME Capital Limited reserves the right to accept or reject any application without assigning any reasons whatsoever. The decision of the Global IME Capital Limited shall be final and binding to all the applicants.
Global IME Capital Ltd.
P.O. Box: 21599, First Floor, Laxman Babu Bhwan, Naxal, Kathmandu
Telephone: 977-1-5970138,
Fax: 977-1-4545702
E-mail: [email protected],
Website: www.globalimecapital.com
Notice
Banking Career
Banking Job