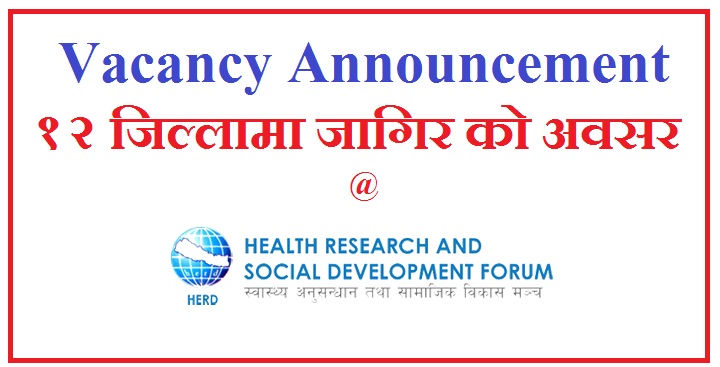 A national Programme aims to improve nutrition status of people with a focus on maternal and child nutrition by reducing under-nutrition conditions. To support local government to achieve nutritional outcomes by providing technical support in terms of institutionalizing the capacity of the government staff, and effective tracking and monitoring mechanism, Health Research and Social Development Forum (HERD) is seeking experience and dynamic Nepali citizens to be stationed in Panchthar, Khotang, Udayapur, Kapilvastu, Bardiya, Rolpa, Rukum Easta and West, Jajarkot, Jumla, Mugu, Dolpa, Huma and some other districts.
Positions: Field Supervisor - 12 (one for each district)
REQUIREMENT:
Bachelor's degree with 3 years' experience in the field of Social Science, public Health, Nutrition, Food Technology, Agriculture, Nursing or related discipline. Candidates should have demonstrable experience on planning, coordination, implementation and management of multi-pectoral programmes. Experience on training and capacity development on nutrition or relevant areas is a must. Local candidates are encouraged to apply.
To apply and for more details about ToR, log on to http://job.herdint.com/
Application submission Deadline: 5 PM (NPT), June 25, 2018
HERD reserves the right to accept and reject applications. Candidates from disadvantaged communities, women and with disabilities are strongly encouraged to apply.