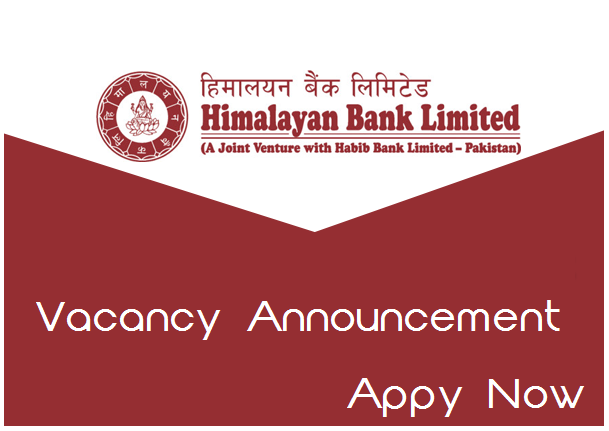 Himalayan Bank Limited is looking for highly competent, energetic and self-motivated Nepali citizens for the following level and location:
Teller 1: 6 Positions
Vacancy No.: HBLHRDVACT11/02
Location:
Pandabgupha Rural Municipality, Jagannath (Juddhi), Bajura
Swamikarthik Rural Municipality Wai, Bajura
Chededaha Rural Municipality, Dogadi Bazar, Bajura
CRITERIA:
Must have completed intermediate level equivalent.
Age not below 18 years and not exceeding 30 years.
Interested candidates are requested to submit their application along with resume, recent passport size photograph and copies of citizenship through e-mail to hblcar[email protected] latest by June 20, 2018 (Ashad 06, 2075).
Candidates must specify the Vacancy Number (in the subject of the e-mail) and Preferred Location in the application for which she/he is applying. Preference will be given to suitable location candidates. Salary and benefits will be as per the policy of the bank.
Only shortlisted candidates will be called for the further selection process. The bank reserves the right to reject any or all applications without assigning any reson whatsoever.
General Administration Department
HIMALAYAN BANK LIMITED
Corporate Office, Kamaladi, Kathmandu, Nepal