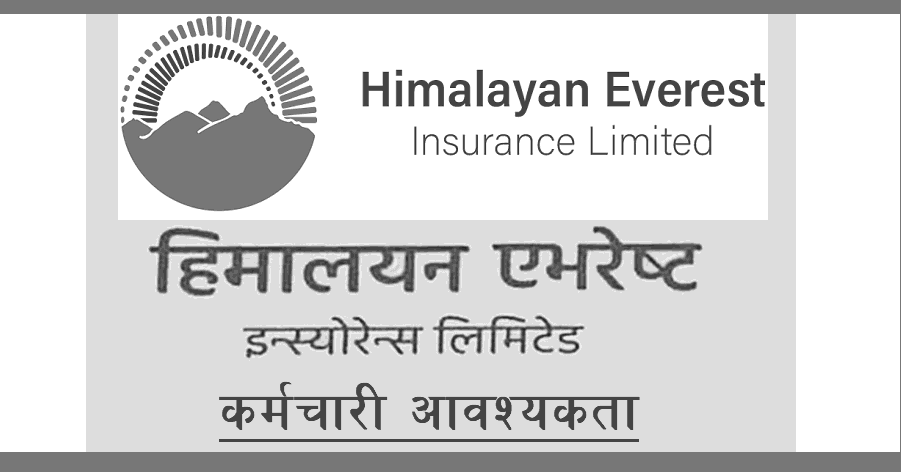 Himalayan Everest Insurance Limited is Hiring a Dotnet Developer
Himalayan Everest Insurance Limited, one of Nepal's leading non-life insurance companies, is seeking a highly motivated and enthusiastic Dotnet Developer to join their Head Office team.
About Himalayan Everest Insurance Limited
Himalayan Everest Insurance Limited was formed by merging two established non-life insurance companies, Himalayan General Insurance Co. Ltd. and Everest Insurance Co. Ltd., with the combined operation since Shrawan 1, 2079. The company has made a name for itself in the insurance industry with its commitment to providing quality services to its clients.
Position: Dotnet Developer - Few
Himalayan Everest Insurance Limited is looking for a qualified and experienced Dotnet Developer to work at its Head Office. The company is hiring only a few candidates for this position.
Job Specifications
To be considered for the position of Dotnet Developer, candidates must have the following qualifications and skills:
Qualification
Bachelor's degree in Information Technology
Minimum of 2 years of experience in a related field
Required Skills
Proficiency in Dotnet Core
Familiarity with Postgres
Strong grasp of OOP and MVC concepts
Experience with Entity Framework Core
Knowledge of Angular I.X and jQuery
Understanding of Microservices
Familiarity with Agile methodology
Experience with Deployments and Pipelines
Familiarity with Dapper ORM
Knowledge of Hangfire
Understanding of Docker and Kubernetes
Proficient verbal and written communication skills in both English and Nepali
Responsibilities
Comprehend and build upon existing codebase and services
Develop new features and fix bugs
Work on the back-end, API, and frontend development
Assess and estimate third-party service integrations
Collaborate with teammates to segregate tasks based on expertise (e.g., back-end, front-end, markup layout, and Business Analyst)
How to Apply
If you are a Nepalese citizen and meet the qualifications and skills required for this position, you can apply through email. The company requires an updated resume, cover letter mentioning expected salary, citizenship certificate, academic/experience certificates, and the latest photo within 15 days from the date of notice. Only shortlisted candidates will be invited for further selection process. The company reserves the right to accept or reject any or all applications without assigning any reason.
Contact Information
For more information about the position and how to apply, you can contact the company at:
If you have the necessary qualifications and skills and want to pursue a career in a reputable insurance company, then Himalayan Everest Insurance Limited is the right place for you. Apply now and take the first step towards a fulfilling career as a Dotnet Developer.
Published on 21 March 2023
Technical Jobs
Insurance Job Vacancy
Job Vacancy
Kathmandu