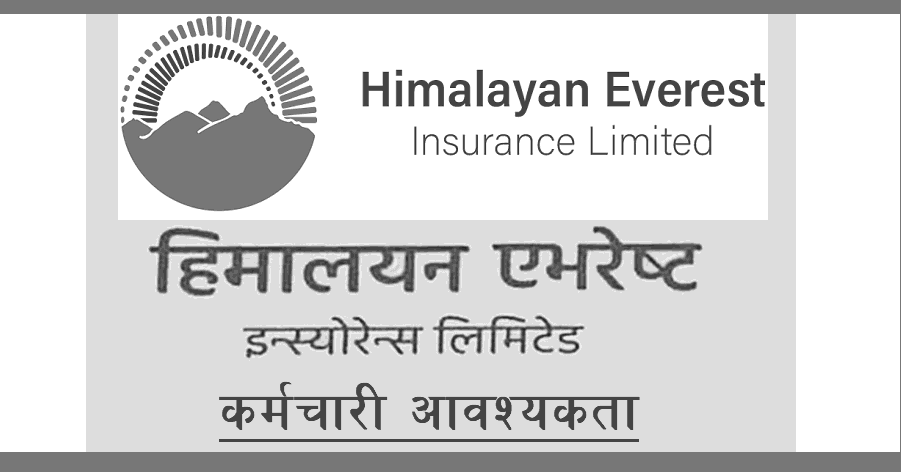 Himalayan Everest Insurance Limited Vacancy Announcement
About the company: The very first merged non-life insurance company formed by merging Himalayan General Insurance and Everest Insurance.
Job specifications
1. Province Head (1) — Karnali Province
- Minimum Bachelor's degree in Business Studies or equivalent
- Experienced in non-life insurance in Senior Officer or above position
for 2 years
2. Extension Counter Representatives (Few)
— Lekbesi Nagarpalika, Bhagawatimai Gaupalika, Gurans Gaupalika, Shiwalaya Gaupalika, Dungeshwor Gaupalika, Sanni Triveni Gaupalika of Karnali Province
- Minimum 10+2 or equivalent
- Freshers can apply; preference to local candidates with working knowledge of non-life insurance
Job Description
Himalayan Everest Insurance Limited presents the following opportunities for dedicated, enthusiastic, creative professionals to pursue career.
To apply
Nepalese citizens are encouraged to apply within 15 days of this notice through email with updated resume, cover letter, citizenship certificate and academic/experience certificates along with latest photo mentioning the position, department and location applied for.
Contact Email: [email protected]
Disclaimer:
Remuneration and benefits shall be as per company rules.
Only shortlisted candidates shall be contacted for further recruitment process. The company reserves the right to reject any or all applications without assigning reasons whatsoever.
Himalayan Everest Insurance Limited
Head Office: Thapagaun, Kathmandu, Nepal
Phone: 01-5245090/ 01-5245096
Fax: 01-5245099
Insurance Job Vacancy
Job Vacancy