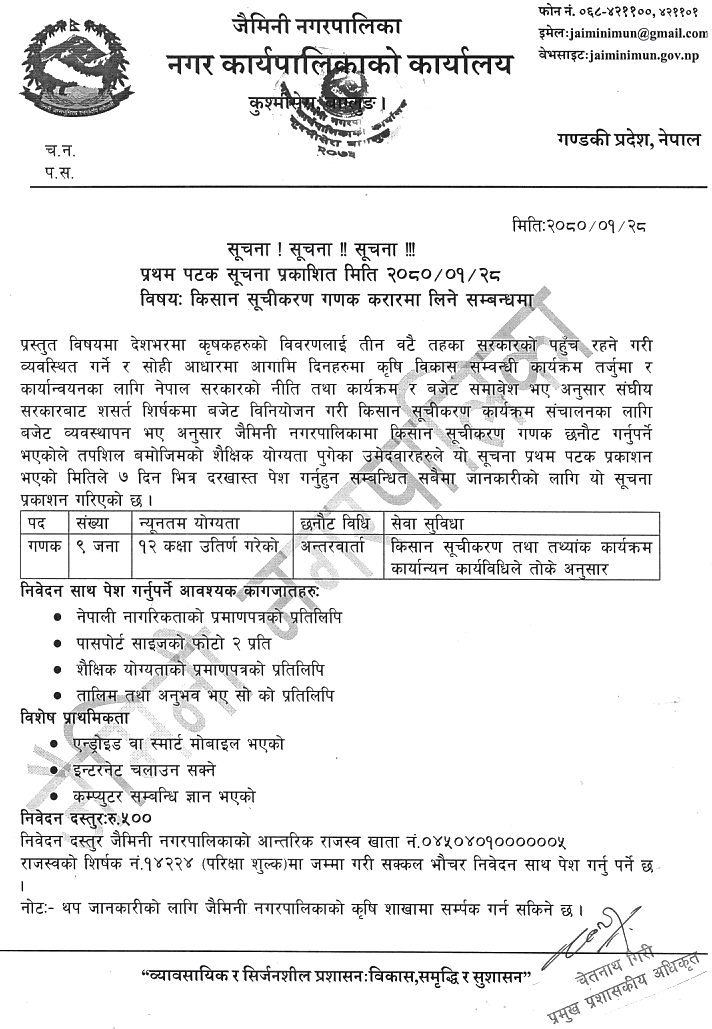 Jaimini Municipality Announces Vacancy for Kisan Enumeration Enumerator
Jaimini Municipality, located in Gandaki Pradesh, Nepal, is inviting applications for the position of Kisan Enumeration Enumerator. This vacancy announcement aligns with the government's policy and program for agricultural development in the country. The federal government has allocated a budget specifically for the operation of the farmer listing program, and the selected candidates will be responsible for conducting the enumeration process.
Vacancy Details:
Post: Kisan Enumeration Enumerator
Required Number: 9 (Nine)
Minimum Qualification: Passed 12th standard
Selection Method: Interview
Service Facilities: As per the Farmer Listing and Data Program Implementation Procedures
Application Process: Interested candidates who meet the educational qualifications can submit their applications within 7 days from the date of the first publication of this notice. Applicants are required to provide the following documents along with their application:
Copy of Nepali Citizenship Certificate
2 copies of passport-size photographs
Copy of educational qualification certificate
Copy of training and experience certificates
Special Consideration: While not mandatory, preference will be given to candidates who possess the following skills and qualifications:
Having an Android or smart mobile device
Proficiency in using the Internet
Computer literacy
Application Fee: Candidates are required to pay an application fee of Rs. 500. The fee should be submitted along with the application voucher to the Jaimini Municipality Internal Revenue Account No. 0450401000005, Revenue Title No. 14224 (examination fee).
For further information and clarifications, interested individuals can contact the Agriculture Branch of Jaimini Municipality. The contact details are as follows:
This is a valuable opportunity for individuals with an interest in agricultural development to contribute to their community while gaining valuable experience in data collection and enumeration. Don't miss out on this chance to make a difference in the agricultural sector of Jaimini Municipality.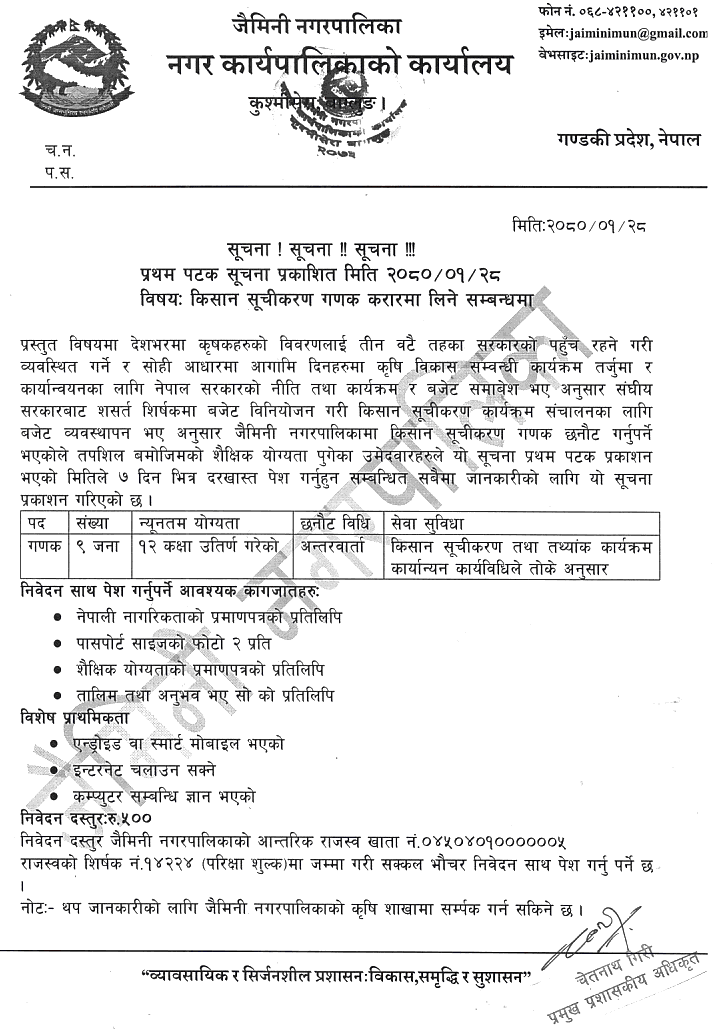 Karar Job Vacancy
Baglung
Gandaki Pradesh
Job Vacancy
Government Job