Jaleshwar Hospital Vacancy for Staff Nurse:
Province Government, Region No. 2, Ministry of Social Development, Directorate of Health, Jaleshwar Hospital, Mahottari Notice of call for applications for hiring manpower in the post-contract service
As per the approved posts of Jaleshwar Hospital, three permanent staff nurses are vacant and it is necessary to fill the vacancies as 3 (three) staff nurses are currently under approved posts to prevent and control the coronavirus. Since 3 (three) staff nurses have to be recruited by contract service at most by end of the month of Ashad 2078. Interested Nepali citizens who have completed the qualification of details are invited to submit the application within 3 (three) days from the date of publication of this notice.
Details
A) Type of examination - Interview.
B) Examination Center - Jaleshwar Hospital.
C) Application Form - Application with complete biodata.
D) Age - as prescribed by the public service.
E) Educational Qualification - As prescribed by the Public Service.
F) Documents to be submitted - Educational qualification with personal biodata, Nepali citizenship, Certified copy of the renewed certificate of registration with the concerned council, Certificate of Experience,.
G) Interview date - 2078-02-13
H) Service facilities - as specified by the province government.
H) Email - When sending to [email protected] a PDF file has to be created and sent.
First published date: 2078-02-10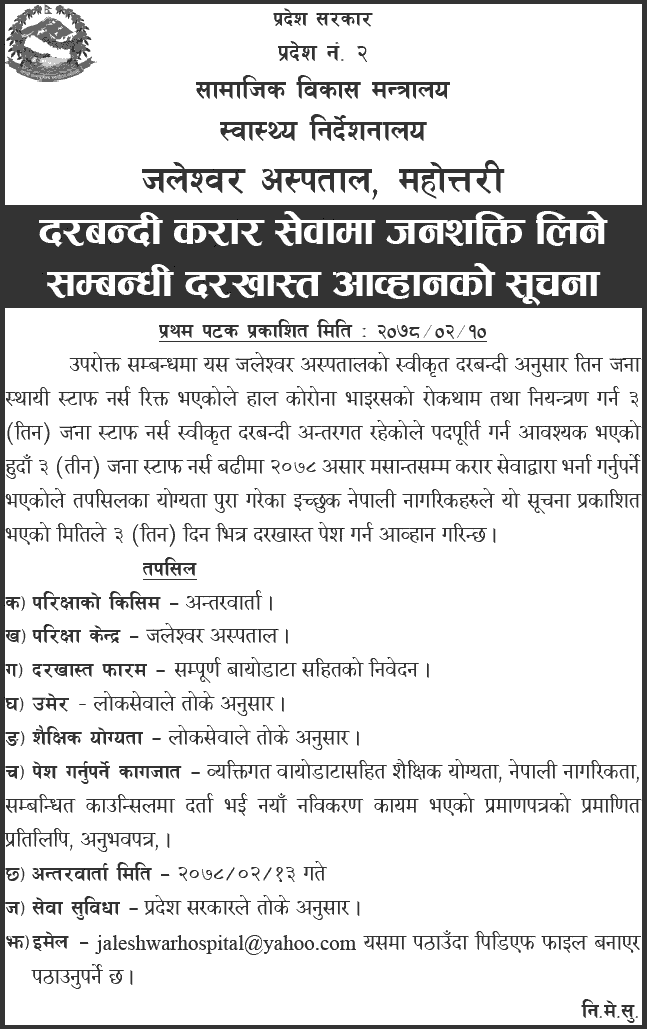 Madhesh Pradesh
Mahottari
Job Vacancy
Health Job
Government Job