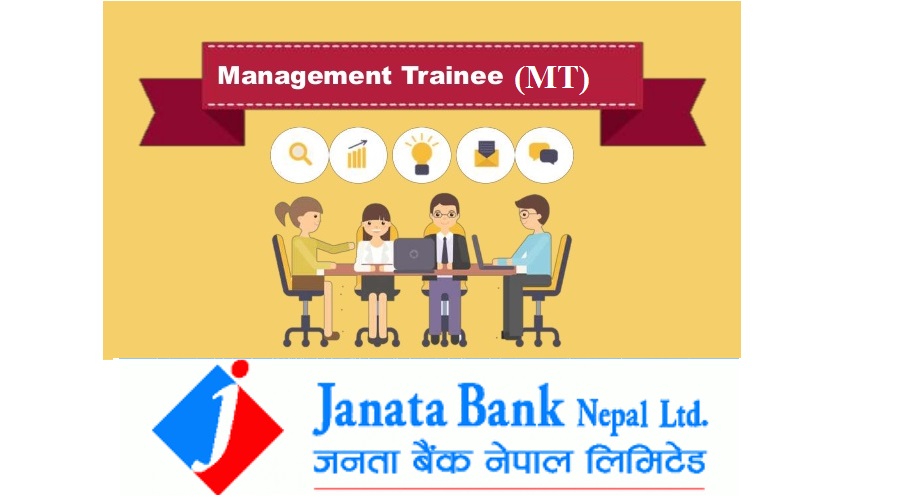 Janata Bank Limited invites application from the highly motivated, skilled, dynamic and result oriented Nepalese citizen for the following position:
Position: Management Trainees (MT) - 50
ACADEMIC QUALIFICATION:
Master's degree or equivalent degree in Management from recognized University with minimum 50% marks or 3 CGPA.
AGE:
Age should not exceed 30 years as on 27th June 2018.
JOB EXPERIENCE:
Prior Job Experience is not mandatory.
OTHER REQUIREMENT:
Applicant for above position must have computer literacy with good working knowledge of Microsoft Office Applications.
Applicant is expected to be proficient in Written/ Spoken English and Nepali language.
Applicant is expected to have smart personality with excellent interpersonal skills, positive attitude and desire to excel.
Applicant should disclose age and marks/ percentage / CGPA for each level of education after SLC or equivalent.
Successful Applicant (s) should be willing to work in any branch of the Bank inside and outside Kathmandu Valley.
Only short listed candidates will be contacted for further selection process(s).
The Bank reserves the right to accept or reject any or all applications without assigning any reason whatsoever. Canvassing at any stage of the process shall lead to disqualification.
TO APPLY:
Log on to apply www.jobsdynamics.com & click on the vacancy announcement.
Application should be submitted on or before 17:00 hours, 27th June, 2018