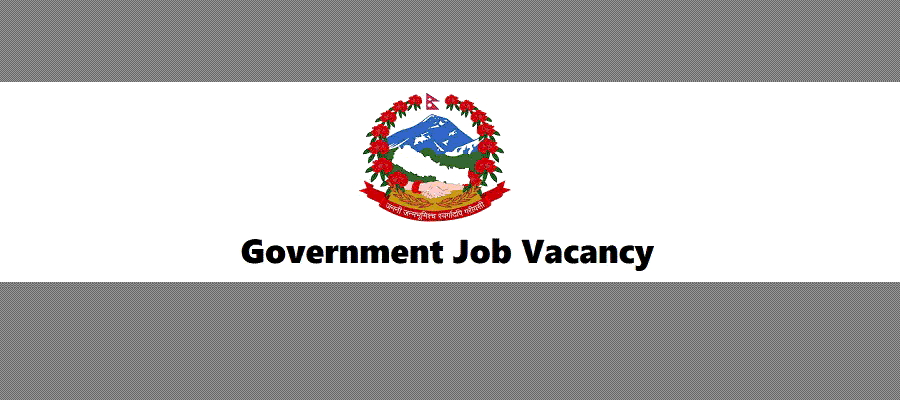 Job Recruitment Notice by Phatuwa Bijayapur Municipality
The Phatuwa Bijayapur Municipality in Rautahat, Madhesh Pradesh, Nepal, has released a notification for the recruitment of employees on a contract basis. This announcement aims to attract qualified Nepalese citizens who meet the minimum educational requirements for various positions within the municipal office.
Important Dates and Application Process:
The notice was first published on 11th Jestha 2080.
Interested candidates must submit their applications within 15 days from the date of publication.
Applications should be submitted at the Fatuwa Vijaypur Municipal Office by 26th Jestha 2080, 3:00 PM (during office hours).
Vacancy Details:
Position: Agriculture Graduate

Advertisement No.: 1/2079/080
Level: Officer Level VI
Required Number: 1
Minimum Educational Qualification: Graduation in Agricultural Science from a recognized university or educational institution.

Position: Employment Assistant

Advertisement No.: 2/2079/080
Level: Fifth
Required Number: 1
Minimum Educational Qualification: Passed at least Proficiency Certificate level or equivalent from an educational institution recognized by the Government of Nepal.

Position: ANM (Auxiliary Nurse Midwife)

Advertisement No.: 3/2079/080
Level: 4th
Required Number: 1
Minimum Educational Qualification: ANM passed from a recognized educational institution and registered with Nepal Nursing Council.

Position: Nutrition Volunteer

Advertisement No.: 4/2079/080
Level: Not specified
Required Number: 1
Minimum Educational Qualification: Passed 12th class or equivalent from a recognized educational institution.
Selection Process:
Type of Examination: Written/Skill Test and Interview.
Place of Application: Fatuwa Vijaypur Municipal Office.
Mode of Selection: A preliminary merit list will be published on the contact date.
Contact Date: The written and interview examination date is scheduled for 28th February 2080 at 3:00 PM.
Eligibility Criteria:
Age: Applicants must be 18 years old and not exceeding 35 years (40 years for women) for all positions, except for Employment Assistant, where the maximum age limit is 45 years.
Citizenship: Applicants must be Nepali citizens.
Documents to be Submitted: Proof of citizenship, 2 recent passport-size photographs, photocopies of minimum educational qualification and character proof, proof of experience (if applicable), and proof of computer skills training for employment assistants and nutrition volunteers (at least 3 months).
Application Fees:
Agriculture Graduate: NPR 1000
Employment Assistant: NPR 500
ANM: NPR 400
Nutrition Volunteer: NPR 300
General Information:
Phatuwa Bijayapur Municipality reserves the right to accept, reject, or cancel the advertisement.
Incomplete or improperly submitted applications will not be considered.
Applicants found providing false information will be held responsible.
Applicants must not have any criminal charges pending against them in court.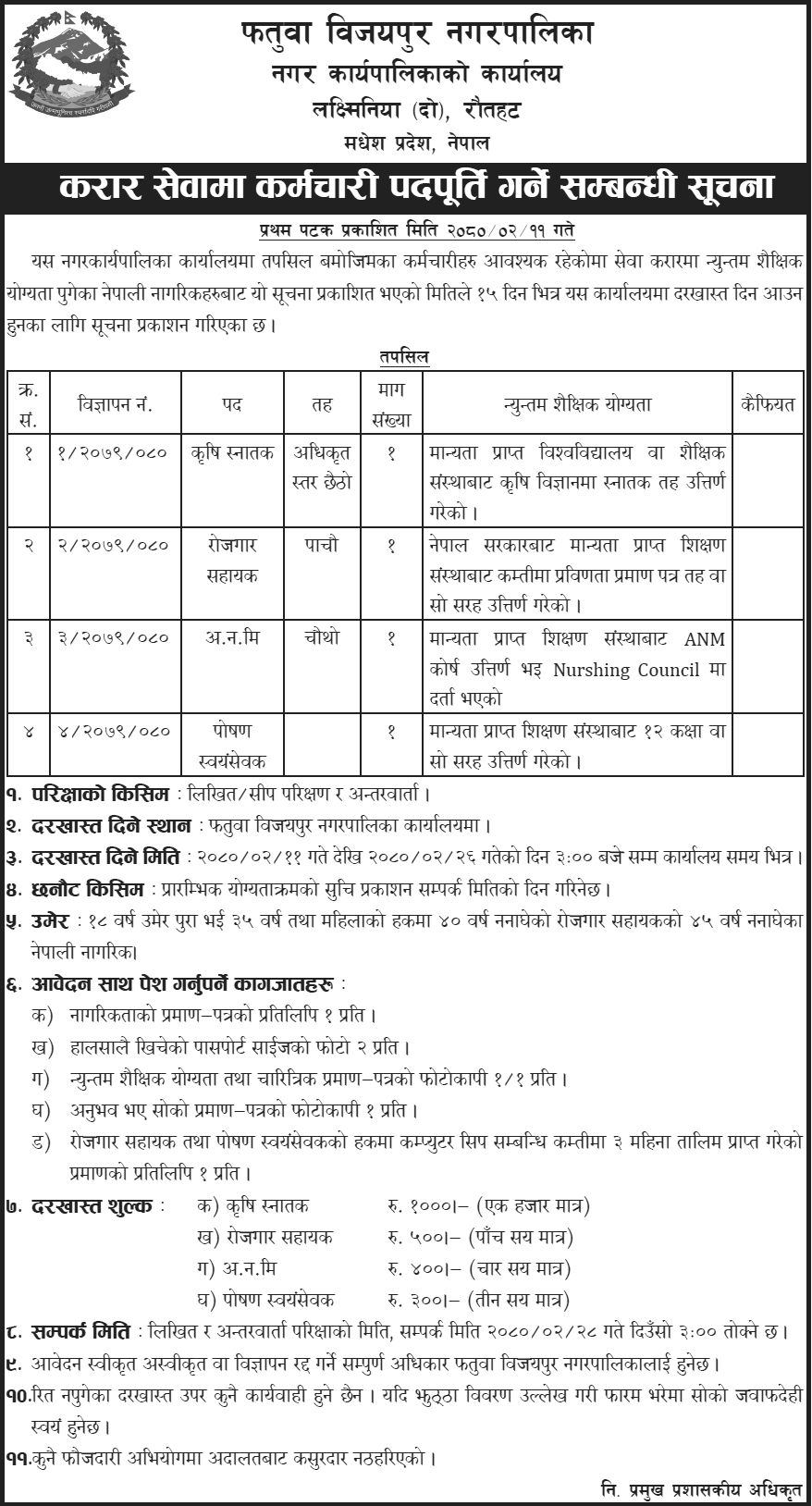 Karar Job Vacancy
Agriculture Job
Madhesh Pradesh
Mahottari
Job Vacancy
Health Job
Government Job