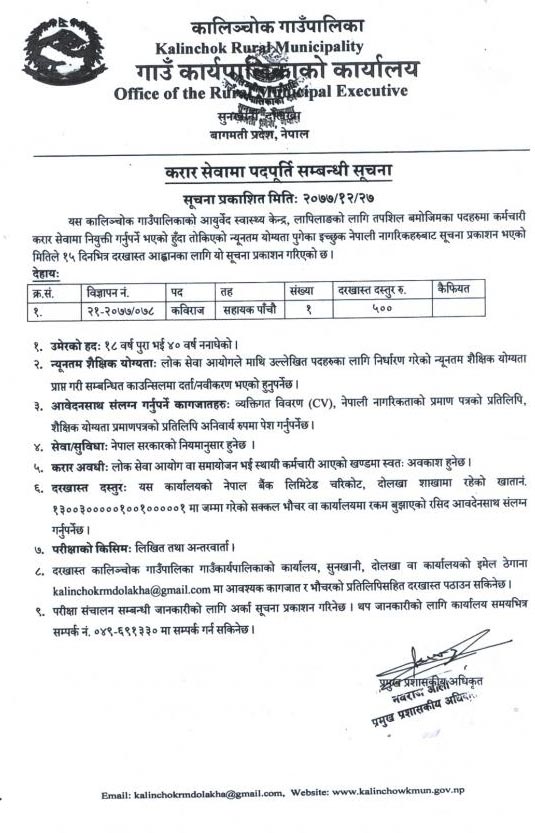 Kalinchowk Rural Municipality Job Vacancy for Kaviraj:
Since the staff has to be appointed in the contract service in the posts as per the details for the Ayurved Health Center, Lapilang of Kalinchok Rural Municipality. This notice has been published to call for applications within 15 days from the date of publication of the information by the interested Nepali citizens who have reached the prescribed minimum qualification.
Vacancy Details:
| | |
| --- | --- |
| Ad No. | 21/2077/078 |
| Positions | Kaviraj |
| Level | 5th Level Assistant |
| Application Fee | Rs. 500 |
1) Age limit: 18 years and not exceeding 40 years.
2) Minimum Educational Qualification: Must be registered/renewed in the concerned council by attaining the minimum educational qualification prescribed by the Public Service Commission for the above-mentioned posts.
3) Documents to be attached with the application: Personal details (CV), copy of Nepali citizenship certificate, copy of educational qualification certificate must be submitted in mandatory form.
4) Services: will be in accordance with the rules of the Government of Nepal.
5) contract period: In case of permanent service of Public Service Commission or adjustment, retirement will be automatic.
6) Application Fee: Rs. 500
8) Application: The application can be sent to the office of the Kalinchok Rural Municipality Village Executive, Sunkhani, Dolakha, or the email address of the office [email protected] along with the required documents and a copy of the voucher.
9) Another information will be published for the information related to conducting the examination. For more information, you can contact us on 049-691330 during office hours.
Bagmati Pradesh
Job Vacancy
Government Job