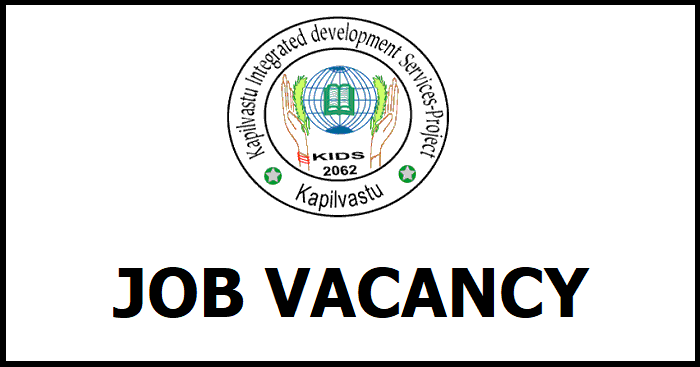 Kapilvastu Integrated Development Services (KIDS), a non-governmental and non-profitable organization working in the fields of Health, Agriculture, Climate change, livelihood; Good Governance, and Water and Sanitation since &KIDS is implementing National Tuberculosis Program (NIP) support project under Global Fund Program in the partnership with Save the children and coordination with NTCC in 13 districts namely Rupandehi, Kapilvastu, Palpa, Dang, Banke, Bardiya, Pyuthan, RaIpa, and NawalParasi (West) districts under Lumbini province
and Surkhet, Kalikot, Salyan and Dailekh districts under Karnali Province. Connecting to this program, we would like to invite applications from the interested Nepalese candidates who are eligible, accountable, and have the ability to deliver results with the highest level of integrity for the following position:
1. District Program Coordinator (DPC) -3
Duty Station: Nawalparasi­West, Palpa, and Kalikot-3 Districts
Required qualifications and experience:
Bachelor in Public health.
2 years of relevant working experience
Excellent coordination skills with government and the ability to handle multiple tasks simultaneously.
Good computer skills and preferable for the ability to communicate in English and Nepali language both verbal and written.
Good knowledge and skills in program implementation and monitoring.
A driving License (2 Wheeler) will he is preferred.
Key Responsibilities
Responsible to support and Implementing NTP activities at the district level in close coordination with all relevant stakeholders in the district
Prepare and implement district implementation plan of allocated activities linking with NII"s district regular activities with the support of IIO/HSO and district team members:
More than 60 % of field trips will be planned to ensure the timely completion of quality data collection and program.
Coordinate with team members including admin and finance personnel & M&E coordinatOr to ensure; timely planning & implementatiOn of activities, disbursement of resources, supervision & monitoring, logistics availability, etc.
Responsible for the proper documentation and timely reporting of all activities with sufficient proof and evidence including any other relevant issues during field activities at the district level.
interested candidates may apply through the below e-mail address with a recently updated cover letter by 21 June 2022, Email: [email protected]
Only short-listed candidates will be contacted for the further selection process and telephone inquiries will not be entertained.
NGO Job