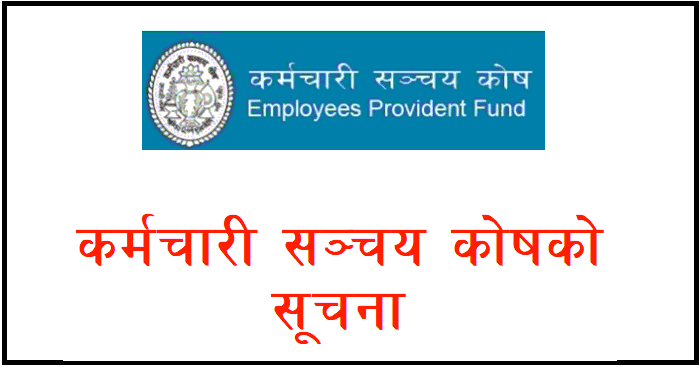 Government of Nepal, Ministry of Finance, Notification of Selection and Recommendation Committee of Administrator of Employees' Provident Fund EPF (Karmachari Sanchaya Kosh).
Since the vacant post of Administrator of Employees' Provident Fund will be filled through open competitive competition; This notice is published for the information of all concerned to submit a confidential sealed application to the Financial Sector Management and Institution Coordination Division of the Ministry of Finance, Singhdarbar, Kathmandu during office hours within 21 days (2079-06-21) from the date of first publication of this notice from interested Nepali citizens with the following qualifications.
1) Qualification and Experience:
a) Qualified and experienced as per Section 6A of the Employees' Provident Fund Act,
b) Not qualified as per Section 4 of 2073, criteria for appointment and nomination of officials and members of public bodies affiliated to the Ministry of Finance.
2) Application submission process:
A) Along with the application, the documents and details according to Section 3 of the Procedures for the Selection and Recommendation of the Administrator of the Employee Provident Fund published on the website of the Ministry of Finance: www.mof.gov.np and the self-declaration application according to Section 4 must be verified and submitted.
b) When submitting the application, attach educational qualification, experience, copy of Nepali citizenship certificate, personal details, and 2 copies of passport size photos and professional action plan (not exceeding five thousand words) as per section 6 of the above-mentioned procedures to Financial Sector Management and Institute Coordination of the Ministry of Finance. Must be submitted to the department. "Application and professional action plan for the administrator of the Employees' Provident Fund" should be mentioned outside the envelope of the closing proposal.
3) Presentation of the Professional Action Plan:
The shortlisted candidates will also have to present the professional action plan submitted by them on the specified date and time.
4) Application Fee:
Ministry of Finance office code no. 3050035501, Revenue Account: 00100106200000 and Revenue Title: 14224 to Everest Bank, Singha Durbar Branch Rs. 3,000 (three thousand only) will have to submit the full receipt. The administrator will be provided a monthly salary and other service facilities based on the conditions mentioned in the contract.
5) Other Details:
a) Information regarding the work, duties, and rights as per the procedure for the selection and recommendation of the administrator of the Employee Provident Fund, 2079 and the matters to be included in the professional action plan can be obtained from the website of the Ministry of Finance: www.mof.gov.np.
b) The selection and recommendation committee may cancel the applications received in accordance with this notice with or without giving any reason.
c) In case of submission of false details or documents, the application will be canceled and action will be taken as per prevailing law.
d) For more information regarding this, you can contact the Ministry of Finance, Financial Sector Management, and Institute Coordination Division or telephone number 01-4211377.
(First published date 2079-06-01)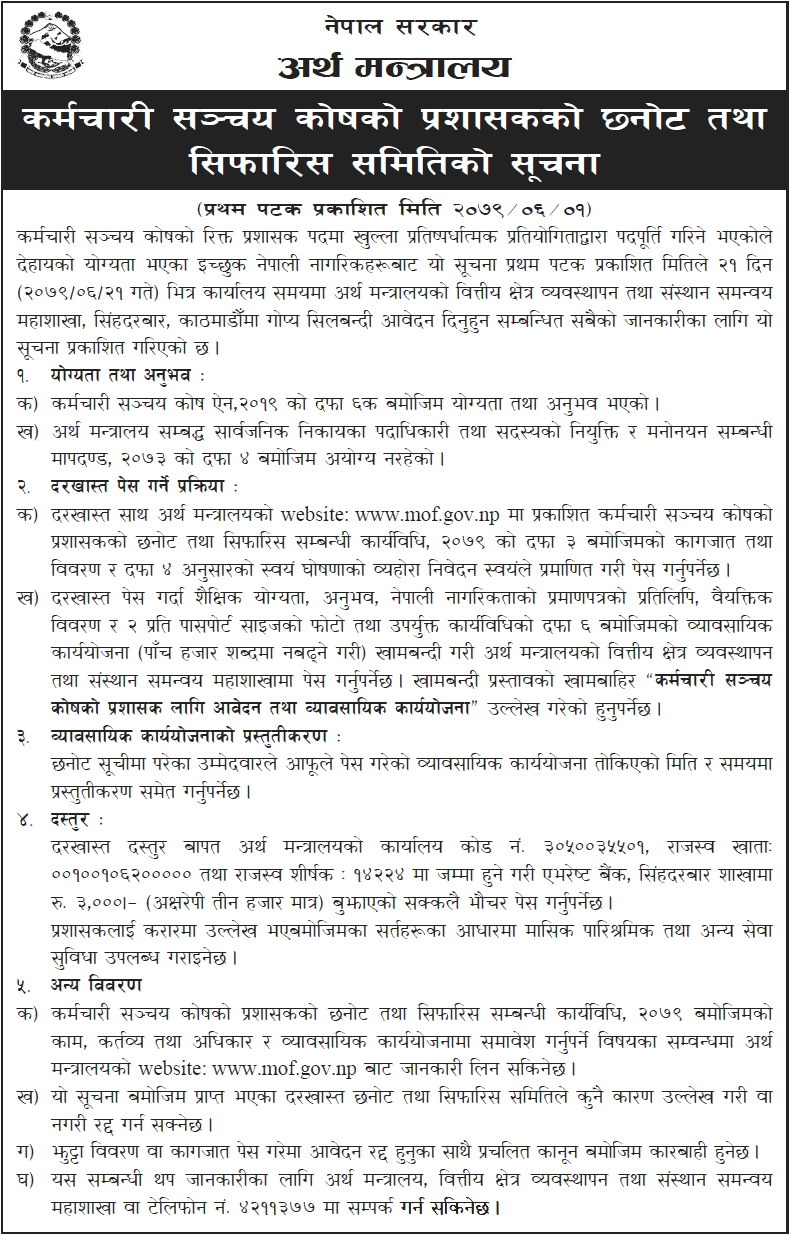 Job Vacancy
Kathmandu
Government Job