Lalitpur Metropolitan City Vacancy for Women Entrepreneur Facilitator:
Lalitpur Metropolitan City (Mahanagarpalika), Pulchowk Lalitpur, Bagmati Pradesh, Nepal: As per Article 11 of the Women Entrepreneurship Facilitation Center Operation Procedure, 2077, for the fiscal year 2077/078, the post of Women Entrepreneur Facilitator has to be filled in the fifth level service contract; This notice has been published for the information of all concerned for the interested Nepali women with the following qualifications to register the application form in time with the required documents within 15 days from the date of publication of the notice.
1) Date and place of application: Application can be submitted within 15 (fifteen) days from the date of publication of the notice to the office of this Lalitpur Municipal Corporation within office hours.
2) Contact Date: On the 16th day after the publication of the notice and if there is a public holiday on that day, the office can be contacted within the office hours of the next day.
3) Description of work: The operation of the Women Entrepreneurship Facilitation Center will be as per schedule 2 of the working procedure 2077.
4) Service Facility: The contract agreement with Lalitpur Municipal Corporation will be as per the terms mentioned.
5) Age: Completed 15 years till the last date of application and not exceeding 40 years.
6) Contract period: Will be till mid-July 2078.
7) Other required documents to be submitted along with the application:
A) Application Form - 1 copy,
B) The required minimum educational qualifications and experience in the shadow of -1/1 place,
C) To the shadow of citizenship - 1 copy,
D) Personal details of the candidate - 5 copies,
E) Passport size photo - 3 copies,
F) Other documents as per prevailing law,
8) Application Fee and Place of Submission: Rs.1000 / - Office of Lalitpur Municipal Corporation, Pulchowk.
9) Required minimum educational qualifications and experience:
A) Those who have passed proficiency certificate or similar from a recognized educational institution (Preference will be given to those who have undergone training or skill test related to enterprise development)
B) Trained in Entrepreneurship Development, Skill Development, Business Promotion, Commodity Quality Assessment and Recognition, Business Planning, Marketing, and Marketing,
10) Basis of choice:
1) Preliminary list publication (if there are more than 10 applicants)
2) Oral Interview (only for the candidates selected in the preliminary list)
11) Conditions and criteria: Must be a Nepali citizen and not disqualified by the prevailing law.
(P.S .: Special priority will be given to permanent residents of Lalitpur Municipal Corporation and those who have knowledge/skills related to computer and Email, Internet)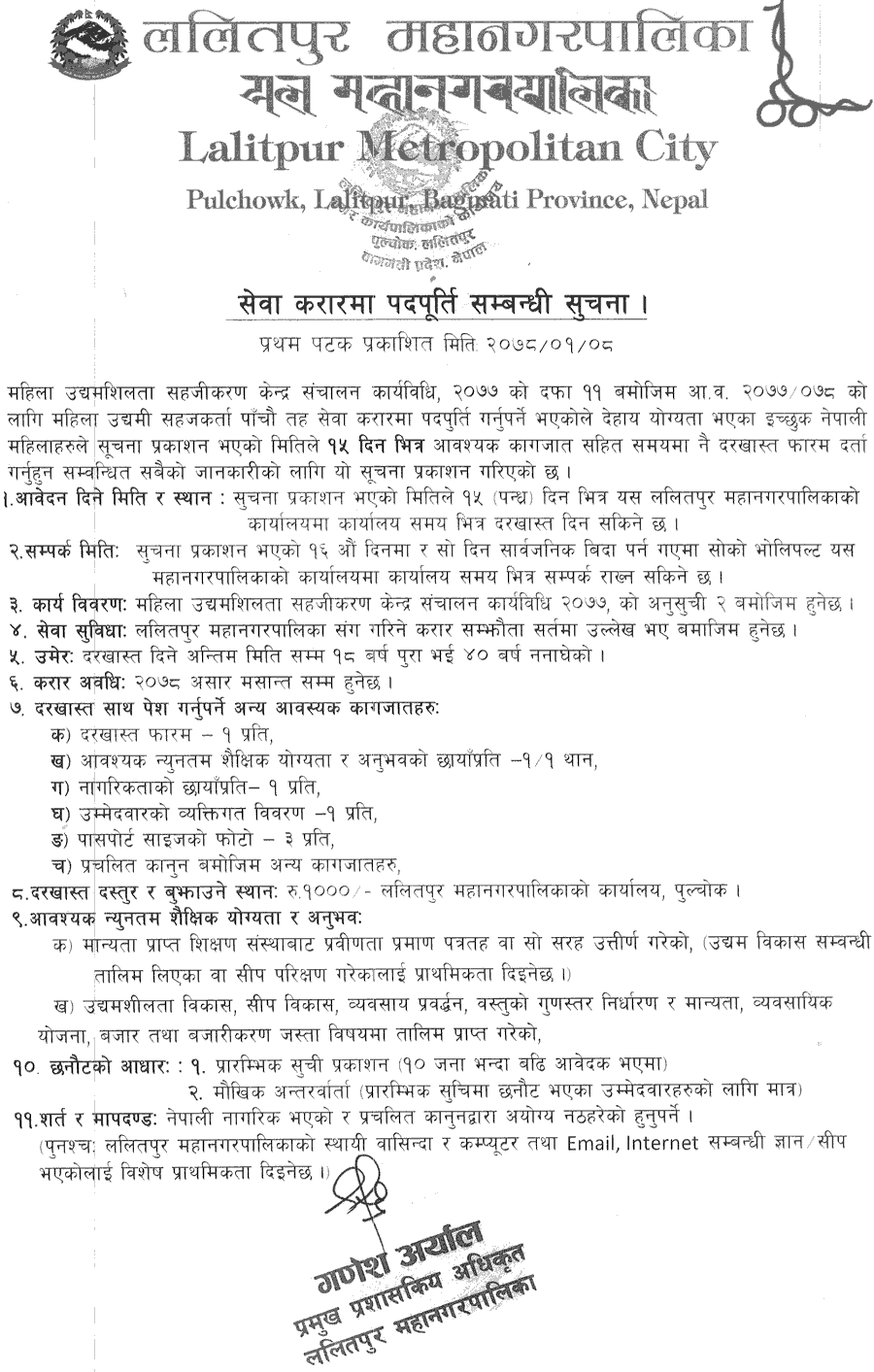 Bagmati Pradesh
Job Vacancy
Lalitpur
Government Job