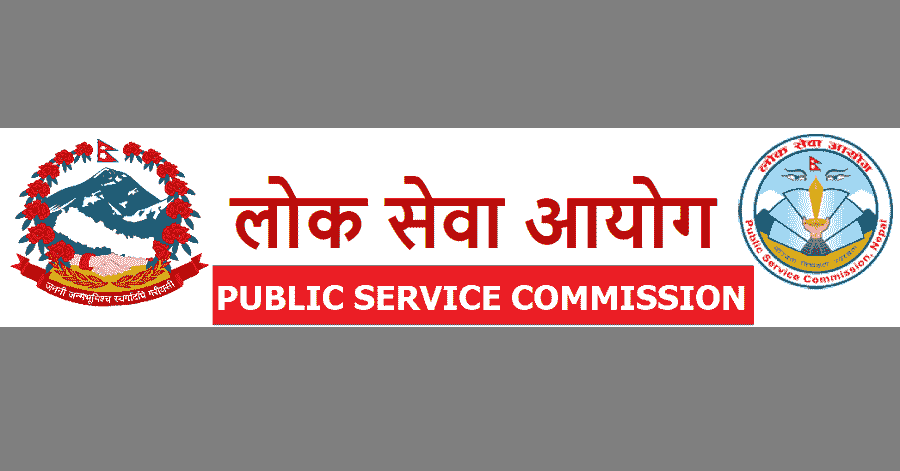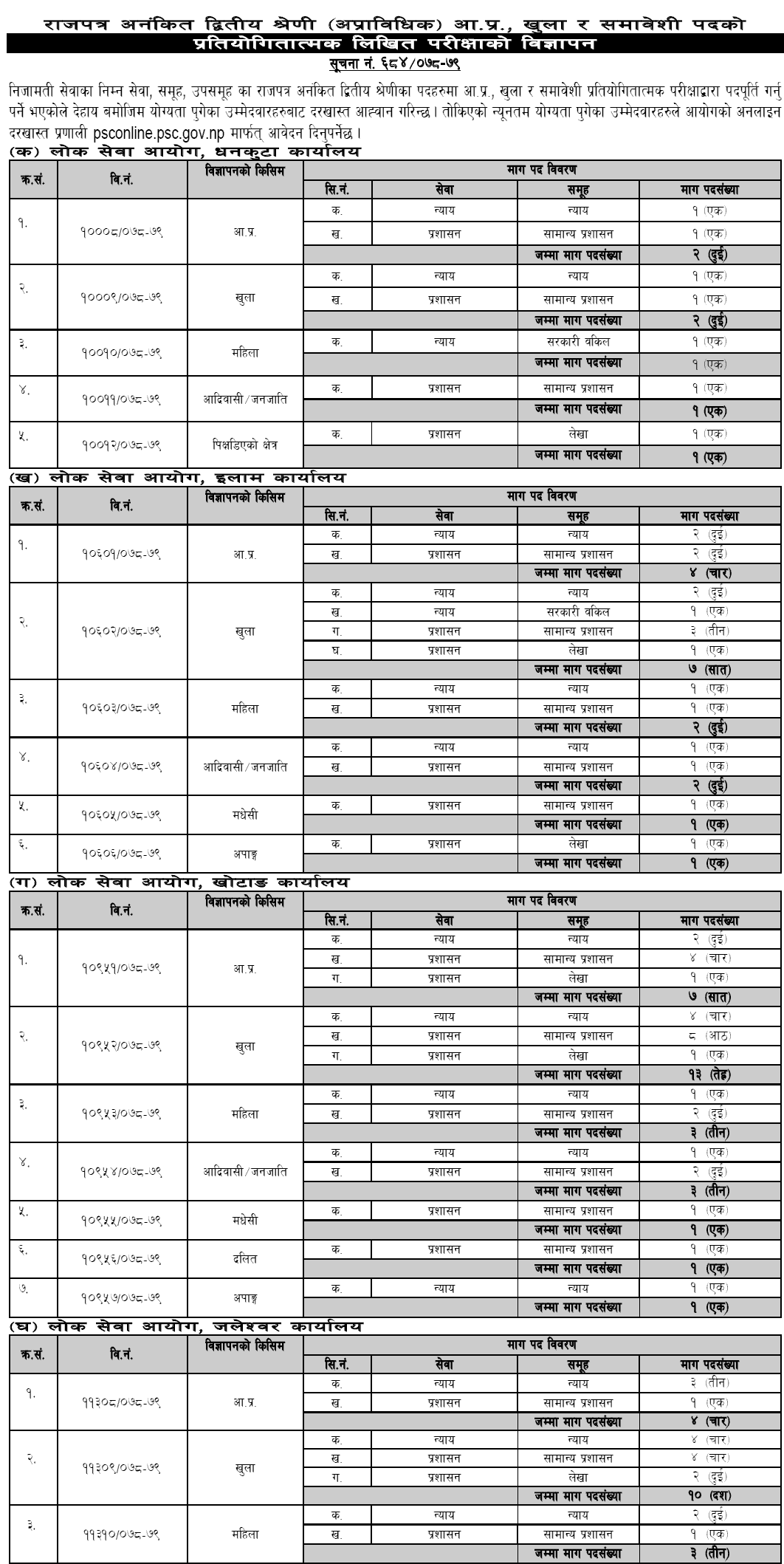 Lok Sewa Aayog (Public Service Commission) Central office announces job vacancy for the position of Kharidar (Non-Technical). Interested and eligible candidates are requested to apply online within the stipulated deadline.
Non-Gazetted Second Class (Non-Technical) Kharidar Post Internal Competition, Advertisement of Competitive Written Examination for Open and Inclusive PostApplications are invited from the following qualified candidates as they have to be filled through Internal Competition, Open and Inclusive Competitive Examination for Non-Gazetted Second Class posts in the following services, groups, sub-groups of Civil Service.
Candidates who have reached the specified minimum qualification will have to apply through the Commission's online application system https://psconline.psc.gov.np.
Types of exams: - Written, computer skills test, and interview.
The exam date will be published later.
Examination Centers: - Dhankuta, Ilam, Khotang, Jaleshwor, Kathmandu, Hetauda, ​​Pokhara, Baglung, Butwal, Dang, Surkhet, Jumla, Dipayal, and Mahendranagar offices of the Commission related to Advertising. In addition, the examination centers for the posts advertised by the Public Service Commission Jaleshwor office will be conducted in Lahan of Siraha district and Birgunj of Parsa district and also for the posts advertised by the Public Service Commission, Surkhet office in Dolpa and Humla district headquarters.
Application Fee: - The application fee for each advertisement is Rs. 300 (Three hundred) will have to be submitted. In case of the candidate applying for additional advertisement on behalf of the inclusive group, an additional group will be charged Rs. 150 (One hundred and fifty) additional fee will have to be paid. In addition, depending on the cluster of the service/group selected by the candidate, for more than one cluster, additional Rs. 150 (One Hundred and Fifty) will have to pay the examination fee.
Application Fee Submission Period: - After submitting the application online, the candidate has to pay double fee along with the voucher with the Master ID and business code number mentioned within the office hours of the last day of the last day of application (in case of public holiday on the first day after office opening). The prescribed examination fee / double fee must be paid compulsorily.
Documents to be uploaded: - Candidate should upload the documents specified in the relevant advertisement including educational qualification, training, experience, business license certificate, inclusive group opening document in the specified place of online application system in PDF format. All candidates are required to scan the front of their citizenship certificate and upload it in JPEG format. Candidate should be fully accountable for the details mentioned in the application.
Last date to apply: 2078-12-15 and double fee paid till 2078-12-22.
Age limit of candidates: 18 years of age and not exceeding 35 years by 2078-12-15 and not exceeding 40 years in case of women and disabled candidates.
There will be no age limit for permanent civil servants.
Exam program before the interview and date of the interview: - The result of the written exam will be informed when it is published.
Job description in the post: - Service, group related.
Salary: As per prevailing law.
Ministries related to services: - Ministries assigned to run the administration of services, groups, subgroups.
Minimum qualifications required:
For the internal competition, open and inclusive:
(A) For Justice Service, Justice and Government Advocate Group and Administration Service, General Administration Group: - Passed SLC or equivalent from a recognized educational institution.
(B) For Administrative Service, Accounting Group: - Passed SLC or equivalent in Mathematics or Acting or Elective Accounting subject from a recognized educational institution.
(C) For Audit Services: - Passed SLC or equivalent in Mathematics or Accounting subject from a recognized educational institution.
Note: In the case of candidates who have passed SLC or similar examinations after the implementation of the grading system, those who have obtained GPA 2 or above grade points will be considered as having completed the minimum qualification.
Lok Sewa Aayog Vacancy
Kharidar
Job Vacancy
Lok Sewa Aayog
Government Job