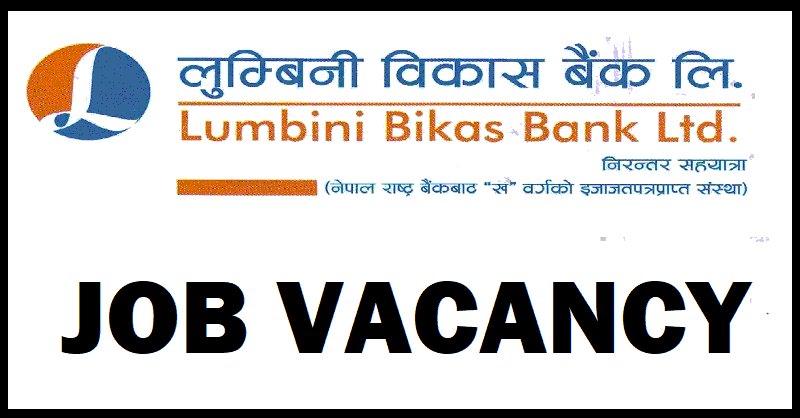 Lumbini Bikas Bank Limited Vacancy for Information Security Officer and Programmer/ Application Developer:
Lumbini Bikas Bank Limited, a leading National Level Development Bank, managed by a highly professional and experienced team in the banking sector, has been planning to enhance its products and services significantly, business activities sizably, and branch outlets continuously with a renewed strategic plan. The bank, therefore, invites application from highly competent, energetic, and self-motivated Nepalese citizens for the under-mentioned positions in order to fulfill the staff force at Head Office.
1. Information Security Officer (ISO)
Officer Level (Senior Officer/Officer/Junior Officer): 1
Requirements:
Minimum Bachelor's Degree in Computer Science or related subject from a recognized University/ College.
Minimum 2 years of experience as an Information Security Practitioner or Auditor.
Good knowledge of Information Security Practices, Tools and Procedures
Good knowledge of Security issues in network, web applications, and ISO integrations
Good knowledge of Network, Servers, and Software Applications
Training on CEH, CISA, or other related courses preferred.
Must be fluent in the English language in both written and spoken.
2. Programmer/ Application Developer
Assistant Level (Supervisor/Senior Assistant/Assistant/Junior Assistant): 1
Requirements:
Minimum Bachelor's Degree in IT, Computer Science, or related subjects from a recognized University/ College.
Preferably 1 year of experience (freshers may apply).
Good Knowledge of Web Development (PHP, Javascript, (X)HTML, CSS, Bootstrap).
Good Knowledge of RDBMS and SQL.
Familiarity with Frameworks like Codelgniter, WordPress, and Laravel.
Familiarity with Web Debugging/ Inspection tools.
Basic Knowledge of Hardware and Network.
Must be fluent in the English language in both written and spoken.
Other General Requirements for all above positions:
Age: Not exceeding 35 years for Supervisor/Senior Assistant/Assistant and not exceeding 40 years for Senior Officer/Officer/Junior Officer as on the last day of application.
Willing to work off-hours and in shifts.
Must have a Driving License.
A corporate position will be offered as per job experience and qualification as deserves. Meeting the above criteria, interested candidates may apply along with the application, latest CV, passport size photograph with a photocopy of Citizenship and Educational Certificates by email to [email protected]. Applicants must clearly mention the applied position, in the subject line of the email.
Only short-listed candidates shall be called for interviews and further the selection process. The bank reserves the right to accept or reject any application without assigning any reason thereof.
Canvassing at any stage of the selection process shall lead to automatic disqualification.
The deadline for application is 24.00hrs, Chaitra 25, 2077.
Contact Details:
Lumbini Bikas Bank Ltd.
4th Floor, Sunrise Bizpark
Dillibazar, Kathmandu
Web: www.lumbinibikasbank.com
Phone No. 01-4413232. 4421696