Maiwakhola Rural Municipality (Gaupalika), Office of Rural Municipal Executive, Sanghu, Taplejung, Province No. 1, Nepal Job Vacancy Announcement: Maiwakhola Rural Municipality Sanghu, Taplejung for the fiscal year 2078/079 as per the details of the contract management procedures, 2075 as per the contract to fill the vacancies.
Eligible Nepali citizens are required to submit the application form in the prescribed format within 15 days along with the required details and cash receipt of payment of revenue or voucher deposited in the account opened in Sunrise Bank in the name of this office in Maiwakhola Rural Municipality This notice has been published for everyone's information.
Vacancy Details:
| | |
| --- | --- |
| Position | Required No. |
| Medical Officer (MO) | 1 |
| Staff Nurse | 1 |
| Radiographer | 1 |
| Health Assistant (HA) | 2 |
| AHW | 3 |
| ANM | 1 |
| Lab Assistant | 1 |
The application should include Personal details of the candidate, a Nepali citizenship certificate, a copy of the educational qualification certificate, a copy of the Character certificate, a certified copy of experience, and a certified copy registered by the council as per prevailing law. The candidate has to sign and certify all the copies submitted along with the original copy of all the certificates on the day of the interview.
Age limit of the candidate: - Completed 18 years and not exceeding 45 years and not disqualified by other prevailing laws.
Place of application: - Maiwakhola Rural Municipal Executive Office Sanghu, Taplejung.
Last date to apply: 2078-05-23 within office hours.
Where to get the application form: Maiwakhola Municipal Executive Office Sanghu, Taplejung or Website www.maiwakholamun.gov.np
The place to submit application form: - Maiwakhola Rural Municipal Executive Office Sanghu, Taplejung or office email [email protected]
Application Fee: - For Eighth Level Rs. 1200, for the fifth level Rs. 1000 and for 4th Level Rs. 800
Service facility: - As prescribed by the office of Maiwakhola Rural Municipal Executive.
For details: contact no. 9852660936, 9860417068, and 9849991811
(First notice published: 2078-05-09)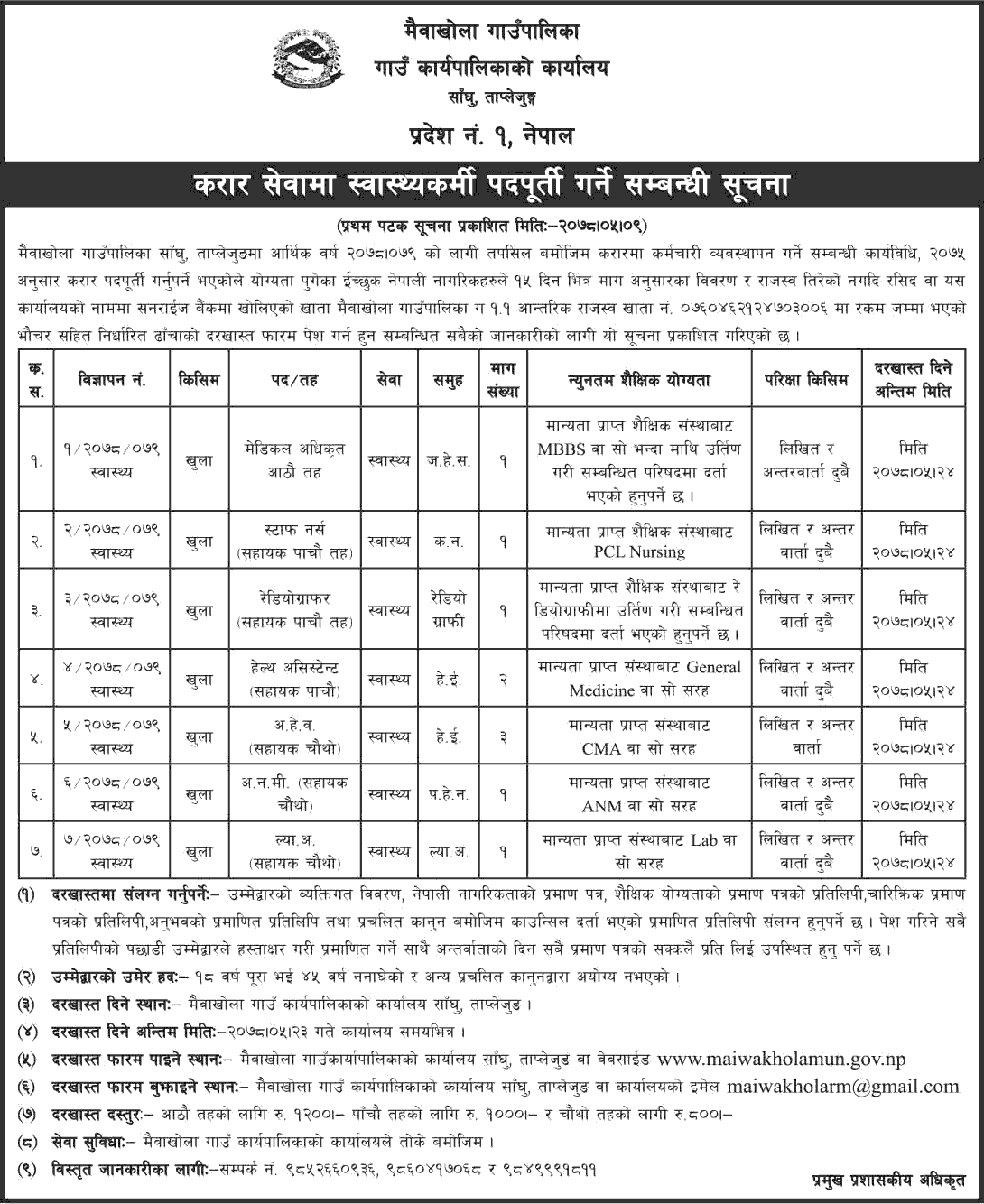 Taplejung
Koshi Pradesh
Health Job
Government Job