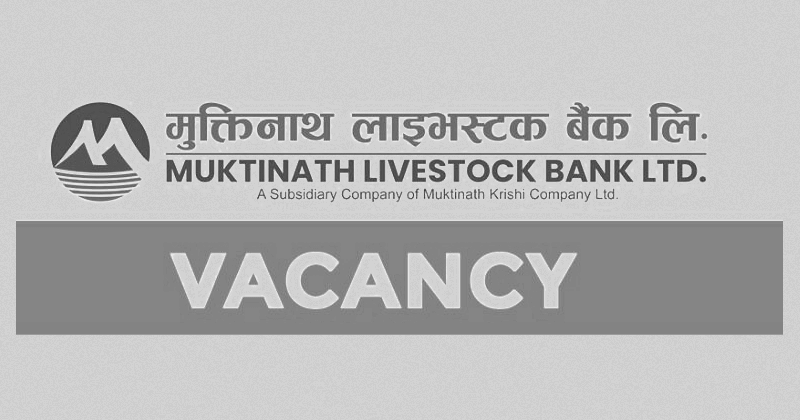 Muktinath Livestock Bank is a subsidiary company of Muktinath Krishi Company. This company's primary goal is to support farmers in enhancing the productivity and quality of animals involved in milk, fish, meat production, and more by providing them with consultancy services to improve animal feeding patterns. Furthermore, another key objective is to promote local-level livestock production by utilizing modern technology to process, package, and store products in a hygienic manner, all under the guidance of livestock export.
Muktinath Livestock Bank is currently in the process of establishing a slaughterhouse in Butwal in collaboration with the Butwal sub-metropolitan authority. To facilitate the operation of this slaughterhouse, we are actively seeking dynamic, result-oriented, self-motivated, and passionate candidates to join our team.
Location: Butwal, Rupandehi
| | |
| --- | --- |
| Job Positions / Required Number | Academic Qualification & Experience |
| Operation Head- Modern Slaughterhouse - 1 (One) | Master's degree in Slaughterhouse Operation and Management, Veterinary Science, MBA or a related field, having at least 5-7 years of professional experience relevant to the Slaughterhouse Operations and/ or meat industry experience. |
| Officer- Modern Slaughterhouse Supervision - 1 (One) | Bachelor or equivalent in Management or relevant discipline with a minimum of 4-5 years of experience in the Slaughterhouse and /or processing industries. |
| Officer- Meat Inspector - 1 (One) | At least a Bachelor's degree in Veterinary Science with 3-4 years of experience or a Master's in Veterinary Science with 2 years of experience in the meat industry is highly preferable. |
| Marketing Officer- Modern Slaughterhouse - 1 (One) | Minimum Bachelor's degree in Management/ Marketing preferably in the food/ meat industry or a related field and related discipline with a Minimum of 3-4 Years of proven experience in meat/food product and service marketing. |
| Assistant/Officer- Account & Supply Chain - 1 (One) | Minimum Bachelor's degree in management and related discipline with a Minimum 2-3 Years of experience in a related field. |
| Driver- Modern Slaughterhouse - 2 (Two) | Minimum SEE passed with a minimum of 4-5 years of experience in driving and a license in category A, B, or C (Motorcycle, Car, Jeep, Van, Mini-Truck, etc.) |
To Apply:
Individuals wishing to apply for the position shall send their resume to [email protected] or may also drop their resume and relevant documents to the Human Resources Department of the company. The deadline for applications is one month from the vacancy published date.
For more visit our website: www.muktinathkrishi.com or our Facebook page:www.facebook.com/muktinathkrishiCo.Ltd
Basundhara Ringroad, Kathmandu tZ [email protected]
Phone: +977-01-4950097
Agriculture Job
Job Vacancy