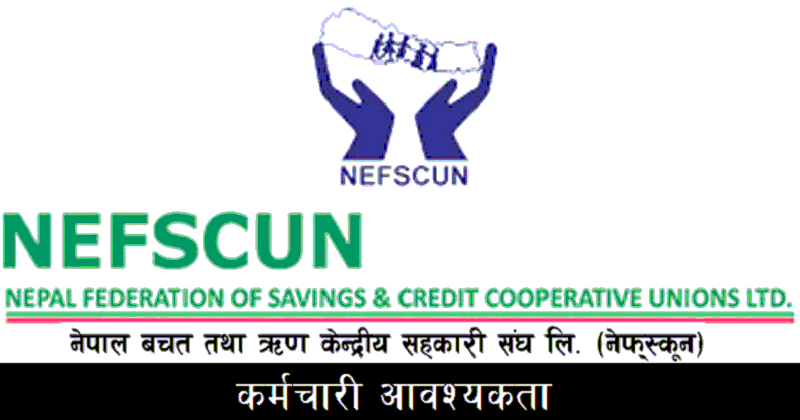 Nepal Federation of Savings and Credit Cooperative Unions Ltd. (NEFSCUN) has to fill the following positions for the following offices; Interested Nepalese citizens who have met the required qualifications are invited to submit their application within 7 days from the date of publication of this notice within office hours (16:00 hrs).
1. Position: Junior Assistant
Required Number: 6 (Six)
Location:
Myagdi Service Center-1
Pokhara Field Office-1
Junior Assistant Lamjung Field Office-1
Nepalgunj Field Office-1
Central Office-2
Required Qualification: Passed SLC/SEE or equivalent
Type of Service: Temporary Service (Contract)
Other Qualifications:
The age of the applicant completed 18 years on the last day of application submission and not exceeding 35 years (not exceeding 40 years in the case of female candidates).
Good knowledge of computer technology.
Obtained at least a two-wheeler driver's license.
Salary and other benefits: It will be as per the rules of the union.
Only shortlisted candidates will be contacted for the selection process.
How to Apply:
Go to www.nefscun.org.np/jobvacancy and fill out the application form.
Applications received physically will not be accepted. No action will be taken on the application forms which are not received in time.
Nepal Federation of Savings and Credit Cooperative Unions Ltd. (NEFSCUN)
Central Office, New Baneshwar, Kathmandu
Contact no. 01-4741463, 01-4780201
Sahakari Job Vacancy
Job Vacancy