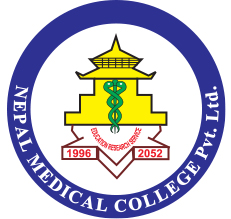 Nepal Medical College is seeking candidates for the following positions.
VACANT DEPARTMENT

REQUIRED QUALIFICATION

VACANT POSITION

DERMATOLOGY/ ONCOLOGY/ NEUROSURGERY/ EMERGENCY / PEDODONTICS/ ORAL MEDICINE
AND RADIOLOGY/ PROSTHODONTICS / PERIODONTICS

MD /MS /MDS IN RELEVANT
FIELD WITH REGISTRATION IN
RESPECTIVE MEDICAL COUNCIL

LECTURER / ASST. PROFESSOR/
ASSOCIATE PROFESSOR/ PROFESSOR

ENT

BACHELOR IN AUDIOLOGY AND SPEECH LANGUAGE PATHOLOGY ( BASLP)

AUDIOLOGIST

COMMUNITY MEDICINE

M.SC. IN BIOSTATISTICS

STATISTICIAN

HOSTEL

BACHELOR'S DEGREE WITH
MINIMUM 1 YEAR OF PRIOR
EXPERIENCE

ASSISTANT
WARDEN

PHARMACY

BACHELORS/ DIPLOMA DEGREE
IN PHARMACY WITH REGISTRATION IN PHARMACY COUNCIL

PHARMACIST / ASSISTANT
PHARMACIST

IT

BACHELOR'S DEGREE IN A RELEVANT FIELD

IT SUPERVISOR
Interested Candidate meeting the requirement can send us their resume at [email protected] or drop a hard copy at our reception within 22nd July 2022
Nepal Medical College Pvt. Ltd.
Gokarneshwor Municipality, Ward No. 08, Attarkhel
Phone No:-01-4911008, 4912009 (Ext.400, 500)
Hospital Job Vacancy
Job Vacancy
Kathmandu
Health Job