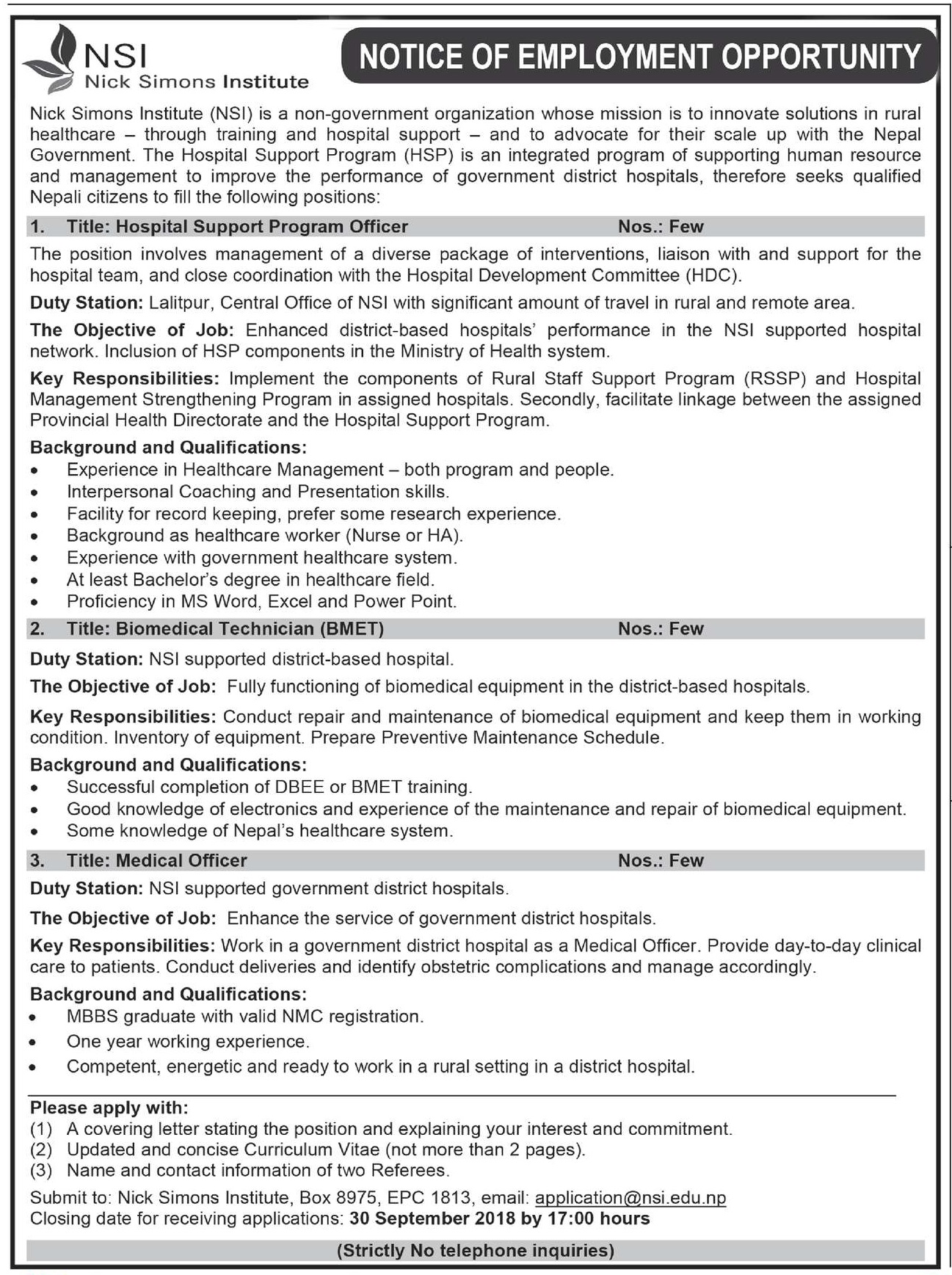 Nick Simons Institute (NSI) Notice of Employment Opportunity
Nick Simons Institute (NSI) is a non-government organization whose mission is to innovate solutions in rural healthcare — through training and hospital support — and to advocate for their scale up with the Nepal Government. The Hospital Support Program (HSP) is an integrated program of supporting human resource and management to improve the performance of government district hospitals, therefore seeks qualified Nepali citizens to fill the following positions:
Title: Hospital Support Program Officer
Nos. Few
The position involves management of a diverse package of interventions, liaison with and support for the hospital team, and close coordination with the Hospital Development Committee (HDC).
Duty Station: Lalitpur, Central Office of NSI with a significant amount of travel in the rural and remote area.
The Objective of Job: Enhanced district-based hospitals' performance in the NSI supported hospital network. The inclusion of HSP components in the Ministry of Health system.
Key Responsibilities: Implement the components of Rural Staff Support Program (RSSP) and Hospital Management Strengthening Program in assigned hospitals. Secondly, facilitate linkage between the assigned Provincial Health Directorate and the Hospital Support Program.
Background and Qualifications:
Experience in Healthcare Management — both program and people.
Interpersonal Coaching and Presentation skills
Facility for record keeping, prefer some research experience.
Background as a healthcare worker (Nurse or HA).
Experience with government healthcare system.
At least a Bachelor's degree in the healthcare field.
Proficiency in MS Word, Excel and PowerPoint.
Title: Biomedical Technician (BMET)
Nos.: Few
Duty Station: NSI supported a district-based hospital.
The Objective of Job: Fully functioning of biomedical equipment in the district-based hospitals.
Key Responsibilities: Conduct repair and maintenance of biomedical equipment and keep them in working condition. Inventory of equipment. Prepare Preventive Maintenance Schedule.
Background and Qualifications:
Successful completion of DBEE or BMET training.
Good knowledge of electronics and experience in the maintenance and repair of biomedical equipment.
Some knowledge of Nepal's healthcare system.
Title: Medical Officer Nos.: Few
Duty Station: NSI supported government district hospitals.
The Objective of Job: Enhance the service of government district hospitals.
Key Responsibilities: Work in a government district hospital as a Medical Officer. Provide day-to-day clinical care to patients. Conduct deliveries and identify obstetric complications and manage accordingly.
Background and Qualifications:
MBBS graduate with valid NMC registration.
One year of working experience.
Competent, energetic and ready to work in a rural setting in a district hospital.
Please apply with:
A covering letter stating the position and explaining your interest and commitment.
Updated and concise Curriculum Vitae (not more than 2 pages).
Name and contact information of two Referees.
Submit to:
Nick Simons Institute
Box 8975, EPC 1813,
email: applicationnsi.edu.np
Closing date for receiving applications: 30 September 2018 by 17:00 hours (Strictly No telephone inquiries)