Pakha Mainpur Gaonpatika (Gaupalika), Rural Municipal Executive Office, Pakhan Mainpur, Parsa, Province No. 2, Nepal notice regarding hiring employees in contract service
Since the following number and qualified employees for the office of the Village Executive under Pakaha Mainpur Rural Municipality are to be filled in the contract service; This notice has been published for the information of all the eligible Nepali citizens to submit the application along with the gross receipt of payment of revenue within 15 (fifteen) working days from the date of publication of this notice.
The application form can be downloaded from the administration branch of this office or from the website of this office www.Pakahamainpurmun.gov.np.
Vacancy Details:
| | | |
| --- | --- | --- |
| Position | Req. No. | Application Fees |
| Office Helper | 13 | 300 |
| Heavy Vehicle Driver | 2 | 400 |
| Light Vehicle Driver | 1 | 500 |
| Civil Engineer | 1 | 1000 |
| Sub Engineer | 1 | 800 |
| AMIN | 1 | 500 |
| ANM | 3 | 500 |
| Computer Operator | 1 | 800 |
| Assistant Computer Operator | 1 | 500 |
| Sweeper (Sarsaphai Karmi) | 8 | 300 |
Additional Information:
Salary Scale: The prevailing salary of the Government of Nepal and other service facilities as decided by the Rural Municipality.
Contract period: Until the end of Ashad of 2079. Rural Municipality may extend the contract period as required. Also, the contract will be terminated if the staff is recommended by the Public Service Commission.
Documents to be attached: Certificate of Educational Qualification, Documents of Experience, Personal Details (Biodata), Certified Shadow Copy of Certificate of Nepali Citizenship, and 2 recent passport size photographs.
Type of Examination: Written Examination and Oral Interview (based on the criteria prepared by the Recruitment and Recommendation Committee) and other posts except for Office Assistant, Driver, and Sweeper as per the syllabus of Public Service Commission.
The place to apply:
Administration Branch, Pakaha Mainpur Rural Municipality Office, Parsa within office hours.
For more information: Mobile No. 9807164167 or [email protected].
Contact Date: 2078-03-24 on Thursday at 1-30 pm
Note:
1) If there is a public holiday on the last day of the death of the form, the next day will be the last day of the death of the form by the same time.
2) Matters other than those mentioned in this notice shall be as determined by the Vacancy Committee headed by the Chief Administrative Officer.
(First notice published date: - 2078-03-09)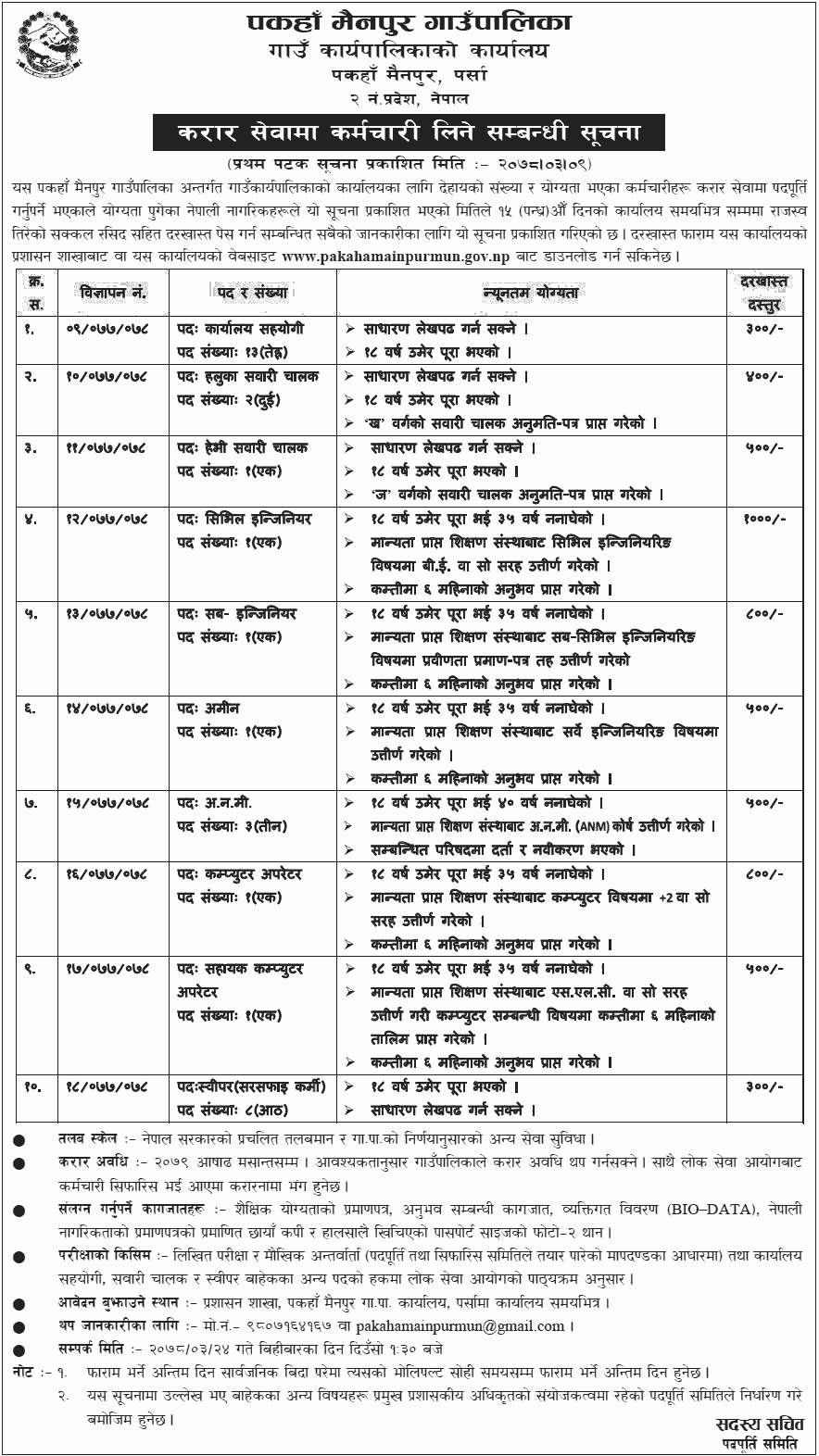 Parsa
Madhesh Pradesh
Health Job
Engineering Job
Government Job
AMIN