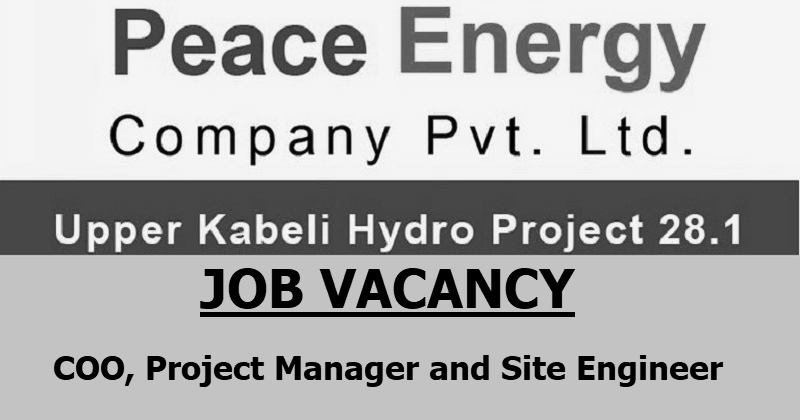 VACANCY ANNOUNCEMENT:
Peace Energy Company Pvt. Ltd. is seeking applications from highly motivated, flexible, dynamic, and result-oriented eligible Nepalese Citizens to develop the 28.1 MW Upper Kabeli Hydro Project in Taplejung District. This can your lifetime opportunity to work with seasoned international corporate leaders to enhance your management and interpersonal skills:
1. COO (Chief Operating Officer)
Education: Master degree in Civil, Mechanical or Electrical Engineering. Master's degree in business administration or equivalent is preferable.
Experience: At least 10 years of work experience as a lead person in hydropower projects. Must be proficient in writing reports and able to communicate reasonably in English.
2. Project Manager
Education: Bachelor's or masters in civil, Hydropower, or Structural Engineering.
Experience: At least 8 years of project management experience in the Hydropower project
3. Site Engineer
Education: Bachelor's degree in civil engineering.
Experience: At least 5 years of work experience in the hydropower project as a site manager or engineer.
(The candidate should be willing to devote sufficient time to the construction site, able to use technologies for remote meetings, and have great organizing skills)
Apply at: at [email protected] with your CV.
Kumar Pokhrel (Office Manager)
Telephone: 9851203721
Hydropower Jobs
Job Vacancy