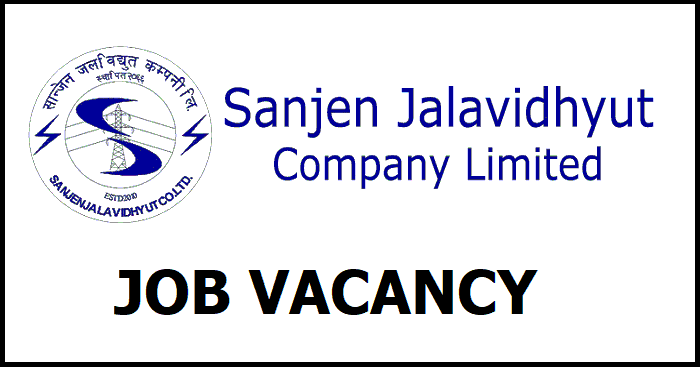 Sanjen Jalavidhyut Company Limited (SJCL), promoted by Chilime Hydropower Company Limited and Nepal Electricity Authority, is developing Sanjen (Upper) Hydroelectric Project (SUHEP) and Sanjen Hydroelectric Project (SHEP) with an installed capacity of 14.8 MW and 42.5 MW respectively in Rasuwa district. The company invites applications from highly motivated, skilled, dynamic, substantially experienced, highly qualified, and result-oriented eligible Nepalese Citizens having the following eligibility for the position of CEO.
Eligibility Requirement:
A prospective candidate shall have the following minimum eligibility criteria in terms of academic qualification and professional experience:
Education:
(a) Master's Degree in Engineering (Civil or Electrical or Mechanical) or Bachelor's Degree in Engineering (Civil or Electrical or Mechanical) with MBA.
Work Experience: The prospective candidate must have the following professional experience: (a) At least 15 years of work experience in the electricity/hydropower business sector in an officer-level position.
(b) Preference shall be given to candidates having prior experience:
(i) in officer-level position in the construction of hydropower projects; and
(ii) as the executive chief of the hydropower project.
Age Limit: Applicant must be a minimum of 45 years and not more than 65 years on the last date of application.
The candidate should be willing to devote sufficient time to the construction site in the Project area Rasuwa District.
Interested candidates can drop their application at [email protected] or at the Company's Corporate office at Maharajgunj, Kapan Marga, Kathmandu on or before 17:00 hours, May 30, 2021. The application shall include a copy of the candidate's latest CV, passport-sized photo along with self-attested copies of citizenship certificate and certificates of education and work experience.
The application shall also include a Management Proposal based on the Terms of Reference (ToR) issued by the company. The ToR can be collected from the corporate office of the company or downloaded the same from the company's website ([email protected]).
Candidates applying via e-mail can send scanned copies of the aforesaid documents. The proposal may also be submitted via e-mail. However, the proposal must be a scanned copy signed by the applicant. The original of this proposal shall be submitted upon shortlisting of the applicant.
Only shortlisted candidates will be called for the further selection process. The original of the documents shall be produced at that time.
The company reserves the right to reject any/all applications without assigning any reason whatsoever.
Contact Details:
CEO Selection Committee Sanjen Jalavidhyut Company Limited
Maharajgunj, Kapan Marga, Kathmandu, Nepal
Tel: 00977-01-4374275
Website: www.sjcl.com.np
(First published date May 24, 2021)
Technical Jobs
Rasuwa
Hydropower Jobs
Job Vacancy