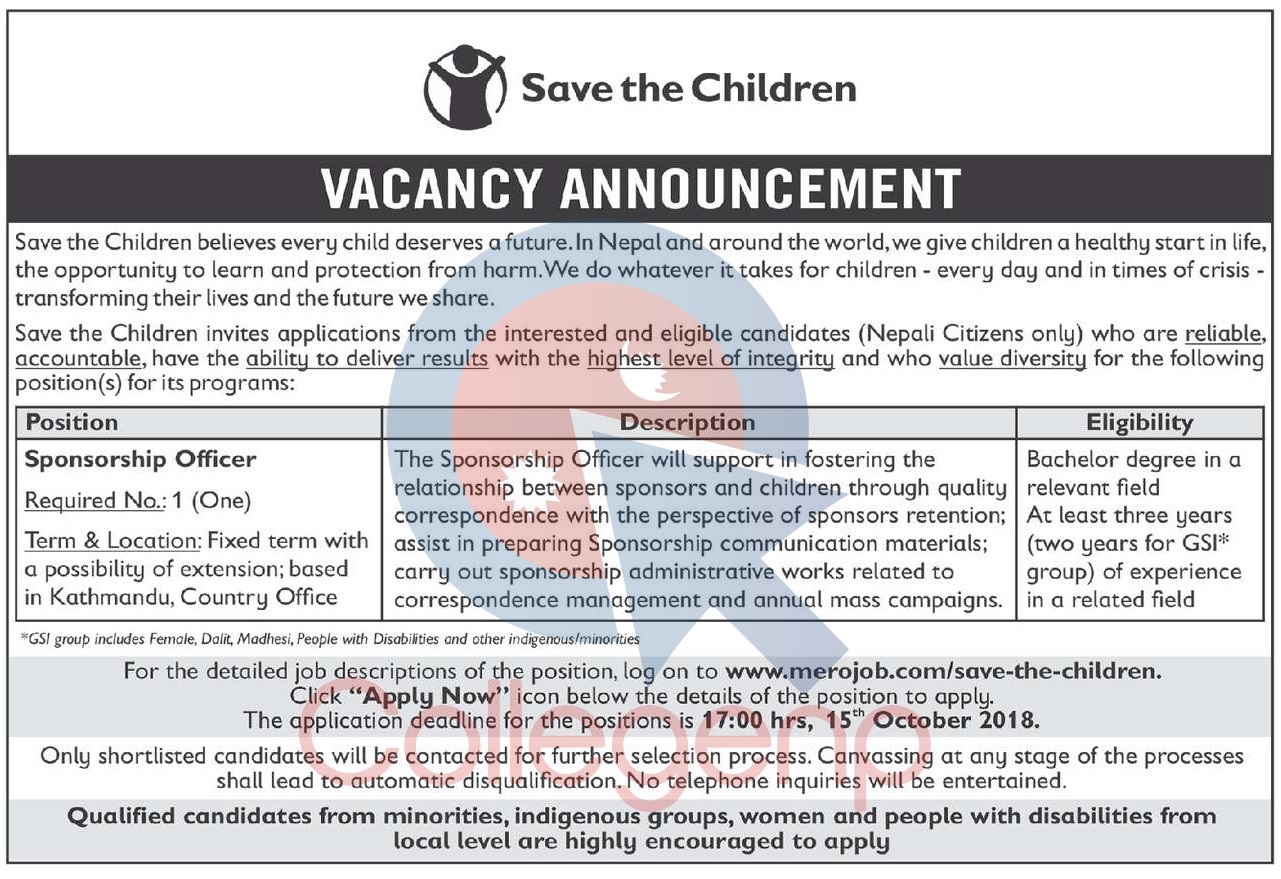 Save the Children VACANCY ANNOUNCEMENT
Save the Children believes every child deserves a future. In Nepal and around the world, we give children a healthy start in life, the opportunity to learn and protection from harm. We do whatever it takes for children - every day and in times of crisis -transforming their lives and the future we share.
Save the Children invites applications from the interested and eligible candidates (Nepali Citizens only) who are reliable, accountable, have the ability to deliver results with the highest level of integrity and who value diversity for the following position(s) for its programs:
Position

Description

Eligibility

Sponsorship Officer

Required No.:1 (One)

The Sponsorship Officer will support in fostering the relationship between sponsors and children through quality correspondence with the perspective of sponsors retention; assist in preparing Sponsorship communication materials; carry out sponsorship administrative works related to correspondence management and annual mass campaigns.

Bachelor degree in a relevant field

At least three years (two years for GSI*

group) of experience in a related field

Term & Location: a Fixed term with

a possibility of extension; based

in Kathmandu, Country Office
"GS/ group includes Female. Dalit, Madhesi, People with Disabilities and other indigenous minorities For the detailed job descriptions of the position, log on to www.merojob.com/save-the-children.
Click "Apply Now" icon below the details of the position to apply.
The application deadline for the positions is 17:00 hrs, 15th October 2018.
Only shortlisted candidates will be contacted for further selection process. Canvassing at any stage of the processes shall lead to automatic disqualification. No telephone inquiries will be entertained.
Qualified candidates from minorities, indigenous groups, women and people with disabilities from local level are highly encouraged to apply