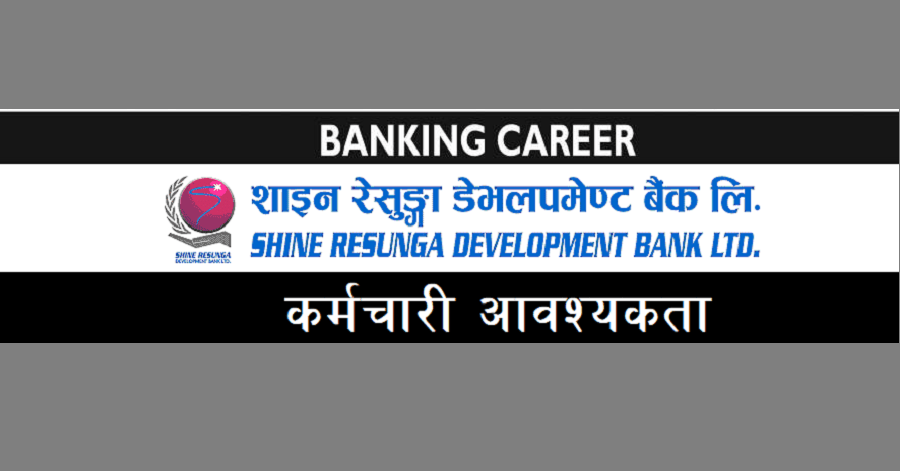 Shine Resunga Development Bank Limited (SRDBL), a leading national level development bank, is seeking applications from all qualified applicants for the job position as detailed below;
Management Trainee (Few)
Fresher
Age not exceeding 30 years as on vacancy deadline.
Minimum Master's Degree in Business Administration, Banking & Insurance, Finance, Economics, Accountancy or any stream of Management with minimum 60% out of 100% or 3.25 GPA out of 4 CGPA or 7.00 GPA out of 10 CGPA from a recognized university.
Other Information
Transcript of the Master's Degree is compulsory to apply for this position.
Equivalent Document is compulsory in case of degree acquired from foreign university.
Management Trainee is an entry level position where the successful candidates will undergo comprehensive on- the- job training in all areas of the Bank, enabling them to take up mid - level positions (Senior Assistant/Supervisor/junior Officer). Upon successful completion of training period, selected candidates will be placed anywhere in Nepal as per the development bank's requirement.
The selection process shall involve Written Exam, Group Discussion, Preliminary Interview and Final Interview.
Shortlisting will be done based on your answers provided while applying for this position in the Electronic Recruitment Application (ERA).
The Bank reserves the right to reject any/all applications without assigning any reason whatsoever. Depending upon the number of applications received, the Bank may raise the minimum criteria as stated above and call only shortlisted candidates for the further selection process. Canvassing at any stage of the process shall lead to disqualification of the candidate for this vacancy and any future recruitment process.
To Apply:
Visit https://srdb.com.np/Banking-Career
Application Deadline: Jestha 22, 2080 Monday (June 5, 2023) 17:00 Hrs. NPT.
Shine Resunga Development Bank Limited (SRDBL)
Kalika Nagar, Butwal-11, Rupandehi
Tel: 071-415502, 071-415503
www.srdb.com.np
Banking Career
Job Vacancy
Banking Job