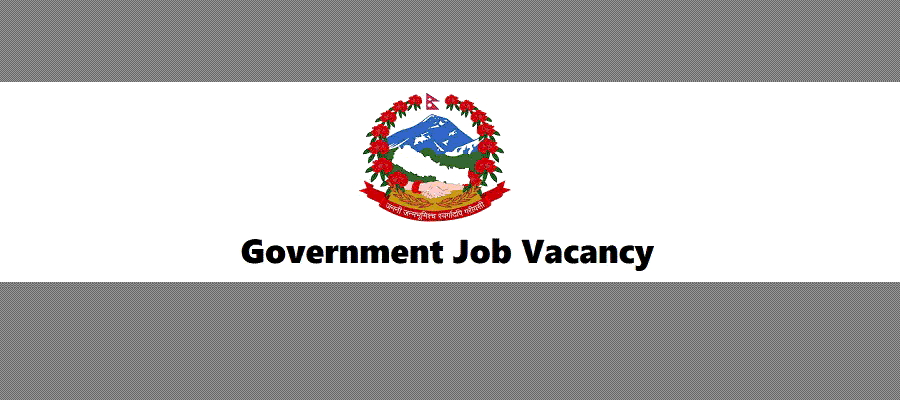 Employment Opportunity: Sub Engineer at Sigas Rural Municipality, Nepal
Sigas Rural Municipality, nestled in Garje, Baitadi, Sudurpaschim Pradesh, Nepal, unveils a substantial employment opportunity for qualified Nepalese citizens. In harmony with the "Procedures for Managing Contractual Employees in Sigas Rural Municipality (First Amendment), 2079", we are eagerly inviting applications for the vacant Sub Engineer position, designated to be filled on a contract basis.
Position Details:
Post: Sub Engineer
Advertisement No.: 01-2080-081
Service/Group/Subgroup: Nepal Engineering Civil / General
Level: 5th Level Assistant
Examination Fee (Rs.): 600
Eligibility Criteria:
Educational Qualification: Applicants must have successfully completed a Diploma in Civil Engineering from a recognized institution.
Experience: A minimum of 4 years of pertinent experience in a sub-engineer role is essential.
Age Limit: Applicants should be between 18 and 35 years of age as of 25/06/2080. The maximum age limit for females and disabled applicants is 40 years.
Application Process:
Application Place: Sigas Rural Municipality, Village Executive Office, Garje, Baitadi.
Required Documents:

Personal Details
Copy of Nepali Citizenship Certificate
Academic Certificates
Experience Certificates
2 Passport Size Photographs
Voucher/Receipt of Application Fee Deposit

Submission Deadline: Applications must be submitted by 06/25/2080 within office hours.
Application Fee Payment Method: The fee must be deposited at Krishi Bikas Bank, Sigas branch, Account No. 0826601983059031 or paid in cash to the revenue branch of this office.
Selection Process:
The selection involves a publication of the list of initial qualifications, followed by a written examination and interview, in line with the governing procedures outlined in the "Procedures for Managing Employees on Contracts in Sigas Rural Municipality (First Amendment), 2079".
Contractual Details:
Salary & Service Facilities: As specified by the rural municipality.
Contract Period: 6 months, subject to cancellation if a permanent position is occupied during this period.
Examination Date, Time, & Venue: To be announced.
Course & Laws:
The course is determined by the State Public Service Commission, Sudurpaschim Province, and matters not specified in the notice will align with prevailing law.
How to Apply:
Interested and eligible candidates can procure the application form from the office of Sigas Rural Municipality Village Executive or download it from Sigas Rural Municipality's official website. Submit the filled form along with the necessary documents to the application place mentioned above before the deadline.
First issue published date: 2080/06/11 Thursday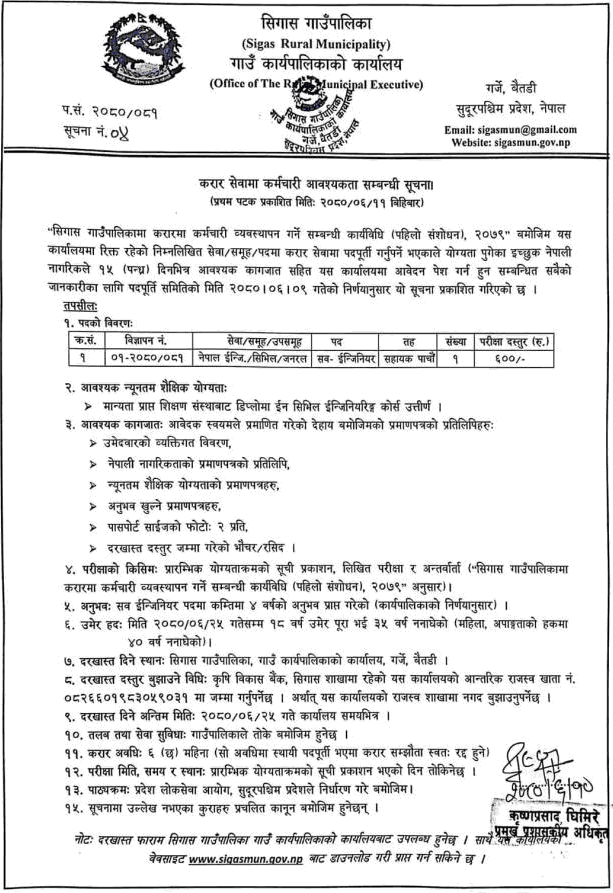 Baitadi
Sudurpashchim Pradesh
Job Vacancy
Engineering Job
Government Job