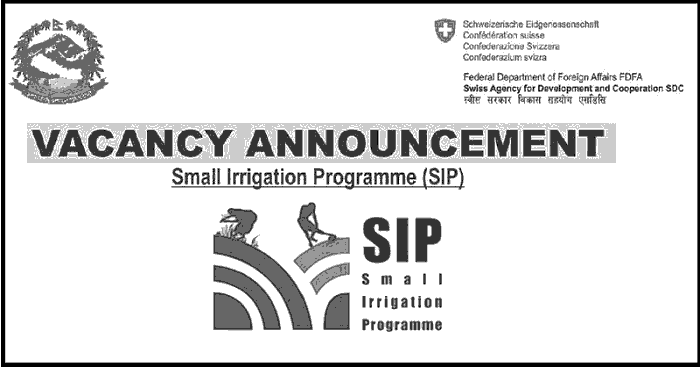 TRAINEESHIP OPPORTUNITY FOR FEMALE ENGINEERS: The Government of Nepal and the Government of Switzerland have been implementing SMALL IRRIGATION PROGRAMME (SIP) in Nepal since 2015. The Swiss Agency for Development and Cooperation (SDC) Is providing financial and technical support to the Government of Nepal for the Implementation of the programme.
A Joint-Venture (JV) of GEOCE Consultants (P) Ltd., Total Management Services Pvt Ltd. (TMS), and Aviyaan Consulting (P) Ltd, has set up a - Technical Assistance team on behalf of SDC. With the aim of developing the capability of fresh female engineers in the small irrigation sector, JV intends to provide the opportunity to work and learn with an experienced technical team of SIR In this context, JV invites female applicants (fresh graduates of civil engineering) for the traineeship positions with the following details:
| | |
| --- | --- |
| Position | Trainee Engineer |
| Qualification | Bachelors in Civil Engineering |
| Experience | Fresh Graduates (2076-77 onwards only) |
| Duration | 6 months |
| Number of Posts | 10 |
It is mandatory for the selected trainees to complete the full traineeship programme.
Terms of Reference:
The detailed Terms of Reference and the format for the application can be downloaded from www.sipnepal.org.
Please submit your application through this link : https://forms.gle/K6GzvzRkK1cospHm6
The closing date for the applications is 31st October 2022.
Only shortlisted candidates will be invited for an interview. No telephone or email enquires will be entertained.
The Joint Venture promotes Workforce Diversity and applies positive discrimination to candidates from discriminated groups (women and candidates from Dalit, Janajati, Madhesi/Terai, and other minority communities).
Job Vacancy
Nepal Engineer Association