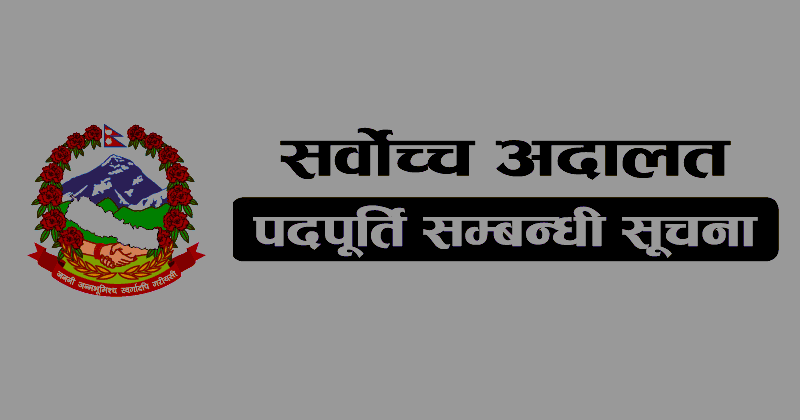 Supreme Court of Nepal Vacancy Announces for the position of Network / System Administrator:
Since the following positions are required for technical staff for information technology-related work in the High Court Biratnagar under the Supreme Court and the service contracts for the said positions are required; Within 7 (seven) days from the date of the first publication of this notice, interested Nepali citizens who have attained the prescribed qualifications, male Nepali citizens not exceeding 35 years of age and female Nepali citizens not exceeding 40 years of age, along with the necessary certificates including their educational qualifications, experience, and Nepali citizenship, should be submitted to the administration of this court. This notification has been published for the information of all those concerned to apply in the department.
Post: Network / System Administrator
Number of Posts: 1 (One)
(a) Place of work: High Court Biratnagar
The system/Network administrator will be working as Administrator and Supervisor of Networks in all levels. S/he will work on all systems related activities. System/Network Administrator will report to the Manager of System and Security. S/he should be the expert of Computer Hardware/System/Network Security.
Minimum Qualification
Bachelor in Information Technology or Equivalent with 3+(Three Plus) years experience. (Preference will be given to Candidates with professional Certification).
Requirements:
Good knowledge of Linux/Windows Server, Virtualization, Cisco, Juniper, Fortigate, Checkpoint, and HCI.
Proficient understanding of code versioning tools, such as Git, and SVN.
Ability to quickly grasp new tools & technology and self-learning.
Excellent written and verbal communication skills.
Experience with System Deployment in Virtual servers will be an added advantage.
Job Description
Ensure smooth operation of Data Center Cloud Infrastructure and Services.
DNS, IIS, Apache, Mail, FTP, Active Directory server configuration, and troubleshooting.
Linux/Windows System Administration.
DNS, Web, Email, FTP, and SSL Certificate Management.
System Migration, Software/Application Deployment & Updates.
Disk Space, Partition, and Usage Management.
Configure and install various network devices and services, IT Equipment, Networking,
Virtual Machines, and troubleshooting. if there is an issue. (e.g. routers, switches, firewalls, load balancers, VPN, QoS).
Perform network maintenance and system upgrades, including service packs, patches, hotfixes, and security configurations.
Backing up of all necessary Firmware, configurations of Firewall, switches, NVR, NAS, AP, and Virtual Machines.
Support LANs, WANs, Network segments, internet, and intranet systems.
Monitor IT infrastructure and respond immediately to security or usability concerns.
Provide network technical support.
Evaluate and optimize IT infrastructure for better performance.
Liaise with vendors and other IT personnel for problem resolution.
Vacancy Published Date: 2079/12/07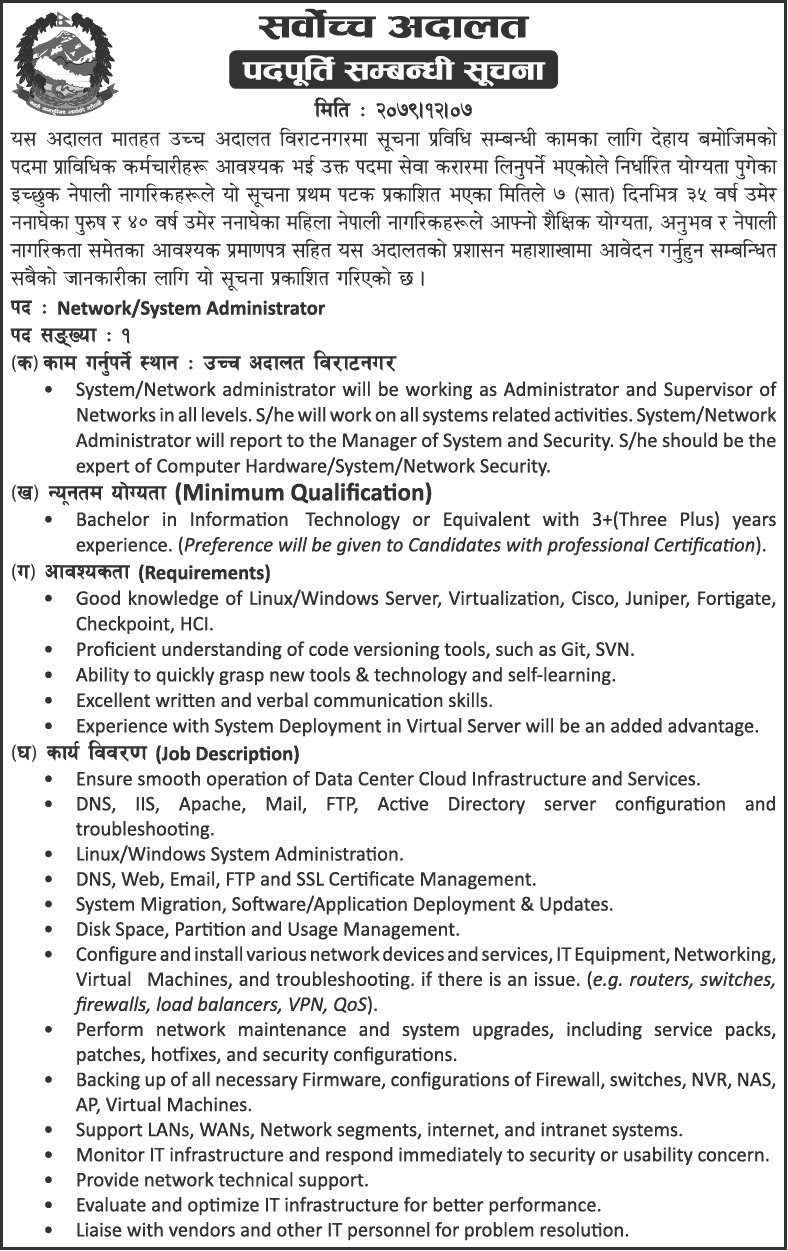 Technical Jobs
Biratnagar
Job Vacancy
Government Job