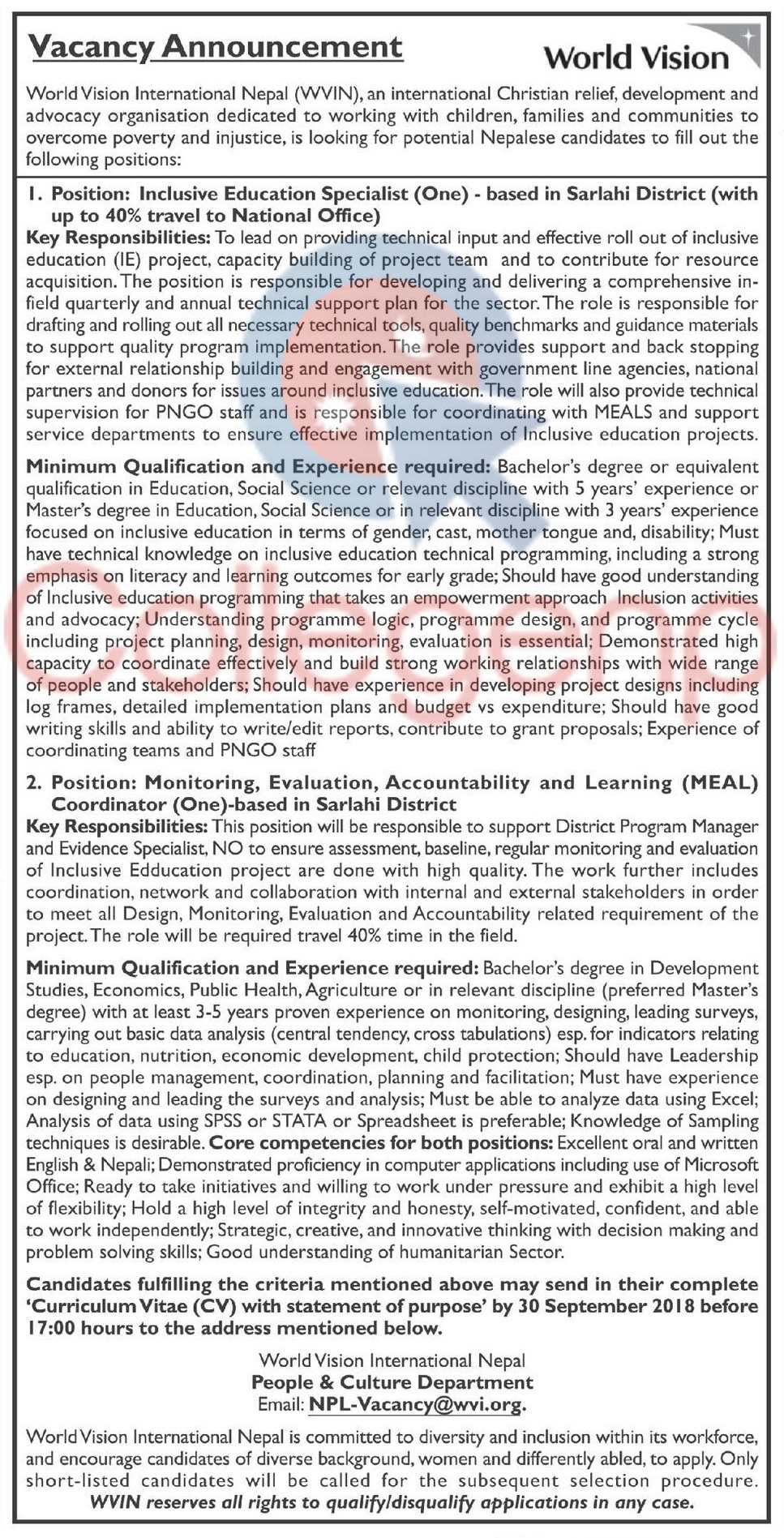 World Vision International Nepal (WVIN), an international Christian relief, development, and advocacy organization dedicated to working with children, families, and communities to overcome poverty and injustice, is looking for potential Nepalese candidates to fill out the following positions:
Position: Inclusive Education Specialist (One)
- based in Sarlahi District (with up to 40% travel to National Office)
Key Responsibilities:
To lead on providing technical input and effective roll out of inclusive education (1E) project, capacity building of project team and to contribute for resource acquisition. The position is responsible for developing and delivering a comprehensive in­field quarterly and annual technical support plan for the sector. The role is responsible for drafting and rolling out all the necessary technical tools, quality benchmarks, and guidance materials to support quality program implementation. The role provides support and backstopping for external relationship building and engagement with government line agencies, national partners and donors for issues around inclusive education. The role will also provide technical supervision for PNGO staff and is responsible for coordinating with MEALS and support service departments to ensure effective implementation of Inclusive education projects.
Minimum Qualification and Experience required:
Bachelor's degree or equivalent qualification in Education, Social Science or relevant discipline with 5 years' experience or Master's degree in Education, Social Science or in relevant discipline with 3 years' experience focused on inclusive education in terms of gender, cast, mother tongue and, disability; Must have technical knowledge on inclusive education technical programming, including a strong emphasis on literacy and learning outcomes for early grade; Should have good understanding of Inclusive education programming that takes an empowerment approach Inclusion activities and advocacy; Understanding programme logic, programme design, and programme cycle including project planning, design, monitoring, evaluation is essential; Demonstrated high capacity to coordinate effectively and build strong working relationships with wide range of people and stakeholders; Should have experience in developing project designs including log frames, detailed implementation plans and budget vs expenditure; Should have good writing skills and ability to write/edit reports, contribute to grant proposals; Experience of coordinating teams and PNGO staff
2. Position: Monitoring, Evaluation, Accountability, and Learning (MEAL) Coordinator (One)
-based in Sarlahi District
Key Responsibilities:
This position will be responsible to support the District Program Manager and Evidence Specialist, NO to ensure assessment, baseline, regular monitoring and evaluation of the Inclusive Education project are done with high quality. The work further includes coordination, network and collaboration with internal and external stakeholders in order to meet all Design, Monitoring, Evaluation and Accountability related requirement of the project. The role will be required to travel 40% time in the field.
Minimum Qualification and Experience required:
Bachelor's degree in Development Studies, Economics, Public Health, Agriculture or in relevant discipline (preferred Master's degree) with at least 3-5 years proven experience on monitoring, designing, leading surveys, carrying out basic data analysis (central tendency, cross-tabulations) esp. for indicators relating to education, nutrition, economic development, child protection; Should have Leadership esp. on people management, coordination, planning, and facilitation; Must have experience in designing and leading the surveys and analysis; Must be able to analyze data using Excel; Analysis of data using SPSS or STATA or Spreadsheet is preferable; Knowledge of Sampling techniques is desirable. Core competencies for both positions: Excellent oral and written English & Nepali; Demonstrated proficiency in computer applications including use of Microsoft Office; Ready to take initiatives and willing to work under pressure and exhibit a high level of flexibility; Hold a high level of integrity and honesty, self-motivated, confident, and able to work independently; Strategic, creative, and innovative thinking with decision making and problem solving skills; Good understanding of humanitarian Sector.
Candidates fulfilling the criteria mentioned above may send in their complete `Curriculum Vitae (CV) with a statement of purpose' by 30 September 2018 before 17:00 hours to the address mentioned below.
World Vision International Nepal
People & Culture Department
Email: [email protected]
World Vision International Nepal is committed to diversity and inclusion within its workforce, and encourage candidates of diverse background, women and differently abled, to apply. Only short-listed candidates will be called for the subsequent selection procedure.
WVIN reserves all rights to qualify / disqualify applications in any case.