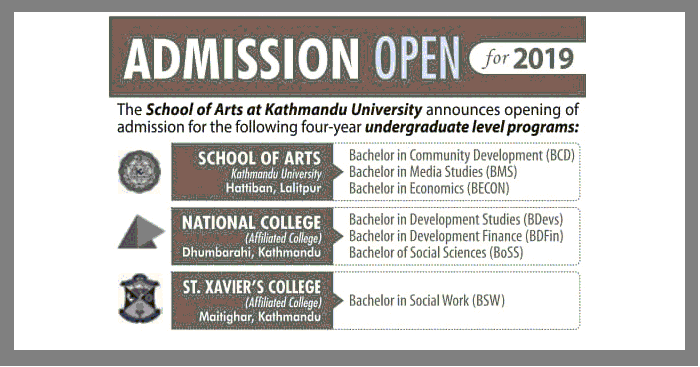 The School of Arts at Kathmandu University announces the opening of admission for the following four-year undergraduate level programs:
SCHOOL OF ARTS Kathmandu University Hattiban, Lalitpur
NATIONAL COLLEGE (Affiliated College) Dhumbarahi, Kathmandu
XAVIER'S COLLEGE (Affiliated College) Maitighar, Kathmandu
Bachelor in Community Development (BCD) Bachelor in Media Studies (BMS) Bachelor in Economics (BECON)
Bachelor in Development Studies (Bdev's) Bachelor in Development Finance (BDFIn) Bachelor of Social Sciences (BoSS)
Bachelor in Social Work (BSW)
Applicants must have 10+2 or equivalent degree in any discipline from a recognized institution with a minimum aggregate of 45 percent or 2.0 CGPA. Applicants who have passed Class XI and are waiting for Class XII results can also apply for provisional admission. However, they will have to produce the proof of having passed the exam within 15 days of publication of the result for formal registration. All candidates seeking admission to any of the above-mentioned programs must appear and pass the Kathmandu University School of Arts' Admission Test (KUSAAT) conducted by the School of Arts.
Application form distribution (Online & in print): June 19-July 28, 2019
KUSAAT Exam (Written): July 31, 2019,11:00 AM
Entrance Exam Result Announcement: August 2, 2019
Interview: August 5 -6, 2019
Final Result: August 7, 2019,
Admission: August 8 -18, 2019
Note: Examination center will be notified at the time of form submission.
FOR FURTHER DETAILS
Download link lot application form: hupsi/kusoo.edu.np/apply.now
School of Arts, Kathmandu University Hattiban, Lalitpur Ph:5251306, 5251294 [email protected] www.ku.edu.np/arts
National College, Dhumbarahi, Kathmandu Ph: 4420871, 4443511 [email protected] www.nationalcollege.edu.np
St. Xavier's College, Maitighar, Kathmandu Ph: 4244636, 4221365 [email protected] www.sxc.edu.np