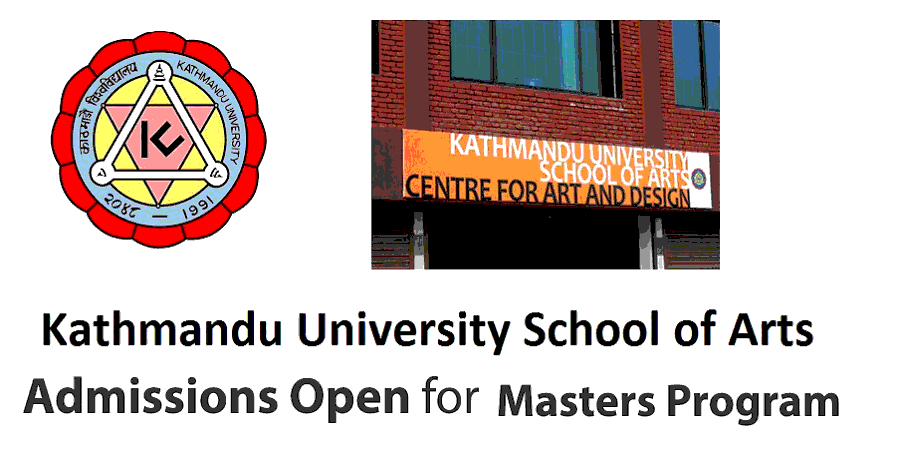 Masters Program Admission Open at Kathmandu University, School of Arts:
Kathmandu University, School of Arts, Department of Development Studies announces the opening of admissions for two-year Master's programs in Human and Natural Resources Studies and Development Studies for the Spring Session of 2021 (starting February 2021).
The programs emphasize assisting students to:
acquire knowledge and skills concerning conflict, natural resources, and community linkage, social development, information gathering and analyses, indigenous community-based knowledge systems and institutions;
develop capability and confidence to contribute nationally and internationally towards managing the human dimensions of natural resources fruitfully;
be able to effectively conduct basis and applied research, and work in a team.
Eligibility: Completion of a 4-year/3-year Bachelor's degree, or a Master's degree, with a cumulative grade point average (CGPA) of 2.5 out of 4.0 or an equivalent of 50 percent marks in the latest degree acquired will be the basic criteria.
Also, securing an acceptable label or ranking in the entrance exam will be essential. The entrance exam will test the candidate's language proficiency and analytical abilities.
Duration:
Two years Form distribution: December 20, 2020, to January 20, 2021
Last date for form submission: January 22, 2021
Entrance Exam: January 25, 2021
Interview: January 27-28, 2021
Result: January 31, 2021
Admissions for selected students: February 1- February 8, 2021
The new semester will begin on February 10, 2021.
*UGC scholarship (formula funding scholarship scheme) available for 20% of the total number of admitted students.
For application forms and further information, contact:
Department of Development Studies / School of Arts, Kathmandu University
Hattiban, Lalitpur, P.O. Box 6250, Kathmandu, Nepal
Telephone: 01-5251306, 01-5251294
Email: [email protected]
Website: www.kusoa.edu.np