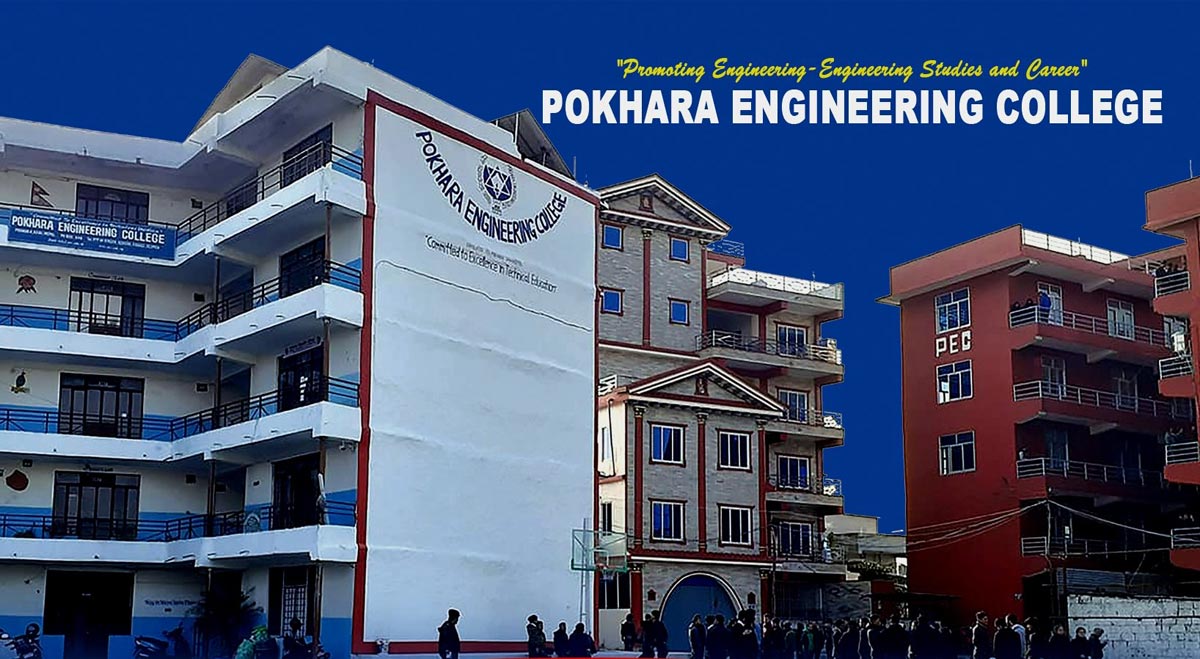 Pokhara Engineering College MSc Construction Management Admission Notice 2023
Pokhara Engineering College, under Pokhara University, conducted an entrance exam on 20 May 2023 (6 Jestha 2080) for the M.Sc. Construction Management program. All candidates who have been merit listed in the entrance exam are hereby notified to submit their applications by 7 June 2023 (24 Jestha 2080).
To obtain the application form, candidates can visit the college reception or download it directly from the college website. The college, known as Pokhara Engineering College, is located in Phirke, Pokhara -8, Kaski.
The first admission list for the M.Sc. The Construction Management program will be published on 8 June 2023 (25 Jestha 2080). The program offers a total of 30 seats, with 27 seats available for paying candidates and 3 seats for scholarship recipients.
For further details and inquiries, please contact Pokhara Engineering College at the following:
Address: Phirke, Pokhara -8, Kaski
Telephone: 061-581209 / 9856023584
Email: [email protected]
Website: www.pec.edu.np
We encourage all interested candidates to take advantage of this opportunity and submit their applications within the specified timeframe.
M.Sc. Construction Management
Master of Science in Construction Management is a specialized program offered by Pokhara Engineering College. This program equips students with the knowledge and skills required to effectively manage construction projects from planning to execution. If you have a passion for the construction industry and aspire to take on leadership roles in this field, M.Sc. Construction Management is the ideal choice for you.
Program Highlights:
Comprehensive Curriculum: The M.Sc. Construction Management program at Pokhara Engineering College offers a comprehensive curriculum that covers essential topics such as project planning, cost estimation, construction methods, risk management, sustainable construction, and more. The program is designed to provide a strong foundation in both theoretical concepts and practical applications.

Experienced Faculty: The program is facilitated by a team of experienced faculty members who have industry expertise and academic qualifications. They bring a wealth of knowledge and real-world insights to the classroom, ensuring that students receive quality education and guidance throughout their academic journey.

State-of-the-Art Facilities: Pokhara Engineering College provides state-of-the-art facilities and resources to support the learning and research needs of students. From well-equipped classrooms and laboratories to a dedicated library with an extensive collection of construction management literature, students have access to all the necessary tools to enhance their learning experience.

Industry Exposure: The college fosters strong industry connections, enabling students to gain practical exposure through internships, site visits, and industry collaborations. These opportunities help students develop a deeper understanding of the construction industry and establish valuable connections that can benefit their future careers.

Career Prospects: Graduates of the M.Sc. Construction Management program have excellent career prospects in various sectors of the construction industry. They can pursue roles such as construction project managers, site engineers, quantity surveyors, construction consultants, and more. The demand for skilled construction management professionals is high, both nationally and internationally, offering graduates promising career opportunities.
Admissions Information:
To secure admission to the M.Sc. Construction Management program, candidates must successfully clear the entrance exam conducted by Pokhara University. Merit listed candidates in the entrance exam are then required to submit their applications within the specified timeframe. The college provides both paying and scholarship seats, offering opportunities for students from diverse backgrounds.
Candidates can obtain the application form either by visiting the college reception or by downloading it from the official college website. It is essential to carefully follow the application guidelines and submit all the required documents to complete the application process successfully.
For further information and inquiries regarding the M.Sc. Construction Management program, prospective students can reach out to Pokhara Engineering College using the provided contact details.
Embark on a rewarding academic journey in the field of construction management with Pokhara Engineering College's M.Sc. program. Develop the necessary skills and knowledge to thrive in the construction industry and shape a successful career.
Admission Open
Pokhara