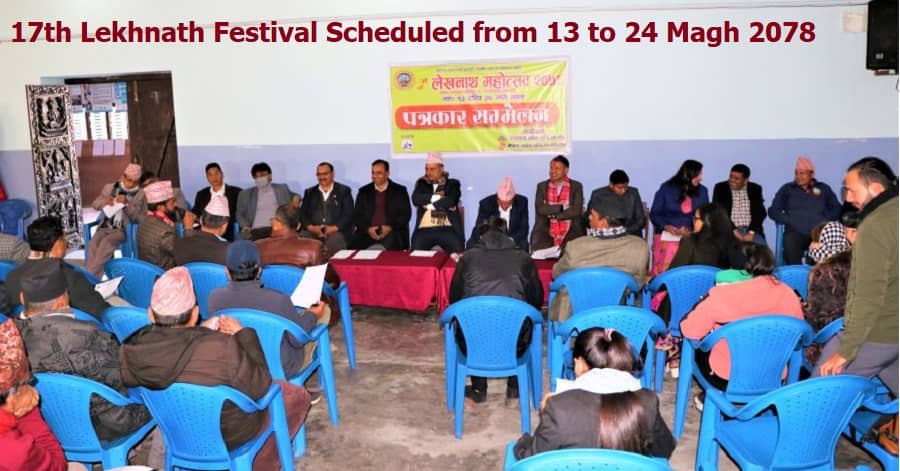 The 17th Lekhnath Festival (Lekhnath Mahotsav) is scheduled to be held from 13 to 24 Magh 2078 (27 January to 7 February , 2022). It has been informed that the festival organized by Lekhnath Chamber of Commerce and Industry. It will be held at Pokhara-27 Talchowk Dandakonak.
According to the association, the festival is being organized with the objective of reviving the economy which has been crippled due to Covid 19.
The festival will be held under the slogan 'Culture, Local Production, Development and Prosperity of Lekhnath', said Gopichandra Banstola, coordinator of the festival publicity sub-committee.
The stalls at the fair are expected to generate 100 million rupees in financial transactions. It is estimated that the festival will generate revenue of Rs 15 million and save Rs 1.5 million by spending Rs 9 million.
Kshatradhar Atreya, president of the Lekhnath Chamber of Commerce and Industry, said that stall booking has been opened for the festival from today with a 10 percent discount for the members of the association.
The festival will have literary programs, women's special programs, school level programs, cultural programs, indigenous tribes special programs, agriculture and livestock exhibitions, information technology exhibitions, educational exhibitions, handicraft exhibitions and other programs. In honor of such castes, there will be an excellent dance exhibition reflecting the endangered customs and culture, and a show of costumes and costumes of indigenous tribes and mother / women groups.
According to the organizers, daily performances of famous comedians, national folk rehearsals and live music concerts targeting the youth are the main attractions of the program. Similarly, kindergarten and food festival are also in the center of attraction of the festival.
Arrangements have been made for free admission to the festival on the basis of social security allowance distribution card for elderly parents, disabled and single women. The organizers expect around 250,000 peoples to visit the fair.
An eight-member steering committee, a 36-member festival advisory committee and a 49-member executive committee have been formed to make the festival a success.
The main objectives of the festival are market promotion of industrial products and handicrafts, identity, promotion of local products, small and cottage industries, ethnic costumes, arts and culture, preservation of customs and attracting internal and external tourists.
According to the organizers, the savings from the festival will be spent on the exhibition site and improvement of the building of the association, initiatives and support for the construction of industrial zone, development of the birthplace of poet Shiromani Lekhnath Poudyal and tourism development. Similarly, the association is going to celebrate this year as a silver year, said Chairman Atreya.
Pokhara