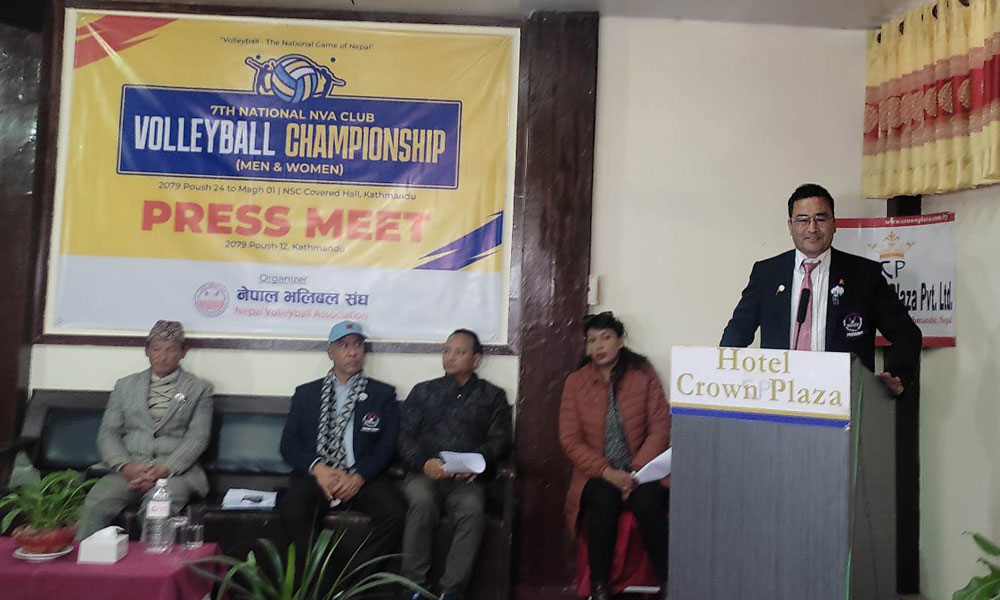 The 7th National NVA Club Volleyball Championship (Men & Women) to be organized by the Nepal Volleyball Association will be held in the Poush last week.
The association held a press conference on Tuesday and informed that this tournament, in which 15 men's teams and 8 women's teams will compete, will be held from 2079 Poush 24 to Magh 1 (8th January to 15th January 2023). All the matches of the tournament will be conducted at Rakhep Covered Hall in Tripureshwar.
For Men Tribhuvan Army, Nepal Police, Nepal APF, Tiptop Help Nepal Sports Club, Nayabazar Social Youth Club, Danvali Milan Club, Galkot Sports Club Baglung, Manimukund Volleyball Club, Butwal, Jawalakhel Volleyball Training Center, Bagmati Province, Budhanilkanth Volleyball Club, Gandaki Province, Madhesh Pradesh, Sudurpaschim Pradesh, and Shailung Bagdhunga Youth Club, Ramechhap will compete between 15 teams.
Roshan Shrestha, general secretary of the association, informed that the team registration time is till 2019 Poush 19 (3rd of January, 2023). On the women's side, 8 teams including APF, Nepal Police, Tribhuvan Army, New Diamond Youth Sports Club, Jawalakhel Volleyball Training Center, Gandaki Pradesh, Dhorpatan Sports Club, and Everest Volleyball Club, Butwal will participate.
The winner of the competition will get 4 lakhs. Similarly, the runner-up will get Rs 2 lakh and the third place will get Rs 1 lakh.
The best player in the tournament will get a prize of 25,000 rupees (women and men) while the best libero, spiker, blocker, server, setter, and coach will get 10,000 rupees.
Among the best performers in this competition, the best 8 teams for men and 6 teams for women will make it to the seventh RBB-NVA club league.
In this tournament, each team will be allowed to keep a maximum of three foreign players in the team. Roshan Shrestha, general secretary of the association, said that foreign players are also going to be included in the development of the level of the game.
Shrestha informed that the total budget of this competition is around 46 lakhs. He also said that the organizers of the Nepal Super League will help from 25 to 30 lakhs. He said that the rest of the budget will be raised from various sources.
Sports