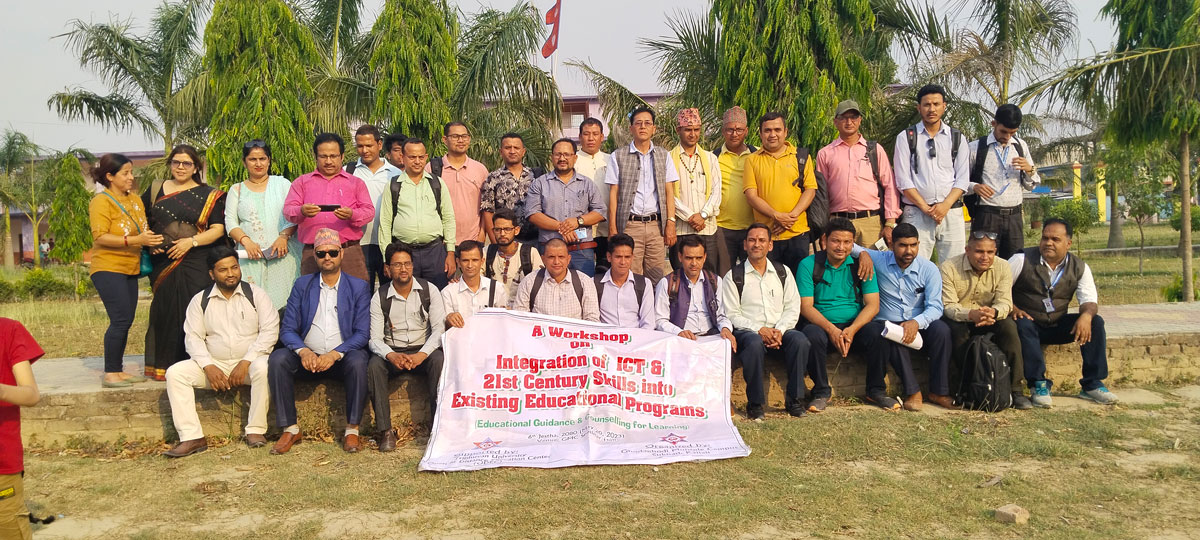 Transforming Education for the 21st Century: Empowering Professors with Digital Technology
A Workshop on Integration of ICT & 21st Century Skills into Existing Educational program held in Kailali, professors from a community campus affiliated with Tribhuvan University were introduced to the use of digital technology to enhance their teaching methods. The workshop, organized by Ghodaghodi Multiple Campus in collaboration with Tribhuvan University Open and Distance Education Center Kathmandu, aimed to equip educators with the tools necessary to make their content more effective in the digital age.
During the program, Purna Bahadur Kandel, the director of the center, emphasized the need to shift away from traditional teaching styles and embrace digital technology suitable for the 21st century. He highlighted the center's commitment to promoting education through digital mediums, including online classes and innovative teaching approaches.
Leading the workshop were Dr. Bed Prasad Dhakal, Deputy Director of the Center, and Dr. Kalpana Gyawali, along with other esteemed facilitators. Deputy Director Dhakal explained how teachers can seamlessly integrate digital content into their lessons, enabling students to study from the comfort of their homes. He emphasized the role of technology, especially during the challenging times of the Covid pandemic, in facilitating remote learning for students who are physically distant.
Dr. Kalpana Gyawali, while facilitating the workshop, emphasized the vital role of teachers as second parents and their influence in shaping the future of their students. She urged teachers to foster an environment that encourages and supports learners, recognizing the profound impact they can have on their students' lives.
The participating professors expressed their appreciation for the workshop, citing its effectiveness and value. Gyanu Poudel from Tikapur Multiple Campus acknowledged that the workshop shed light on how subject matter can be interconnected with digitization, resulting in more impactful teaching practices. Mansingh Saund from Kailali Multiple Campus also found the workshop highly beneficial, emphasizing his intention to implement the newly acquired knowledge in his teaching profession to enhance its effectiveness.
Laxmi Prasad Bhattarai, the Campus Chief of Ghodaghodi Multiple Campus, expressed gratitude towards the distance learning center for their support in bridging the technological gap and enabling professors to leverage technology for timely education, despite limited resources. This acknowledgment reflects the commitment of the workshop organizers to empower educators with the necessary tools to embrace digital education.
The workshop was inaugurated by Khadak Rawat, the Mayor of Ghodaghodi Municipality, underscoring the significance and community support for advancing digital education in the region.
Conference
Kailali