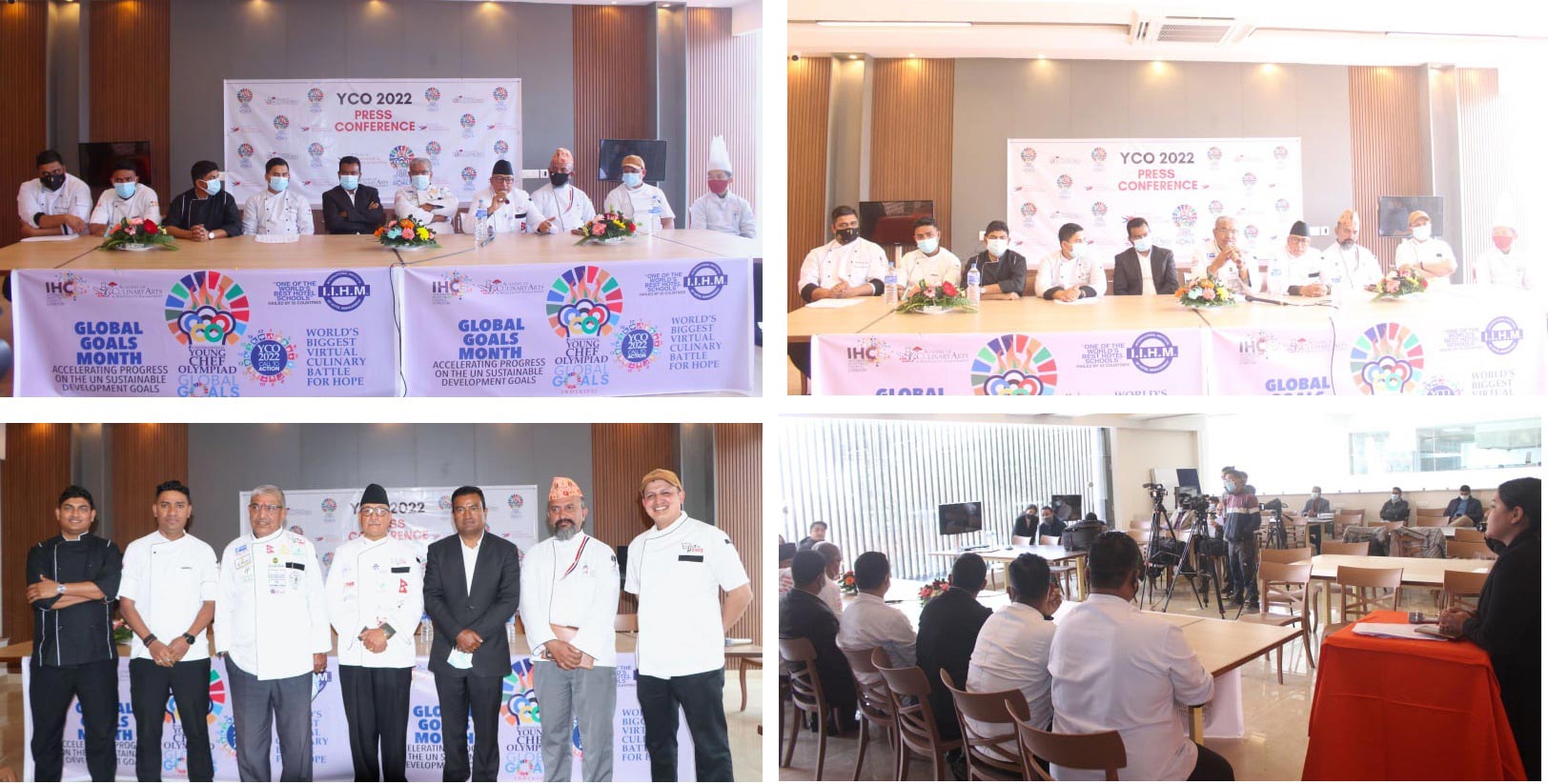 Ajay Pun, a student of the Academy of Culinary Arts & Hospitality Management, will participate in the Young Chef Olympiad (YCO 2022). The Young Chef Olympiad Virtual 2022, organized by the International Institute of Hotel Management (IIHM) India, will be held from January 30 to February 5 under the auspices of the International Hospitality Council London.
The program, which has been running since 2015, has been attended by 40 to 60 nations from around the world. The Academy of Culinary Arts & Hospitality Management has been representing Nepal at the competition showcasing leadership and entrepreneurship from the very beginning.
In 2020, Savi Rajbahak, a student of the Academy of Culinary Arts and Hospitality Management, won the Best Hygiene Award and Rasing Star Award, and in 2021, Abhay Limbu, a student of this college, also won the Best Kitchen Cuts Award, ranking 10th out of 60 nations during the competition.
Representing Nepal this time, college student Ajay Pun is competing. Similarly, Chef Surya Mahat will be playing the role of mentor. A total of 37 countries including Nepal are participating in the competition this time. These nations are divided into eight groups. According to the division, Nepal belongs to the sixth group. The event will be inaugurated on January 30 and Nepal will start the competition on February 1 at exactly 12:45 p.m.
There is a provision in the age limit program that the age of the contestant should not exceed 24 years and the contestant should be a student of the college.
The Academy of Culinary Arts and Hospitality Management was established in 2010 with a Diploma in Culinary Arts course. The course alone has so far helped more than 900 Nepali youths to find employment and advance their careers.
The Academy of Culinary Arts and Hospitality Management emphasizes the need to bring a new dimension to the way education is delivered through successful leadership and entrepreneurship, having received a BHM affiliation from Lincoln University College in 2014 and a recent MBA affiliation. Emphasis has been laid on the need to put hands on the shoulders of the youth to become leaders and entrepreneurs by developing leadership and entrepreneurial skills through the present learning.
Apart from the main competitors, Sustainable Research Award and National Dish Award have also been arranged to provide opportunities for other participants and students.
Due to the current pandemic situation, the competition will be conducted through a virtual medium. As it is done through a virtual medium, there is a provision to arrange 3 country judges from Nepal. So this time the following chefs will be presented as country judges.
1) Chef Rajiv Shrestha, Executive Chef of Aloft Hotel Kathmandu Nepal
2) Chef Navin KC Executive Chef of Yak & Yeti Hotel, Kathmandu, Nepal (Nepal Tourism Board has declared him the youngest executive chef in Nepal).
3) Chef Pramod Mahaseth, Corporate Chef of Dwarika Hotel, Kathmandu Nepal