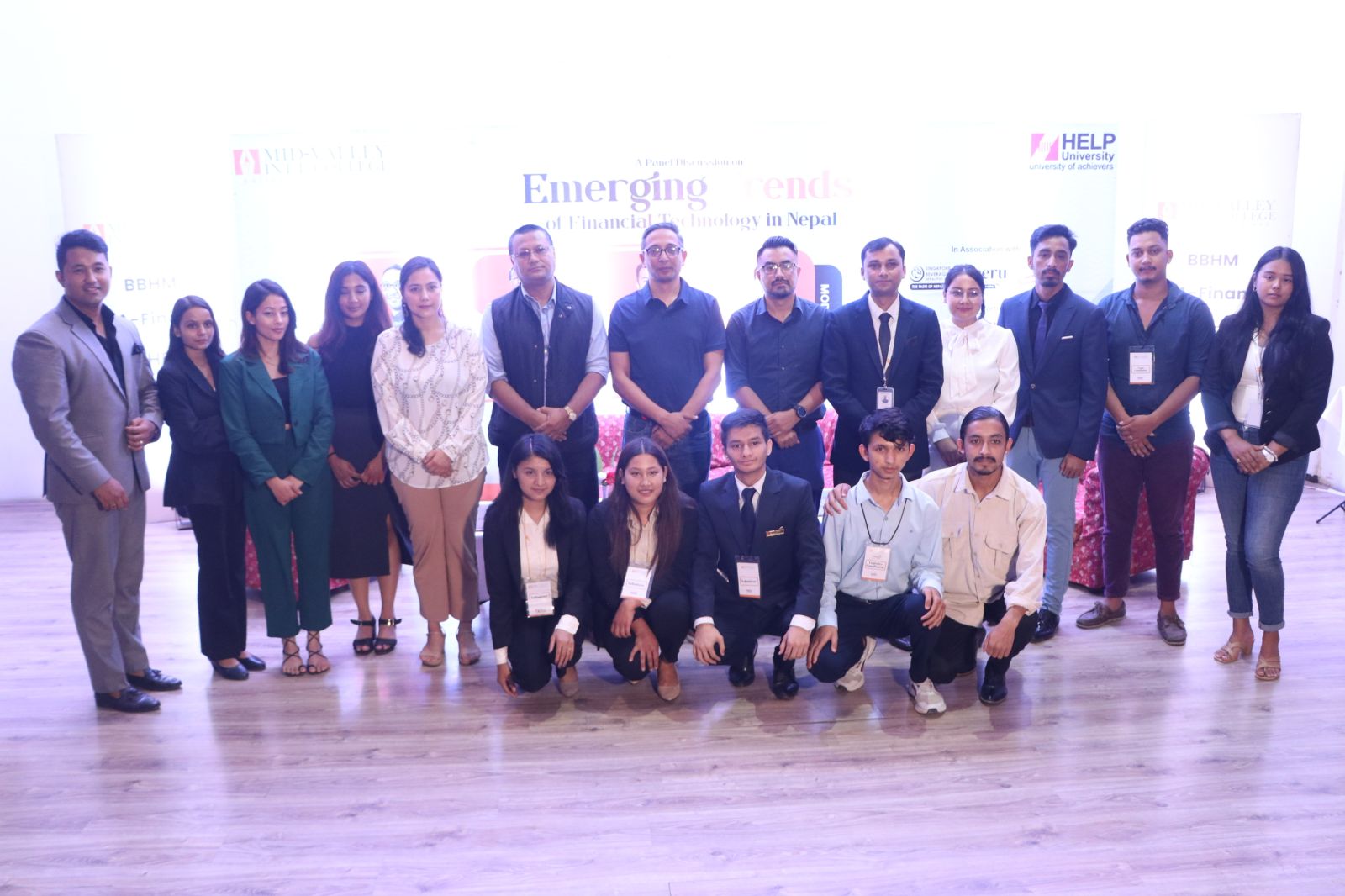 A panel discussion on the topic "Emerging Trends of Financial Technology in Nepal" was successfully organized by the 1st-Batch BBA (Finance) students of Mid-Valley International college on 5th August 2022. Organizing this event was a part of their curriculum itself. The event was sponsored by Singapore Beverages Nepal Pvt Ltd. The media partner for the event was Jupiter Media.
This event was organized with the aim of exploring the innovations/changes going around in the fintech industry in a local and global context. Also, aim to bring students closer to this growing industry and instill awareness in regard to the present scenario and future prospects.
Furthermore, It aims to create an informative platform for sharing ideas and information as well as gaining major industry insights which may consequently turn into a bigger inspiration.
There were more than 200 student invitees from different +2 colleges in Kathmandu and 30-40 invitees from the education/fintech fraternity attendees in the panel discussion program.
Subash Sharma, CEO of F1Soft International Pvt. Ltd.'s expression centered around connecting business and people over the technological platform for a seamless transaction.
Bal Krishna Joshi, Co-Founder of Thamel Remit Pvt. Ltd expressed his thoughts on going global and understanding how technology fit in with global needs.
Abhijit Shrestha, Managing Director of Source Code Pvt. Ltd emphasized data-centric decision-making and technological innovation.
The event was very insightful for the students who want to start their careers in the fintech industry. Also, most of the participating students said, they were inspired by the ideas and thoughts of the three panelists. During the discussion, Mr. Subash Sharma talked about taking calculated risks. Similarly, Mr. Balkrishna Joshi talked about following our passion. Furthermore, Mr. Abhijit Shrestha encouraged students to move ahead in life despite criticism and challenges.
Along with the panel discussion, students of Mid-valley international college showcased their musical and dance performances which added excitement to the audience. The event was followed by a lunch session at the in-house restaurant of Mid-Valley International College. The lunch was prepared and served by the BHM students of Mid-Valley Students.